Hi everyone!
Long time no blog huh?! I really need to apologise for my lack of blogging for the past 6 weeks or so! Life's just been getting in the way and although I've been creating *loads* I just haven't had
time to post any of the goodies! Now that I'm finally on holiday I thought I better start rectifying that ASAP!
For those of you that follow the 'A Passion for Papertrey' blog you'll already know that I'm the Featured Stamper for December, woo! You can check out the 'A Passion for Papertrey' blog
here
– it's run by my lovely fellow PTI addicts and friends Kate and Aimes – hi girls!
So part of my responsibilities for this month are to contribute to the Challenges that are being run as well as being able to have two dedicated blog posts of my own! I've got something very special for the dedicated posts so stay tuned for those!
In the meantime the current challenge is to create a Masculine card. Why not play along? They're not as much of a nightmare as they might first appear!
So, without further ado, here is my contribution – a birthday card I created for a friend of mine: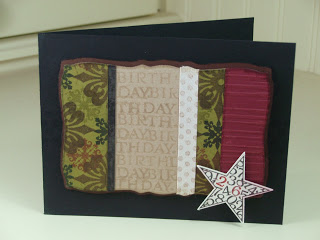 I just *love* how this turned out! It's pretty much just as I envisaged it in my head – I love it when that happens! And I got to use *tons* of different PTI stamps!
I started with a piece of Kraft cardstock cut with my Mega Curved Rectangle Nestabilities. I seem to be using these on everything lately, they're just so versatile! I added a piece of Scarlet Jewel cardstock cut with the same die and then run through the QuicKutz Stripes embossing folder.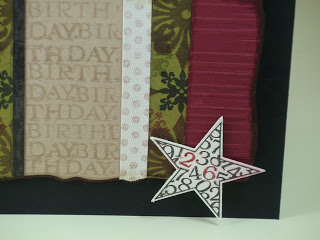 I then added two pieces of Ripe Avocado cardstock which had been stamped with a combination of Guidelines II and Giga Guide Lines. I used Dark Chocolate, True Black, Scarlet Jewel and Versamark for the various medallions. I love how this turned out – kind of like a stylish camouflage effect! I created the background on one piece of Ripe Avocado cardstock then die cut using the same die as the main piece, before trimming off strips to use.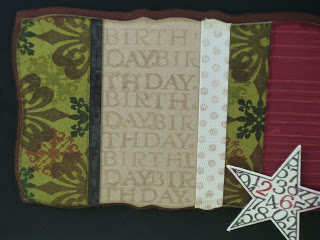 To the right of the first Ripe Avocado strip is a thin strip of Smokey Shadow cardstock which had also been stamped with Guidelines II. This was a thin strip left over from a previous card – just shows that even the thinnest leftovers can be put to good use!
To the left of the other Ripe Avocado piece is a piece of Vintage Cream Twill which was stamped with Polka Dot Basics II using Dark Chocolate ink.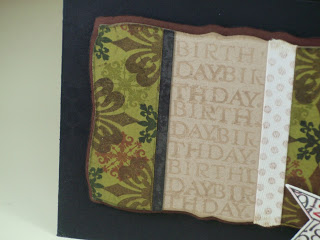 Finally in the centre I stamped the 'Birthday' stamp from Giga Guidelines using Versamark ink. I deliberately let the word carry on to the next line so you would still get the whole word but create a pattern out of it at the same time!
After all the pieces were adhered I edged the whole shape with VintageTouch Chai ink, Versamark ink and the Versamark Pen as well, as well as some edging with co-ordinating Copic markers. I then adhered the shape onto another co-ordinating shape cut from Dark Chocolate cardstock. To keep the proportions just right I used the same die but drew round the outside then cut by hand.
The star is from Star Prints and stamped on Rustic Cream cardstock. I stamped all but the '2' and '6' in True Black, then stamped just those two numbers using Pure Poppy, to highlight the recipient's age. I punched out the star using the co-ordinating Fiskars Star Punch.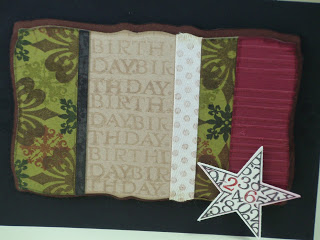 The finished pieces were assembled on a True Black card base using lots of Pinflair Glue Gel for dimension and support.
I couldn't be happier with how this card turned out, and it was very well received as well! I'd love to hear your thoughts on it!