Evening everyone!
The amazing Dawn McVey has posted yet another fantastic Raspberry Suite Colour Challenge. I just don't know how she comes up with such inspiring combinations again and again! Here's the latest one:

I've actually had two goes at this so far, and today's post is the first of these: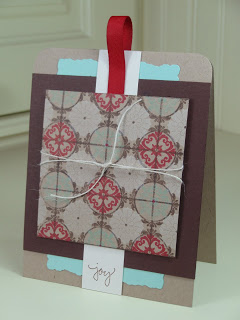 I really struggled with this one! I literally stared at various components for ages, just trying to work out what to do with them. I'm really having to work for my mojo at the moment, lol. I think I like how it turned out though! It's quite different from my normal cards!
The base is PTI Kraft, with the top corners rounded with my large corner rounder. The Aqua Mist panel was cut using the largest of my Deckle Edged Rectangle Nestabilities. I then cut the rectangle in half and adhered behind the Dark Chocolate layer.
The stamped panel was created using (yep, you guessed it!) Guidelines II! I just really can't seem to stop going to this set, I love it so much!! I think this is my best stamped panel to date, with everything in line and a pattern that really pops thanks to that Pure Poppy! I used one of my Copics to add red dots to the centres of the Aqua Mist medallions to tie in the look.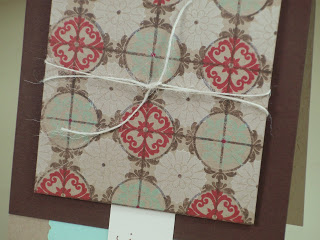 I tied a length of Rustic Cream Button Twine round the panel repeatedly and then adhered the panel using Pinflair Glue Gel. Behind the panel is a strip of Vintage Cream cardstock. I stamped the 'Joy' sentiment from Dawn's latest set – Signature Christmas. I just *love* her handwriting, it's so whimsical and elegant! I wanted to use one of the sentiments that wasn't only 'Christmassy' if you know what I mean, lol.

Finally I added a strip of Pure Poppy Topnotch Twill in a loop over the top.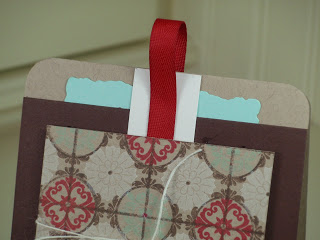 I'm still undecided about this card – sometimes I like it and sometimes I don't! What do you think?