Hello everyone!
Phew! We're onto the final one of the PTI WCMD Challenges. The final stop on this round-the-world excursion is Australia: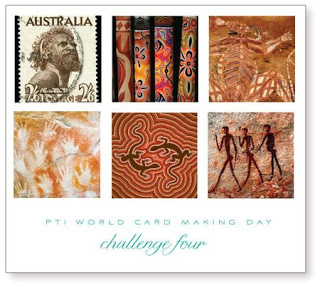 "If you remember back to the Summer Olympic Games in 2000, television affiliates took advantage of the amazing history of the Australian Aborigines to create special cultural highlights. I personally found them fascinating, especially the artwork that they created. Two of their signature traits are the basis of our last World Card Making Challenge. You can pick one to work with, or both!
#1. Dotted Outlines
If you look closely at some of the inspiration photos above (especially the ones with the lizards & lined-up didgeridoos), many of the images are accented with outlines of small white dots. To use this Aboriginal look on your project without having to go completely ethnic, try your hand at using a white gel pen to make dots around your stamped focal point, whether it be a flower to anything else you choose!#2. Masking
One popular form of creative expression within the Aborigine tribes is hand stenciling. They hold their hands and/or arms in front of a surface, such as cave or rock walls, and blow a natural dye from the mouth onto the surface, creating a negative silhouette. The main function of these stencils was to record people's presence and association with a site or to identify a particular painting. Could this have possibly been our stamp masking in it's very original form? *wink* So, in other words, the second option for this challenge is to do some sort of creative masking (and no, you don't have to use body parts OR blow the ink from your mouth!)"
Well, that's a fair bit to think about! Of all the challenges this one got me thinking the most. I didn't know anything about Australian Aboriginal Art, but a Google Search quickly revealed a plethora of inspiration. One piece in particular caught my eye: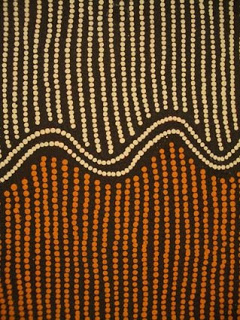 I decided to use this piece as my inspiration and recreated it in card form: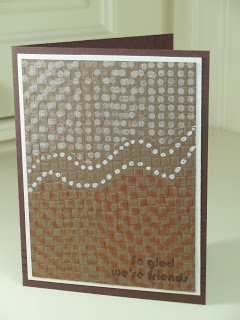 I think this has turned out really well and is quite true to the spirit of the original! I used both white dots and creative masking with this card as well!
I began with a piece of SU! Soft Suede cardstock. I cut a wiggly mask from masking tape and made two thin strips from it to give the central area. I then masked above and below in turn when stamping the bottom and top patterns respectively.
The bottom was stamped using Polka Dot Basics I and Orange Zest ink. The top was stamped using Vintage Cream. I then added the white wiggly dots by hand with my Ranger Inkessentials Opaque White Pen.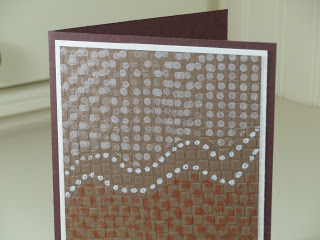 I then ran the panel through my Mosaic Cuttlebug Embossing folder, before running it through flat again. I wanted the texture but not too much of it, lol.
I stamped the sentiment, from Mod Squad, using Dark Chocolate ink. The panel was then mounted onto Rustic Cream cardstock then onto a Dark Chocolate base.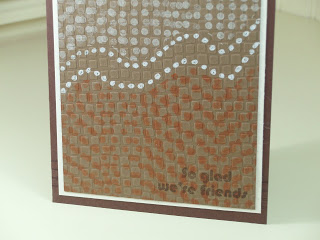 Well, that's our whistle-stop tour completed! I don't think I've ever created or posted so fast before, lol. I've really enjoyed these challenges and found they really stretched me creatively, which is what it's all about! So what do you think of my entries? Which is your favourite and why? Thanks for stopping by!