Evening all!
I'm posting at a more sedentary pace today, lol. All those cards and posts for World Card Making Day were fun but I don't think I could keep up that pace!
Today I'm posting a card that I actually created well over a month ago but 'wasn't allowed' to post as it hadn't been given to the recipient yet. Well that finally happened yesterday so I can finally display the card I created for my brother to give to his girlfriend for their anniversary: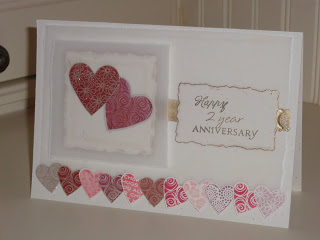 As it's been quite a while I'm not sure I can remember all the details for this card, lol. All the hearts were stamped with Heart Prints and various PTI inkpads. The small hearts were arranged on a Rustic White cardstock base, overlapping the edge of a sheet of vellum.

On top of the large vellum layer are a gold 'ribbon', which is actually another strip of vellum coloured with my Krylon 24K Gold Leaf Pen and punched at the end with one of my Martha Stewart border punches.
The square panel the main hearts are on was cut with my Deckle Edge Rectangle Nestabilities, then put through again with part of the cardstock overlapping so that I could actually cut a square from it. I edged it with the Krylon pen before adding another vellum layer, adhered with Pinflair Glue Gel for dimension. The hearts were adhered in the same manner.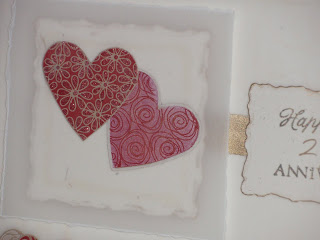 The '2 year' part of the sentiment was printed out and then the remainder of the sentiment stamped using Heart Prints and Brilliance Galaxy Gold and Lightening Black. I cut out with one of the Mega Long Deckle Edged Nestabilities and edged with the Krylon Pen before adhering over the gold 'ribbon' using Pinflair Glue Gel.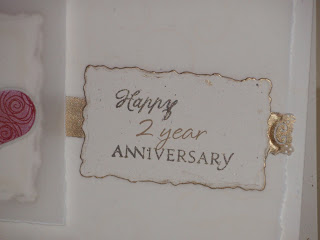 So there we are, finally posted! Apparently the card went down really well, which is the main thing! I'd love to know what you think of it though!