Hi again!
Next stop on the PTI WCMD Challenge – India!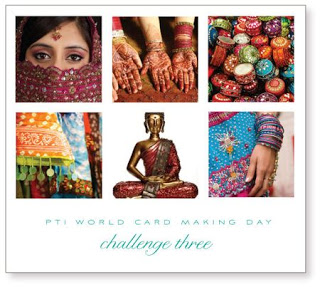 "India is one of those places that I've always wanted to travel to. The food is supposed to be amazing along with the overall beauty of the people, the traditional dress and architecture. One thing that is prominent everywhere is jewels, rhinestones & gold. Your challenge is to embrace this culture and incorporate rhinestones, sequins & jewels in a fun & artistic way."
I thought I would find this idea the easiest but I actually found it the hardest! There's actually too much inspiration about!
In the end I came up with this: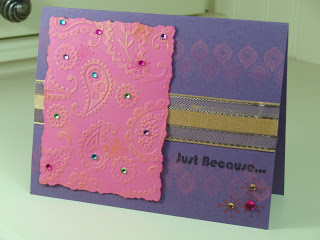 I'm quite pleased with how this card turned out overall. I think it definitely captures the colours and vibrancy of India, and it definitely has the bling!
The pink panel is Hibiscus Burst onto which I stamped the star from Mod Squad using Summer Sunrise, Lemon Tart, Sweet Blush and Hibiscus. I then ran the panel through the Cuttlebug Paisley embossing folder and then rubbed my Sweet Blush and Brilliance Galaxy Gold inkpads over the top to highlight the pattern. I then used the largest of my Deckle Edged Rectangle Nestabilities before adding some rhinestones in pink, lilac, green and blue for bling!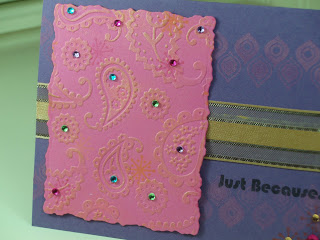 I adhered the panel onto a Plum Pudding cardstock base, where I had stamped one of the designs from Mod Squad using Sweet Blush and adhered a piece of gold organza ribbon from my stash. I stamped the trio of stars from Mod Squad in the bottom right corner using Orange Zest before adding pink and gold rhinestones for some more bling. Finally the sentiment, also from Mod Squad, was stamped in True Black.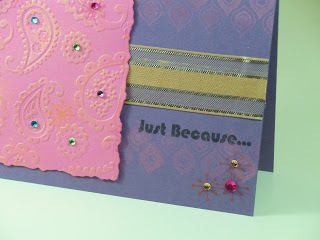 Hope you're enjoying these entries, just one more to go!