Evening all!
I'm back tonight with a little 'Thank You' card I've made: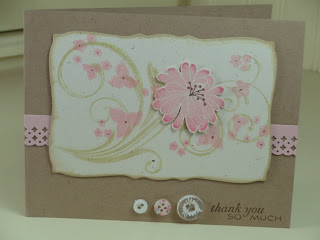 I really *love* my Floral Fusion set and am so glad I forked out for it on eBay! It's so great for building up patterns as well as creating focal images!
I started with a Kraft cardstock base and adhered a punched strip of Sweet Blush cardstock (punched using the EK Success Parisian punch). On top of this I added a piece of Rustic Cream cardstock which was cut with the third largest of my Mega Curved Rectangle Nestabilities.
The design on the die cut was created with the largest flourish from Fancy Flourishes, first stamped in VintageTouch Chai and then with Spring Moss ink. I wanted a delicate look and something that wasn't 'too green'. I also edged the die cut with the Chai ink.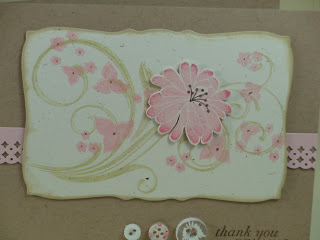 The flowers were from the Floral Fusion set and stamped with Sweet Blush ink. The largest one was stamped separately (Sweet Blush with a little Hibiscus rolled on the edges), cut out and adhered on top using Pinflair Glue Gel for dimension. The dots in all the small flowers were created by tapping the pointed end of my bone folder onto my Dark Chocolate ink pad and then dotting the centres!
The die-cut was adhered with Pinflair again, as were the three buttons from my White & Cream mix set of buttons. Love how you get variety even within the same colourways! Finally the sentiment was stamped in Dark Chocolate.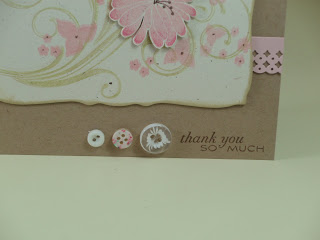 Well, I should *finally* be able to collect my October PTI orders (yep, multiple!) tomorrow and I can't wait!! Expect to see lots more goodies on here really soon! In the meantime I'd love to hear what you think of this card.