Hello again!
Well, after my very CAS card in my last post I thought I'd better return with something that has a lot less white space in it!
I'm still head over heels for my Guidelines II set. I love how easy it makes it to create really intricate backgrounds that look really complex! And I think it works well for both masculine and feminine cards!
This card is actually kind of a mixture of both masculine and feminine, lol. Well, it is the 21st Century!

The background has Dark Chocolate, Enchanted Evening, Ripe Avocado and Vintage Cream stamped onto Kraft cardstock. The pattern actually carries on to the back of the card as well as I wanted to give the card a real designer feel. That and I just couldn't bear to cut the design in half, lol.
I teamed the (what I feel is) quite masculine background with a the flowers stamp from Mod Squad. I wanted to keep the focal point of the card quite simple as the background is already very busy. So I stamped with Black Versafine onto Rustic White cardstock. I deliberately didn't ink up the stamp evenly so it had more of an artsy feel.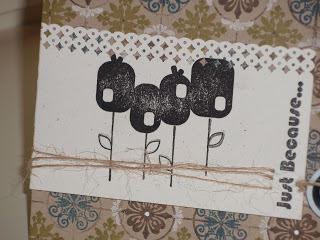 I used my EK Success Parisian border punch along the top edge for a bit of interest. For a girl who never was really into punches I'm slowly building a collection now, with more on my wishlist as well!
I wrapped some Rustic Jute Button Twine round the Rustic White card, but I wanted to do something different for a bit of added interest. So instead of just wrapping edge-to-edge I pierced three holes on the right hand side and threaded the twine through. It also meant that the twine wouldn't cover the sentiment, which is also from Mod Squad and stamped with Versafine.
After threading the twine through I tied at the side, then threaded the ends through a large button I found in my White & Cream Mix buttons. What a great find, with the black inner rim being the perfect foil for the black focal image! The image and the button were both adhered onto the card base using Pinflair Glue Gel.

I really like how this card's turned out – a bit different but definitely not boring! Would love to know what you think!!