Hello all!
Well, as the title suggests, I'm still completely addicted to Guidelines II and Star Prints! I can't help it, it's like they were made for each other!! And I think there are literally endless ways to combine them!
Even though this card uses the same two stamp sets as one of my previous posts I think you'll agree it looks really different!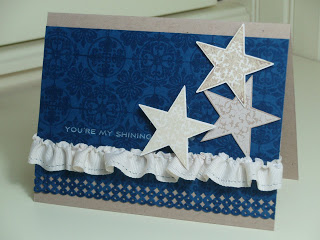 I just love how this card has turned out! I wanted to try doing a tone-on-tone effect with the background rather than using a combination of colours. So the background is Enchanted Evening cardstock (wow, what a colour!) stamped with Versamark. Subtle enough to achieve tone-on-tone but not just fade into oblivion either!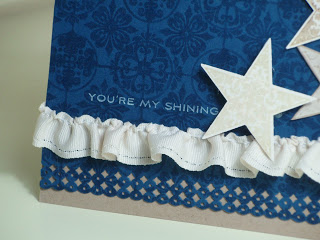 This card also sees my first attempt at the ruffled ribbon technique that Lisa Johnson showcased on her blog. I used a piece of Vintage Cream Saddle Stitch ribbon. As you can see the bottom threads of the ribbon were pulled out completely, which shows I really should read instructions in full before trying something, lol. On the other hand it allows the colour of the cardstock behind it to pop through the little gaps, so I maintain it was a happy accident!!
The bottom of the Enchanted Evening cardstock was punched using my EK Success Parisian Punch. I *love* this punch so much!! I then layered the cardstock (with ribbon already affixed) onto a Kraft card base. I love how Kraft co-ordinates with everything, and it really makes that punched edge stand out!

I stamped one of the stars onto Kraft cardstock using Vintage Cream (twice). I then stamped onto Rustic Cream cardstock using VintageTouch Chai ink. But my favourite star is the top one – doesn't that look just like 'Kraft' ink?! It's VintageTouch Chai plus a little Dark Chocolate ink, stamped once, then stamped again just with Chai! I *love* how this has turned out! I also used a layer of Versamark on the stamp first so that the Chai ink wouldn't stain the acrylic!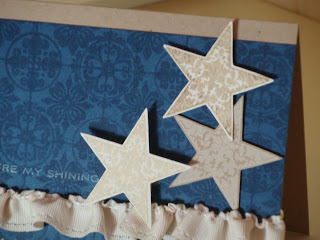 The stars were attached using Pinflair Glue Gel, at various heights for effect. That bottom star really has a lot of depth, it leaps off the base!!
Finally the sentiment was stamped with Vintage Cream ink.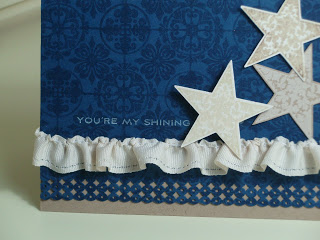 So what do you think? Can I get away with some more cards using the same two sets in combination? lol. Would love to have your comments!!