"I don't get buttons". "I can't see why I would ever want to use buttons on a card". "It's just not my style".
So how come now I have Papertrey's buttons I keep adding them to everything?!
Seriously, my last 4-5 cards or so all have buttons! I totally get buttons now! They're such a perfect little accent when you want something different, and three dimensional, to finish off your work. And have you seen the new Buttons Bits stamp set that Papertrey are bringing out in a few days' time? Gorgeous!!
Anyway, I'll regain my composure and continue this post for this card!
After playing with my denim backgrounder stamp I've had a raft of ideas of how I want to use it. I've not put my 'masterplan' into action yet, but the other night I had a cute idea for a concept which I decided to try.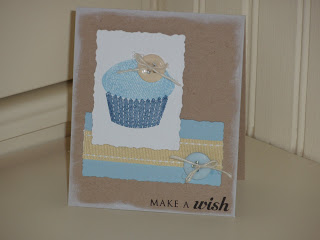 I used my Cupcake Collection stamp set to create this gorgeous little card/notecard. But if you look closer you'll see both the base and the cake aren't just denim colours – they're denim patterned!
I did this by inking up portions of my background stamp with different inks (I used Adirondack in 'Denim' for the base and SU!'s Bashful Blue for the top) and also inked up each individual cupcake piece in the colours. I then used the 'kissing' technique, applying the smaller stamp on top of the inked background portion to transfer the pattern. I pressed the stamp really hard into the background, so maybe it was actually more of a snog than a kiss, lol.
I stamped the top of the cake first and then the base onto PTI's Stamper's Select White cardstock. I don't use any other white cardstock now! I deliberately chose the base that had dashed lines between the segments so it would mimic white stitching!
I cut out the cupcake using one of my Deckled Rectangle nestability dies. I then fished out a suitable button from my PTI Lemon Tart Vintage buttons and tied it with PTI's Rustic Cream Button Twine before adhering with Pinflair Glue Gel.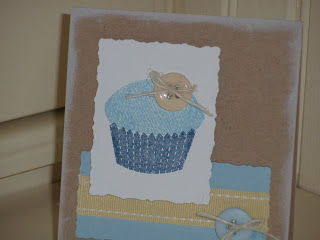 I cut out a longer rectangle in PTI's Spring Rain cardstock using one of my Mega Long Deckled Rectangles and adhered a strip of PTI's Lemon Tart Saddle Stitch ribbon before flipping over and trimming the edges of the ribbon to the shape of the rectangle with scissors (I tried running it through with the die again but the ribbon was too thick). I then fished out a suitable Spring Rain button, tied with the twine again and attached with Pinflair.
I mounted this rectangle onto PTI's Kraft cardstock and then added the cupcake layer with Pinflair so that it would have some dimension. Finished off with one the sentiments from the Cupcake Collection set, inked with PTI's True Black, then edged the card by lightly wiping with PTI's Fresh Snow ink.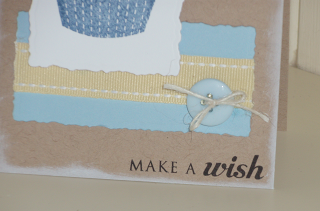 I think this card is so cute and adorable, and could be sent for many occasions! I'd never usually try creating an image with colours that aren't more 'true-to-life' but this card just goes to show what fun and success can come with playing!!