I've been poor at posting since last week's flurry of posts, so I intend to start making up for it! Today I'm posting a denim card which I think looks really realistic. The technique and design idea for the card was CASEd from Debbie Olsen's Father's Day card posted on the CLASSroom blog. The original design can be found here: http://ellenhutson.typepad.com/the_classroom_new/2009/06/dad-card-jeans-texture-by-debbie-olson.html
Anyway, my take on this technique and card is this: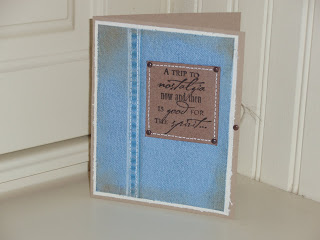 I used the same denim backgrounder stamp after a *long* search for the stamp. It is no longer in stock at Ellen Hutson and I have contacted them and been told that it has been discontinued and they won't be able to get more in. I eventually found this one by posting on SCS and got very lucky.
For anyone wishing to recreate the look I've experimented and found that if you heat a large piece of Cut 'n' Dry foam evenly and immediately press firmly into a pair of jeans that you can create a decent stamp from it, so all is not lost!! The sentiment is from a 'Memories' stamp set by Cloud9.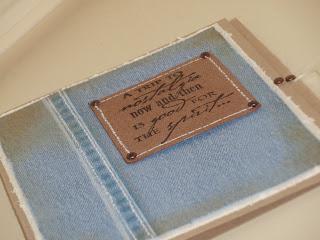 The inks I used were the Adirondack Denim and the Weathered Wood Distress ink for the denim, Tea Dye Distress ink for the ageing the edges of the denim, and SU! Creamy Caramel for the 'leather' patch (which I took Debbie's advice on and created from Grunge Paper – the stuff is fantastic, you must try it!!). I used more or less the same Copics as Debbie did but didn't have the same blues in my collection so went with B32 and B45 (I think).
I used a pale blue piece of card from a craft shop to stamp my denim background onto. Once I was finished with the denim piece I mounted onto PTI Rustic White and Kraft cardstock, then added some Rustic Cream Button Twine and brads to create a fastening/closure for the card. I distressed the edges of my denim and Rustic White cardstock with my scissors as I still don't have a paper distresser!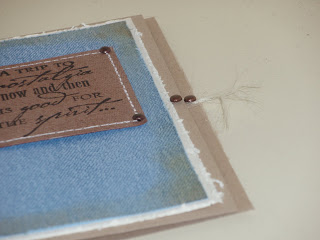 As I said at the beginning, I'm posting this card as a taster for something I'm going to be working on very soon which is going to look absolutely fabulous if/when I'm successful! Hopefully will have something to post on that front next week!
For now, enjoy, and definitely check out Debbie's great tutorial on how to create this really realistic look!