Hey everyone! Happy Friday!
If you've been around my blog before you'll probably know that birthdays are one of my favourite things to celebrate. Rather than shy away from acknowledging turning another year older I love to surround myself with presents and cake and confetti – and cards!
I'm very glad to say that crafting companies share my love of celebrating birthdays – particularly their own! And that's why I'm here today – to help celebrate the 4th birthday of one of my favourite stamping companies – SugarPea Designs!
SugarPea Designs have some of the most adorable images you ever will meet! But that's just one side of the story as they also have a range of clever and intricate dies, staple patterned papers, and more! And if 'cute' isn't your thing, fear not – they also have a range of other styles and designs that you are bound to love too! And they are headed up by the sweetest, most wonderful friend of mine, Wendy – her kindness and warmth radiate from everything she does!
So obviously with it being a celebration of SugarPea Designs' birthday, I had to pull out some of their favourite sets of mine and make a birthday card: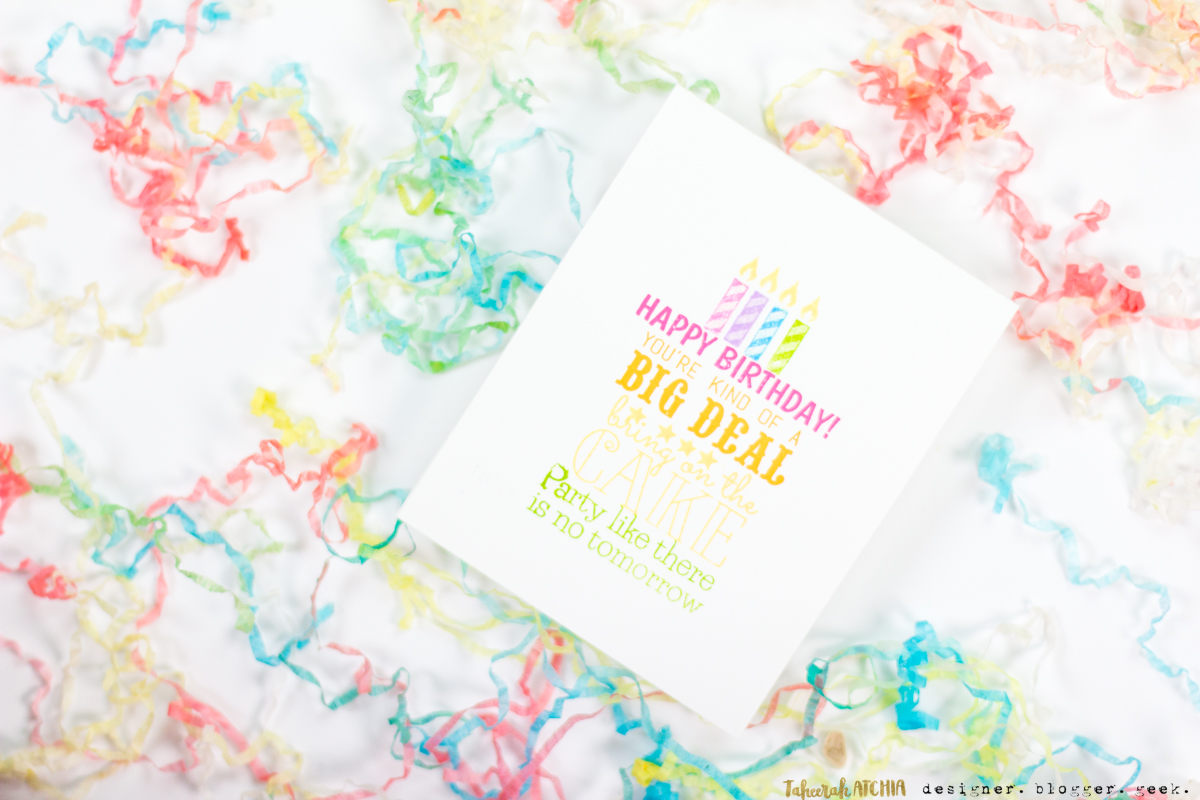 I went very Clean And Simple with this one! It's been a while since I've created in this style so it was a refreshing change, whilst still involving a bit of technical skill!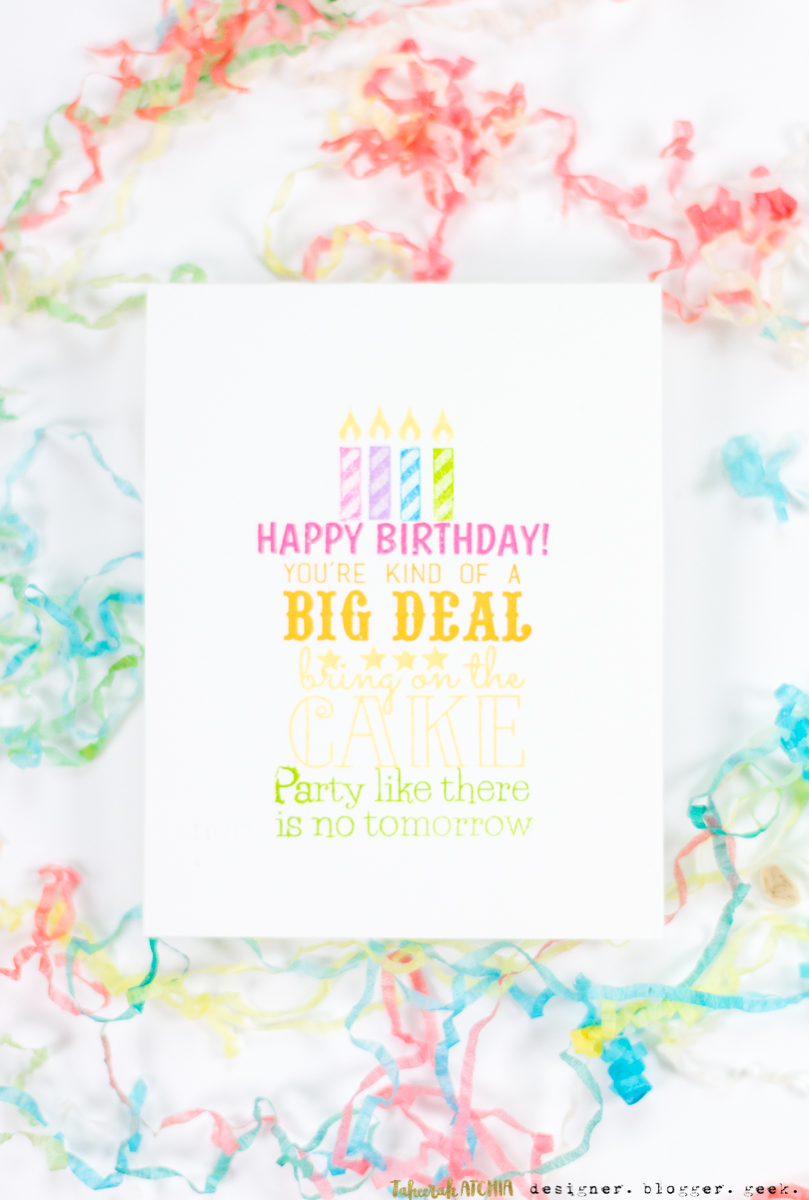 I used sentiments from the Bring On The Cake, Stay Strong, and Prehistoric Pals stamp sets to make my 'sentiment birthday cake'. Subway Art meets cake – sign me up! I masked one of the stamps from Bring On The Cake to stamp just the small star several times on the yellow layer. The candles are made from two separate stamps and I loved overlaying them for a two-tone effect!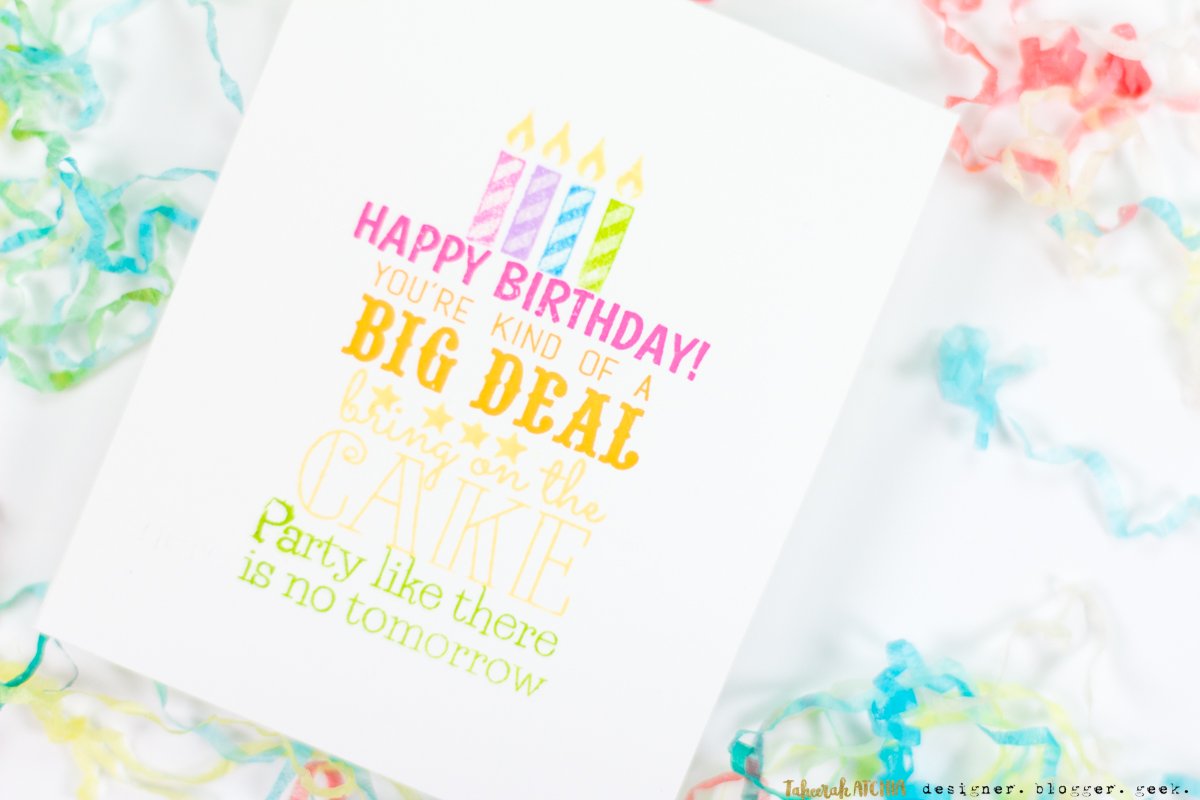 Happy Birthday SugarPea Designs! Here's to many more!
Birthday Presents!

It wouldn't be a Birthday without presents! Which of course means a giveaway and a special discount too!
Birthday Discount
SugarPea Designs is offering a coupon code: BDAY04 for customers to receive 15% off their entire purchase AND a FREE 4×8 stamp set with any purchase! The code is valid until 11:59EST on Saturday 7th April, so you've a little time to shop!
Giveaway!
SugarPea Designs is giving away FOUR $40 gift certificates to their store. Wow!
Just leave a comment on each of the blog posts to be in with a chance to win!
Here's your Hop line-up for today:
Amy Kolling
Amy Rohl
Amy Tsuruta
Ardyth Percy-Robb
Becky Pearce
Jennifer McGuire
Jessica Frost-Ballas
Kelly Lunceford
Kelly Latevola
Kerin Sylvester
Kristina Werner
Laura Bassen
Lea Lawson
Lydia Fiedler
Martha Tucker
Nichol Spohr
Nina-Marie Trapani
Raluca Vezeteu
Sandy Allnock
Simonne Clay
Stéphanie Beauchemin
Taheerah Atchia
Vera Yates
You have until 23:59EST on Saturday 7th April to enter. Winners will be announced on Sunday 8th April.
Thanks for stopping by, and good luck!
Supplies