Hi everyone! Happy Sunday!
Being a scientist at heart (and by education too), I always love cards with clever, interactive elements that make you stop and think 'how did they do that?' A couple of years ago at CHA I stumbled across a small stand by a company who did just that.
Fast forward to now and Motion Crafts have really made a splash in the cardmaking world with their awesome animated stamps. Their ingenious combination of designs that come alive with the addition of a moveable animation grid creates such a showstopping effect. So when they asked if I'd like to be involved in their first ever Blog Hop I of course said yes!
I've been on a real photography kick lately (I just got back recently from attending The Photography Show, the UK's largest photographic event), I of course fell head over heels with the moving shutter image in the Essentials stamp set, so I set about using that: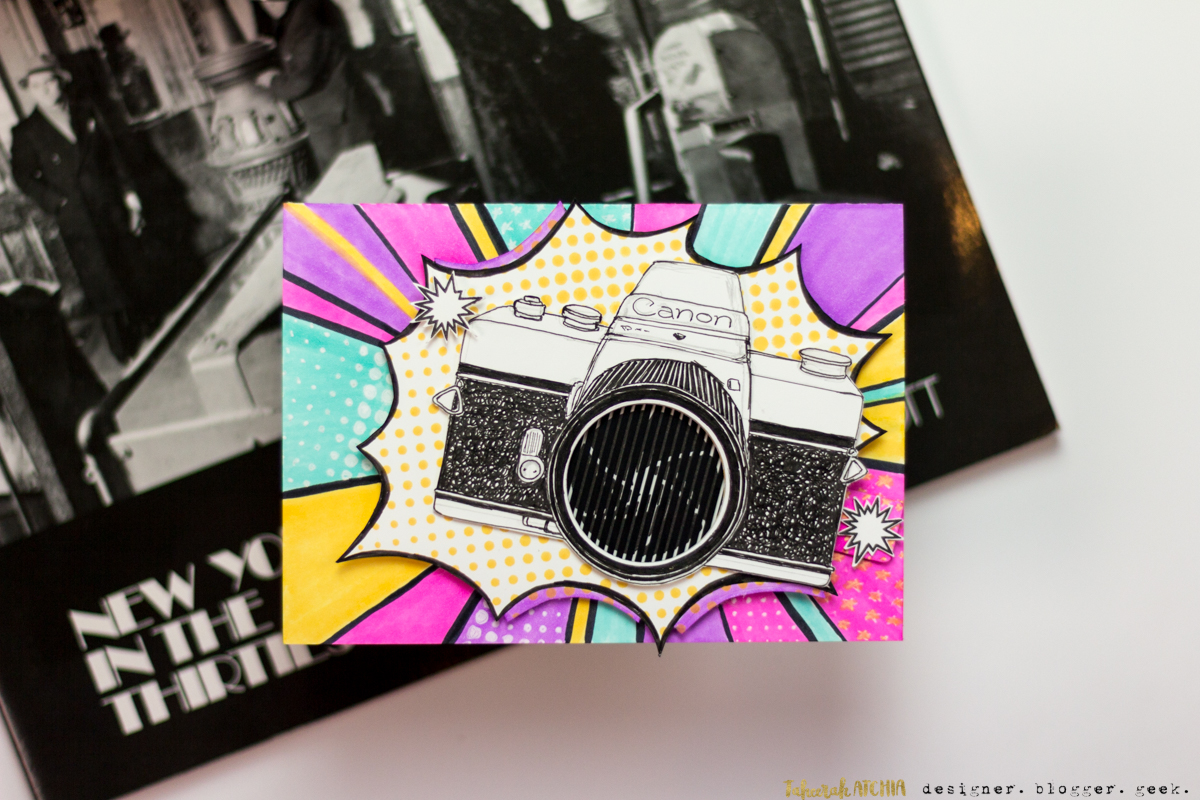 Not gonna lie – I couldn't be more thrilled with how this turned out!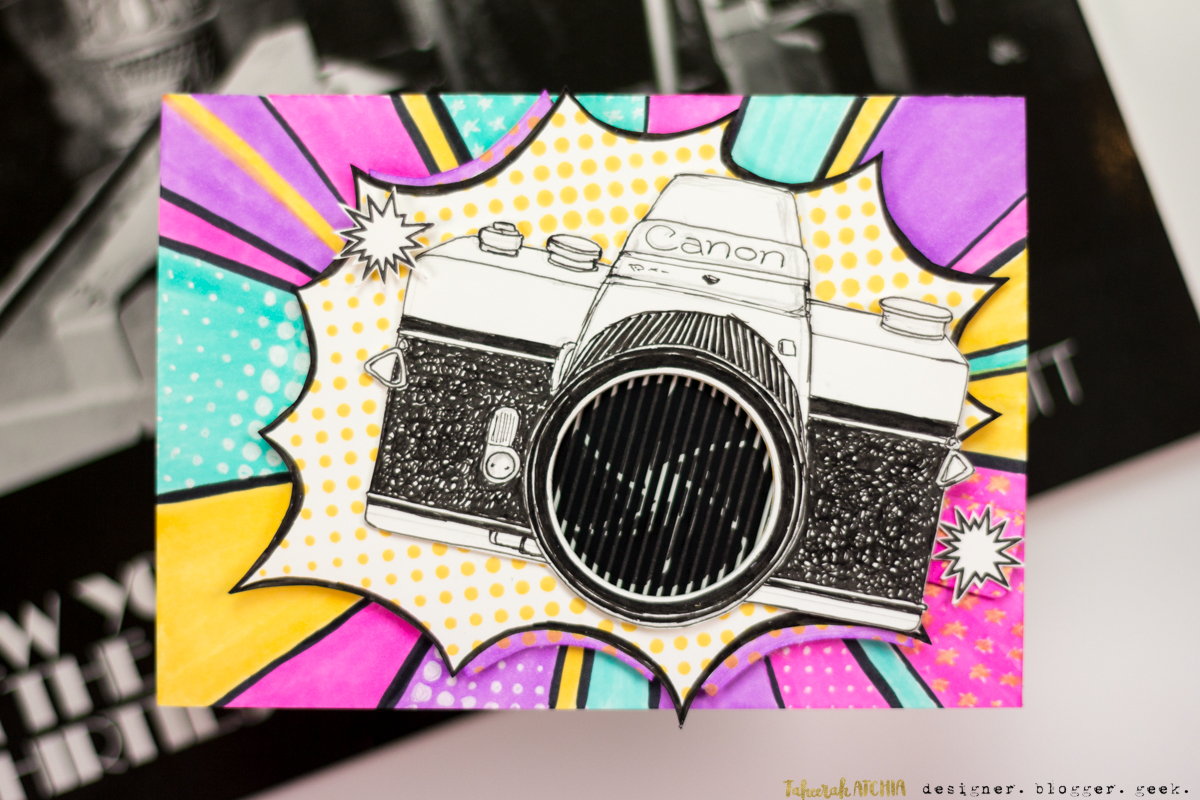 You might be thinking, Hey Taheerah, that's a really cool camera! What stamp set is that?! Nope, not a stamp! I wanted a vintage camera image of the right dimensions to work with the shutter, and of course there isn't one out there, so I drew my own. Super stoked with how it turned out!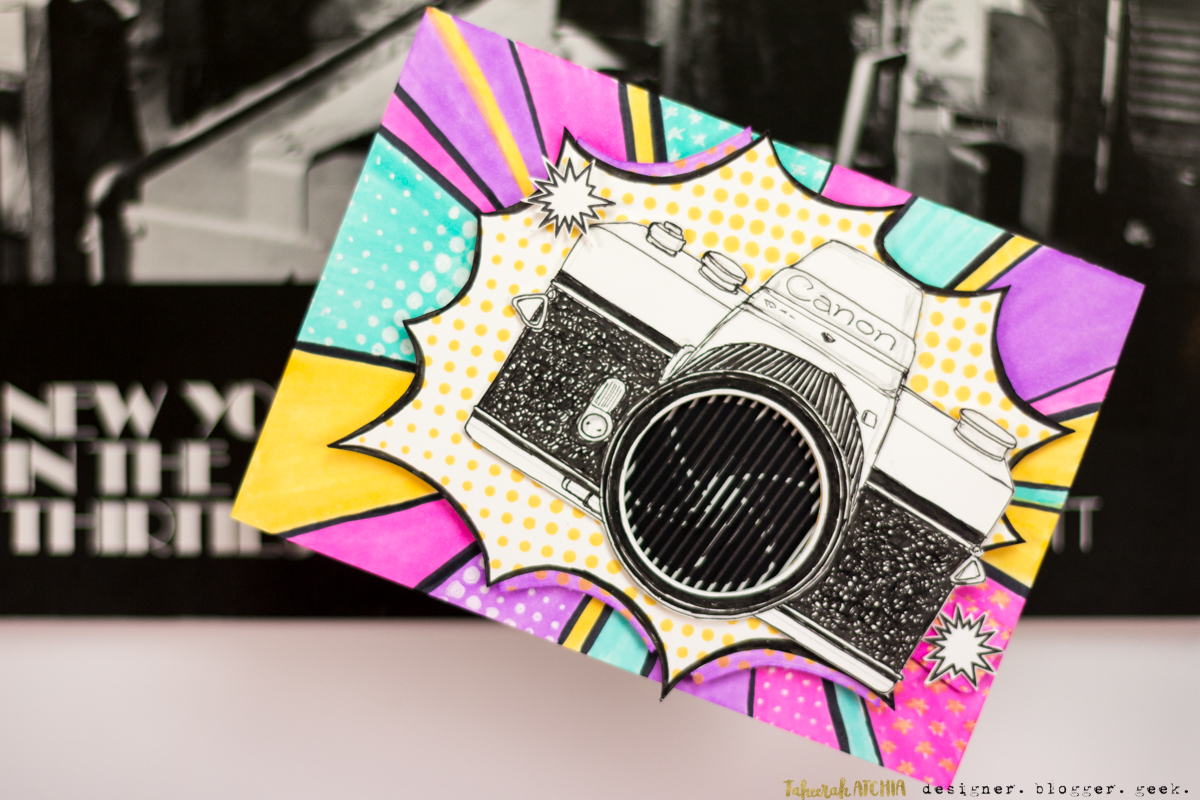 Seeing as the lens protrudes below the bottom edge of the camera you would be able to see the animation grid sticking out, which wouldn't be cool. So I decided to go with a whole Pop Art theme and drew an explosion image for the camera to sit on top of. I stamped the halftone dots then drew the explosion on top, adding some Copic details with the little purple edges. I fussy cut the camera and the explosion out, figured out where I wanted the shutter hole to be and die cut that circle from both the camera and the explosion (so you can see the stamped image on the card base below) and adhered them together with dimensional glue gel.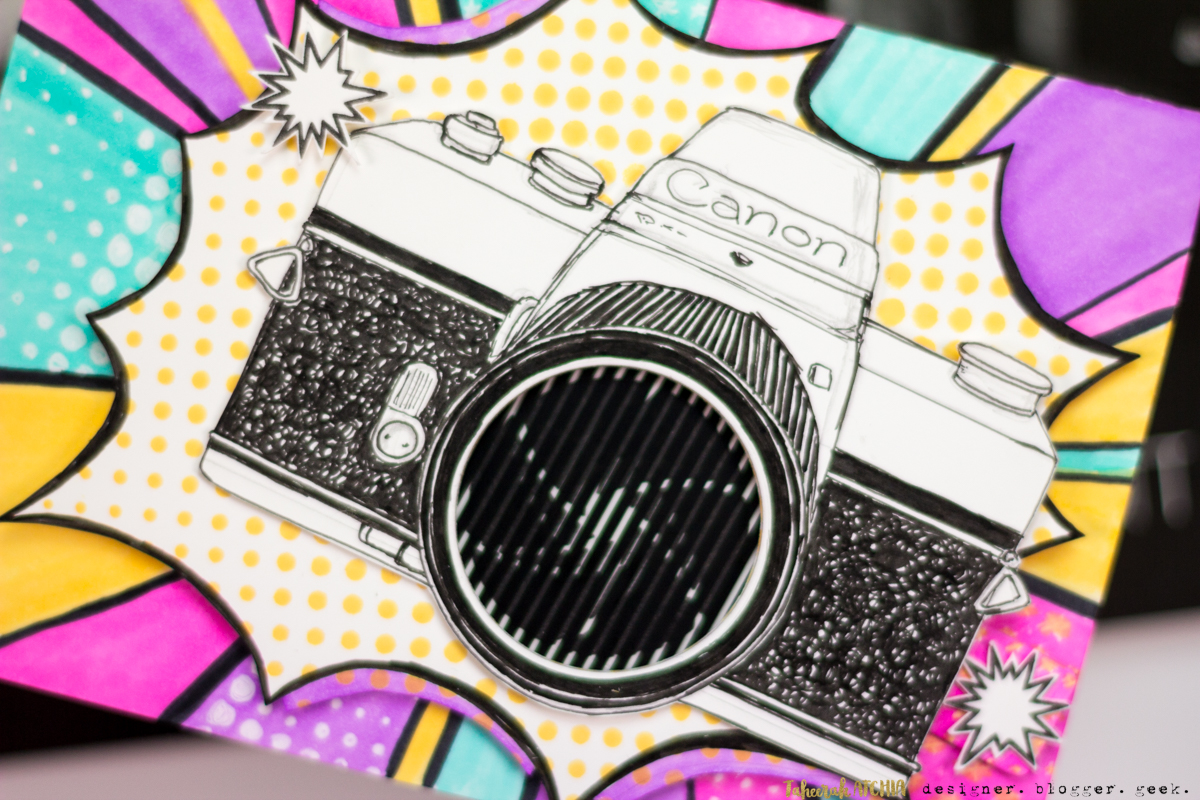 I continued with the Pop Art effect on my card base, adding black lines and Copic colouring detail to appear to be radiating from the explosion. The lines and colours don't go all the way to the centre of the card, just enough for the explosion to overlap them. With the centre of the card left white, I then stamped my shutter stamp image in the right place to show through the die cut circles (thank you MISTI!).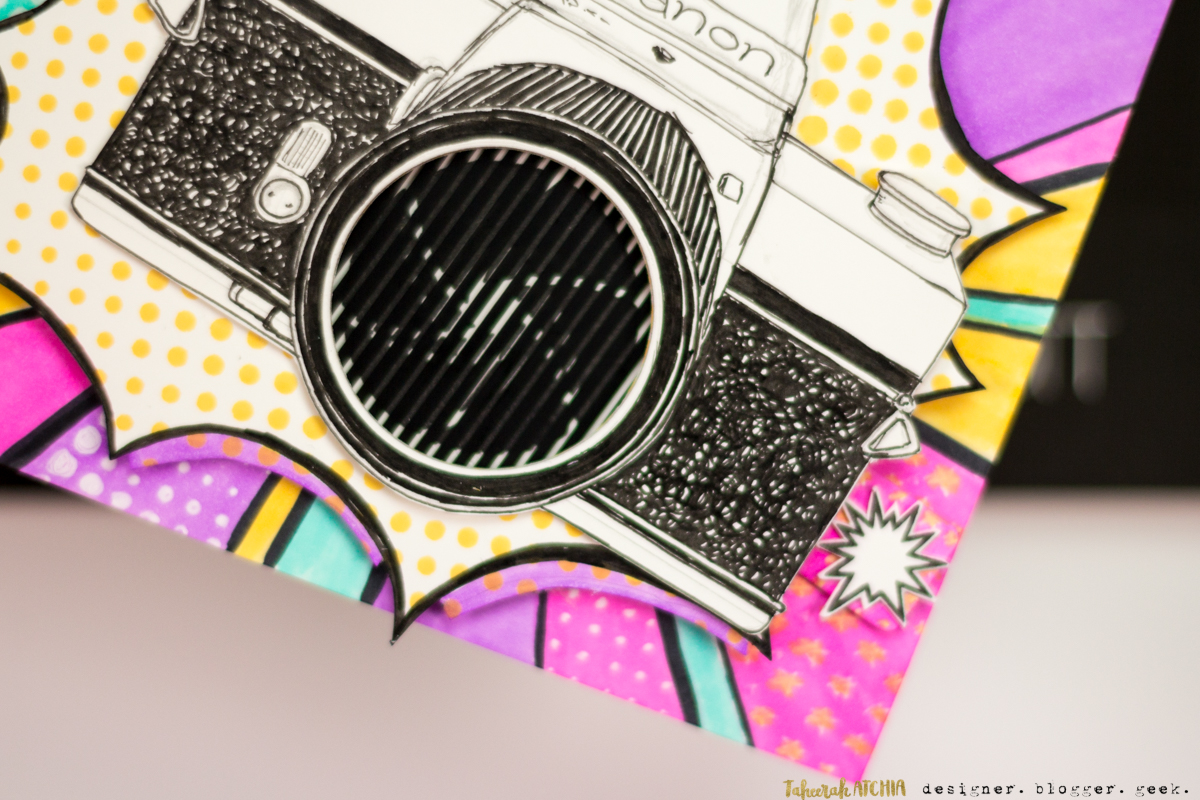 I then set about creating the slider element using the animation grid and a die cut slider pull using the Animation Pull Slider die set. Motion Crafts sells their own super skinny foam tape strips and tape which made it a breeze to create the housing for the slider element! I cut a piece of animation grid acetate to the right dimensions, making sure to leave a pull tab shape to adhere my die cut cardstock pull tab. I adhered that in place and decorated it to match the background. Fun!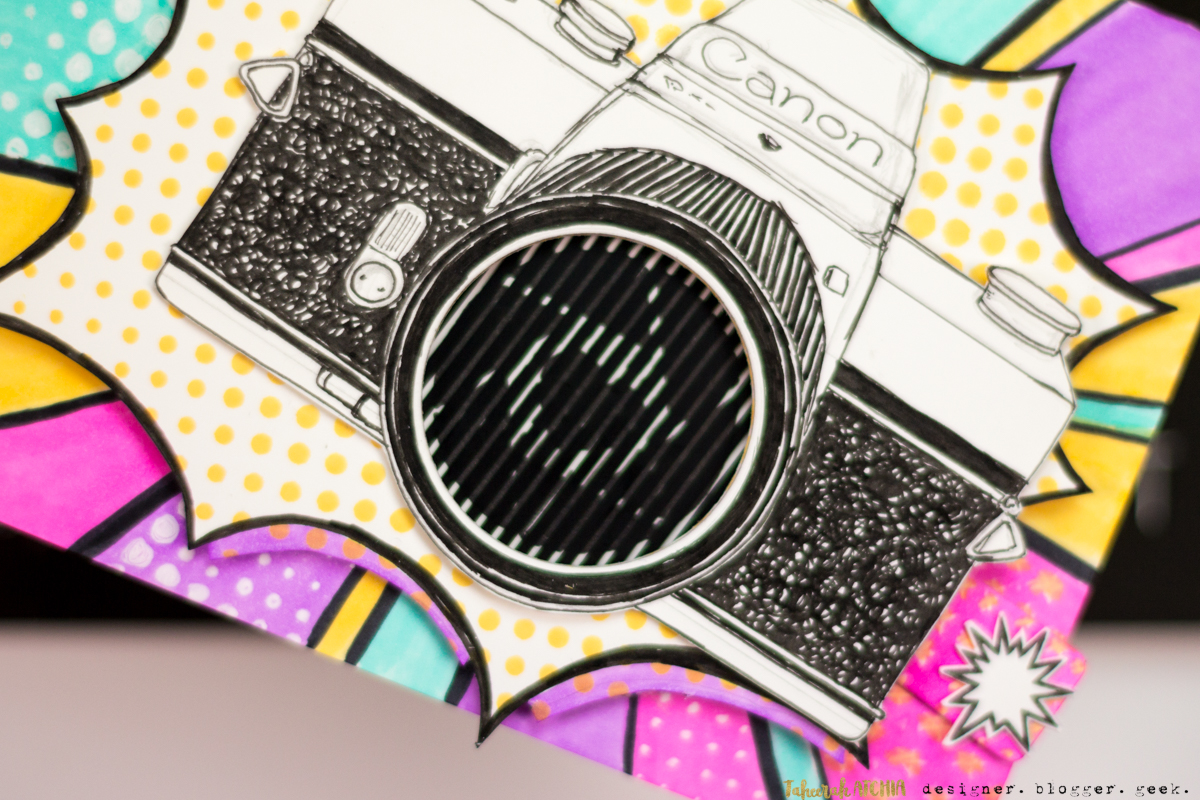 Once all of the components were created, it was a simple matter of assembly and my card was all done! I used dimensional glue gel to adhere the explosion (I wanted something more sturdy for it than just the foam tape encasing the slider mechanism). I also added a few mini explosion stamped images, one to mimic a flash, and one on the slider to alert you to its presence! This is a close-up of what you see when the slider is pulled – the shutter opens to reveal a heart! How awesome is that?!
And seeing as you really need the magic of television to see this baby in action, here's a short clip of the slider animation in action!
This was so fun to create and perhaps even more fun to play with! And if creating your own images around the animation stamp is not your thing then fear not – Motion Crafts have many stamp sets featuring cute animated critters, shapes, and much more! You really do need to check them out to see just how much you can do with them!
Giveaway!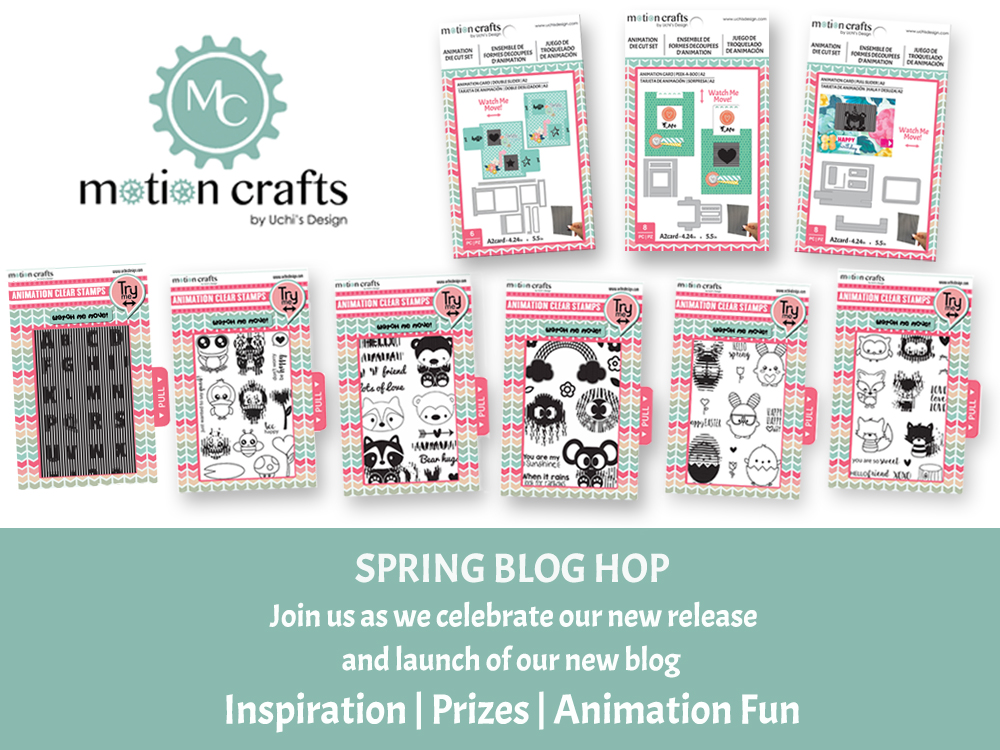 It wouldn't be a Hop without a giveaway! Each stop on the hop is giving away a stamp/die bundle worth $35! As well as that, the prize on the Motion Crafts blog post is a giveaway of THREE $50 gift certificates to their store so you can really get started with their amazing products! Wow!
Just leave a comment on each of the blog posts to be in with a chance to win!
Here is your hop order for today:
Motion Crafts Blog
Laura Bassen
Vicki Papaioannou
Kreative Kymona
Svitlana Shayevich
Martine Rijnbeek
Kelly Griglione
Karen Hasheck
Taheerah Atchia
Tracey McNeely
Michele Ferguson
Miriam Prantner
Jeanne Jachna
Kassi Hulet
Keren Baker
Tammy Nickel
Carolina Zarate Ponce
You have until 23:59EST on Thursday 29th March to enter my giveaway (be sure to check the details for all the hop stops as not everyone will be ending their giveaways at the same time!). I'll announce my winner shortly after my deadline.
Thanks for stopping by – and good luck!
Supplies