Hello everybody! And welcome to Day 25 of Advent Calendar Extravaganza!! Merry Christmas!!
In case you missed Day 24, click here!
In case you missed Day 23, click here!
In case you missed Day 22, click here!
In case you missed Day 21, click here!
In case you missed Day 20, click here!
In case you missed Day 19, click here!
In case you missed Day 18, click here!
In case you missed Day 17, click here!
In case you missed Day 16, click here!
In case you missed Day 15, click here!
In case you missed Day 14, click here!
In case you missed Day 13, click here!
In case you missed Day 12, click here!
In case you missed Day 11, click here!
In case you missed Day 10, click here!
In case you missed Day 9, click here!
In case you missed Day 8, click here!
In case you missed Day 7, click here!
In case you missed Day 6, click here!
In case you missed Day 5, click here!
In case you missed Day 4, click here!
In case you missed Day 3, click here!
In case you missed Day 2, click here!
In case you missed Day 1, click here!
I've always loved the concept of Advent Calendars. There's something special and magical about those little treats hidden behind those little doors – and the idea of a secret little something to be unwrapped every day really is a wonderful way to build the excitement towards Christmas, not to mention a fun tradition as well!
As the years roll by some of these types of tradition can be lost when we grow up, and it seems a real shame to lose some of that magic and wonder. And really there's no reason at all why something such as an Advent Calendar can't be revamped and repackaged for grown-ups, crafty grown-ups… grown-ups like you and me!
So one day in November a couple of years ago I dreamed up a fun idea for a event. I didn't know if it would work, or if anyone would be interested. I approached some crafty friends, and others recruited themselves – everyone loved the idea! Behind the scenes I worked hard to put together something rather different and very special. After much organising, coordinating and planning, I'm really thrilled to finally bring to you a very special, very fun, very festive series! It was *hugely* popular, and so, by popular demand, I just had to bring it back again this year!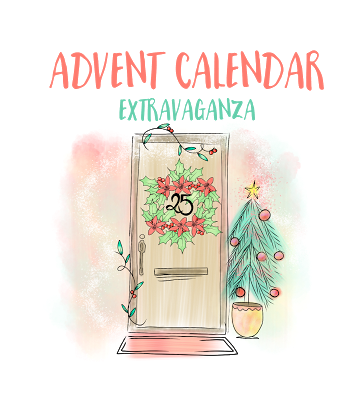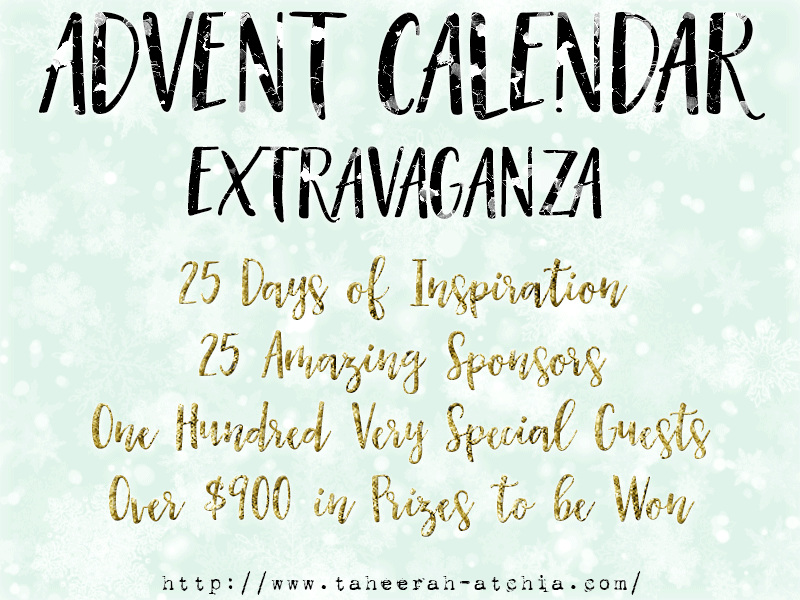 Advent Calendar Extravaganza is -the- festive event of the season! This 'hop with a twist' was dreamed up by

 

Taheerah Atchia and features surprise destinations each day! Joining in the fun with Taheerah are ONE HUNDRED special guests – each serving up some fantastic Christmas inspiration! Just like an Advent Calendar, you'll never know where you're going to be visiting next until you 'open the door'!
And that's not all! With 25 *amazing* sponsors taking part as guests as well, your crafty wish list is bound to get a boost with a chance to win a prize EVERY SINGLE DAY!!
Join in the fun every day at

 

taheerah-atchia.com

 

to see what special surprises await behind the door!
Eek! How fun does that sound?! 25 full days of surprises, inspiration and prizes!!
In case you're wondering just how it's going to work, here's a quick video that explains how to find those special links!
I'm so excited to be bringing you this event! I really hope you're going to enjoy it as much as I am!!
Let's get on with Day 25, shall we?!
I've got some of my very favourite designers lined up today to continue the fun! Just click on the door to reveal today's surprise destinations and prize! Tip: you will need to do this from the blog itself, not from a feed reader or e-mail!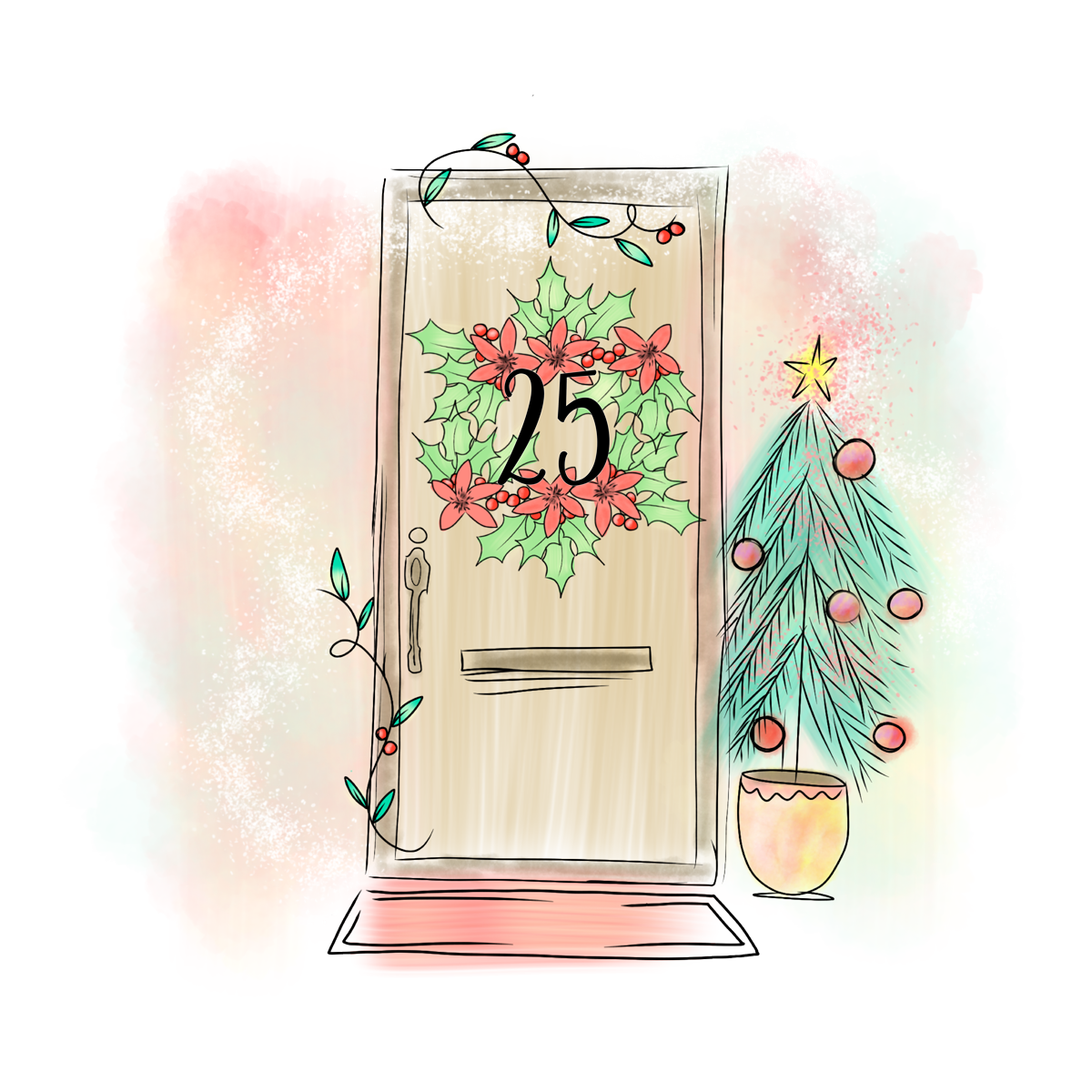 The door is a bit different this year (curse of moving over to WordPress!). So, now you've opened it, please use the image below to find your secret links! As you see, there aren't any text links, but tap or click on all the decorations/presents in the image below and you will find your secret destinations! *wink*
Exciting right?! Isn't it fun to not know what's in store at the other end of those links?! Make sure you click each one to reveal the surprise and leave comments at the destinations to win!
And speaking of winning…
Today's sponsor is Papertrey Ink! What can I possibly say about the industry giant that started me on this creative path and made me a part of the crafty community?! Papertrey Ink were my 'gateway drug' – the first company that got me started on stamping. I've been a huge fan of the timeless designs and fun products for so many years now. Their creative founder, Nichole Heady, is someone I am honoured to call a friend, and I was beyond thrilled when I approached her about sponsoring this event and she said yes! Nichole has just recently stepped down from Papertrey to pursue other opportunities, but their legacy, their amazing products, and their fantastic designs and Design Team will live on and continue with the Papertrey name! I am so thrilled to have them sponsor the event this year!
Papertrey Ink are generously sponsoring a $75 gift certificate to their store! With an amazing array of products you're really going to be spoilt for choice spending it!
Now that you know what you can win, I'm sure you're eager to head off to all those secret destinations to check them out! But before you go, some inspiration from me: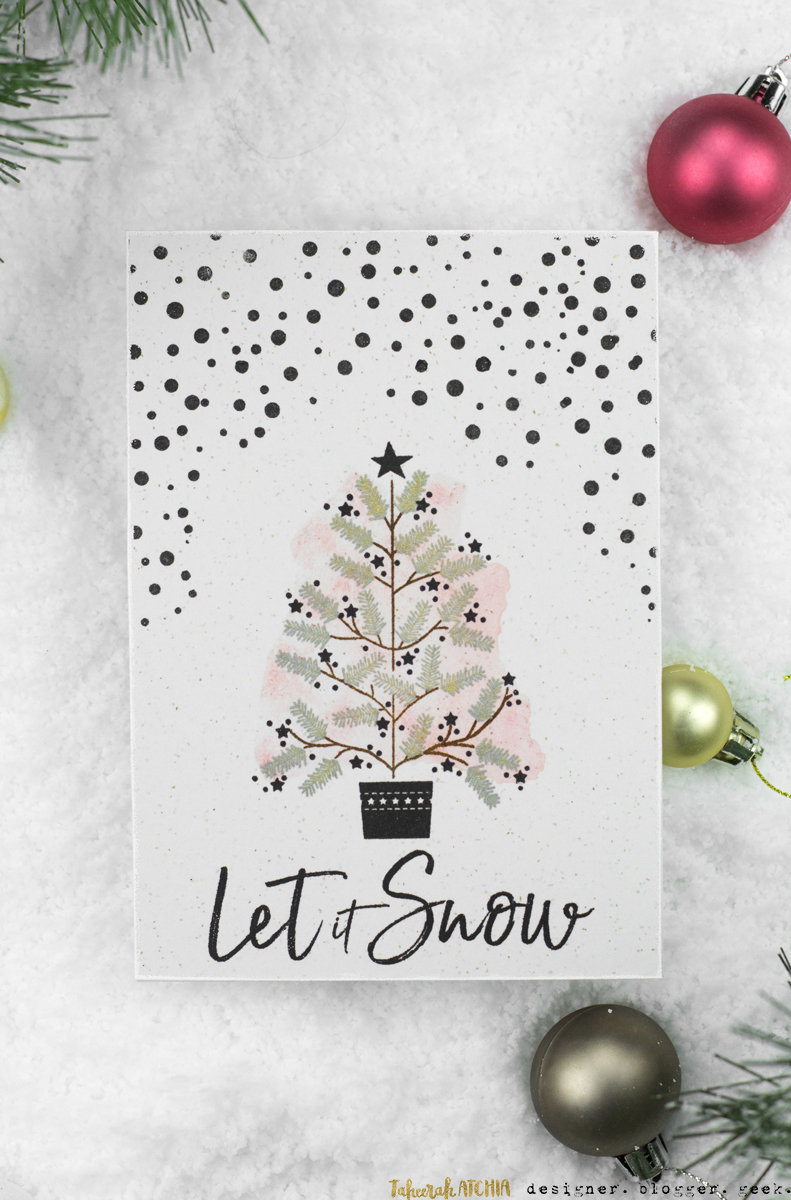 I'm finishing up this event with a modern take on a classic looking, folksy tree! I am kinda crazy about this colour combo, I have to say!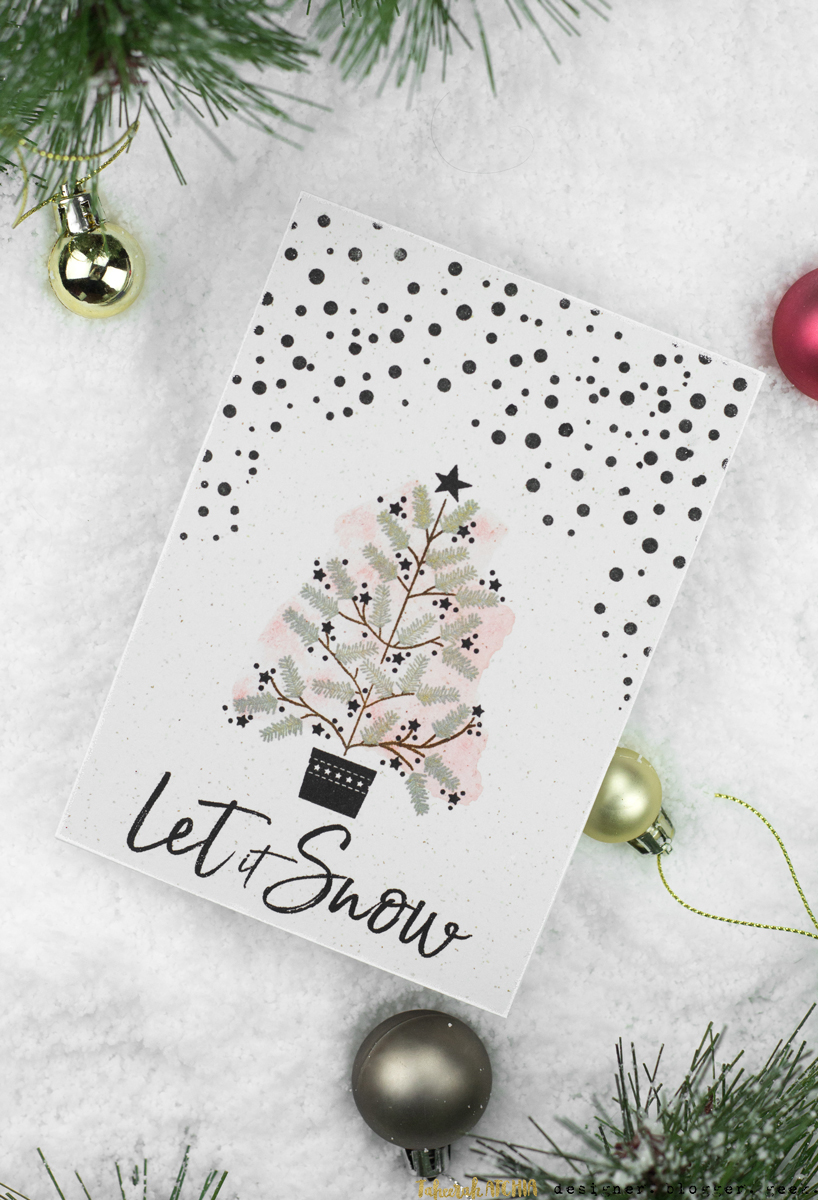 I used the tree and accompanying images from the O'Tannenbaum set to create my scene. I started by stamping the reverse of the stars stamp with a blush ink (misted a little with water before stamping), then stamped the branches/trunk with Cocoa Bean ink.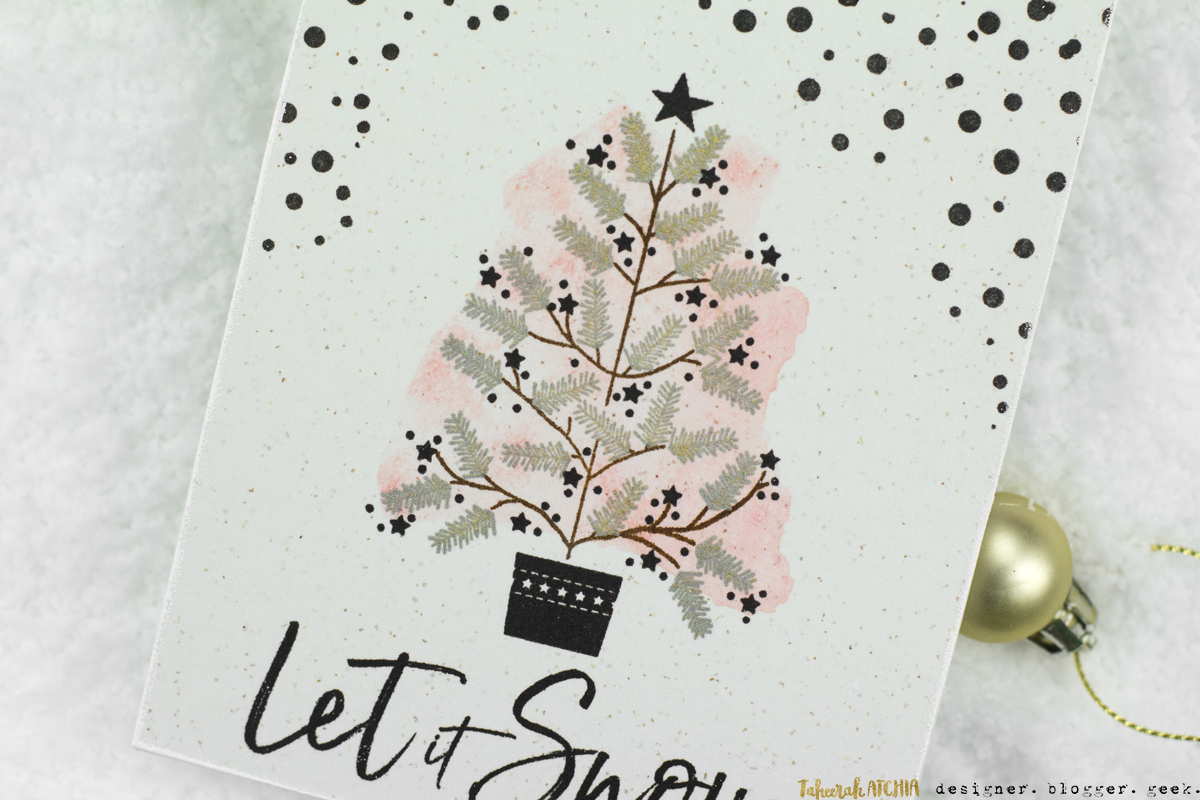 I stamped the branches with silver ink, then gold, then silver, then gold! This made a wonderful platinum effect – a great tip if you don't have any platinum ink! I stamped the little stars, the star topper, the pot and the 'snow' (a baubles stamp from the same set) all with Versafine Ink. The sentiment is from the Pen & Ink Christmas set and finished off the look so well! I edged my card panel with white ink then heat embossed a little white embossing powder on it before adhering to my card base. I love how this turned out!
It's not a party without a prize – and with prizes every day there are several chances to win! Today's prize is generously supplied by Papertrey Ink so you'll definitely want to get your hands on it! Simply leave a comment on this post to enter! Don't forget to grab the other surprise destinations from behind the door, and head over to them to leave comments there as well to improve your odds even more! You have until 7am EST on Sunday 31st December to leave all your comments!  /
Don't forget the Advent Calendar Extravaganza runs from 1st-25th December inclusive so make sure you visit taheerah-atchia.com every day for fabulous inspiration and amazing prizes every single time! Merry Christmas!
Before we close, I just want to take a few moments and thank you all for visiting here each day. I hope you've loved Advent Calendar Extravaganza (certainly from your comments it seems that way!). To say this event is a huge undertaking is actually an understatement – there's so much behind the scenes work you don't see, and so so *so* many hours that I pour into making this a celebration to remember. I hope you've been able to enjoy the festivities and that it's made your holiday season a little brighter.
I also want to take the time to thank each one of the awesome sponsors and amazing guests that have helped make this event what it is. It simply wouldn't be the same without them, and they have been so inspirational and generous with their time and their contributions. I hope you'll take the time to show them as much love as you have me – they all deserve it.
Don't forget you still have until the 31st of December to get all your comments in, so be sure to visit all the secret links and play along. Fit it all in during your holiday season, and I'll be ready to draw winners in the New Year to get 2018 off to a good start!!
And finally, I want to wish you all a very Merry Christmas!! Thank you all so much for stopping by!! I hope you'll still visit here between now and next year's event too!!
Supplies