Hey everyone! Happy Tuesday!
We're inspired by many things when we create. For some, it's trends. For others, it's seeing another designer's work. For others, it's items found in our day-to-day lives – in advertising, or in shops, or when we take a walk.
Perhaps one of the greatest sources of inspiration is Mother Nature. From the beauty of flowers to the delicacy of a feather, inspiration is all around.
Personally, I'm inspired by all these things. Each has their place. I'm mostly a trends person, but anything that sparks my creative juices – natural or man-made – can have an impact.
The reason I'm waxing lyrical about inspiration, and especially that found in nature, is because the latest Stamp of Approval Collection from Catherine Pooler is about to hit the shelves, and a whole deluge of inspiration with it!
If you've not heard of Catherine Pooler's Stamp of Approval then you are in for a treat. It is a completely curated box of exclusive supplies delivered right to your doorstep! Amidst the gorgeous box and hidden in that pretty wrapping is an *awesome* collection of not-yet-on-the-market stamps, dies, and maybe even a couple of other surprise goodies too – all expertly designed and selected for each box to match, coordinate and amaze. The products in each box are only available as an entire collection and won't be offered for individual sale until several months from the Collection's release date, so they've got that whole exclusivity thing going on. AND just like that Christmas Morning/surprise gift, the first time you see the entire contents of the box is when you unwrap it for yourself! How fun is that?!
Oh, and one more thing. These babies sell like hot cakes. Fresh from the oven. That's right. If you want to be the first to the cake aisle then I recommend subscribing to the Waiting List at Catherine Pooler's Stamp of Approval site so that you're notified when the collections go on sale, and so you won't be left staring at empty cake shelves. No-one wants that.
And now I want cake.
The latest Stamp of Approval Collection is being released in just a couple of days and it's called the Naturally Inspired Collection. And inspiring it most certainly is! Catherine has been sneaking peeks of the contents of The Naturally Inspired Collection on her blog over the last few days, and the past couple of days have seen the amazing Design Team (and some special guests!) show off just what some of the items in the collection can do! I'm helping to bring up the rear for Day 3 of 3 Blog Hops to show off this *truly* amazing box of goodies with a couple of cards, and of course there's a fantastic giveaway as well where you can win a box of your own too!
Let's get to the cards.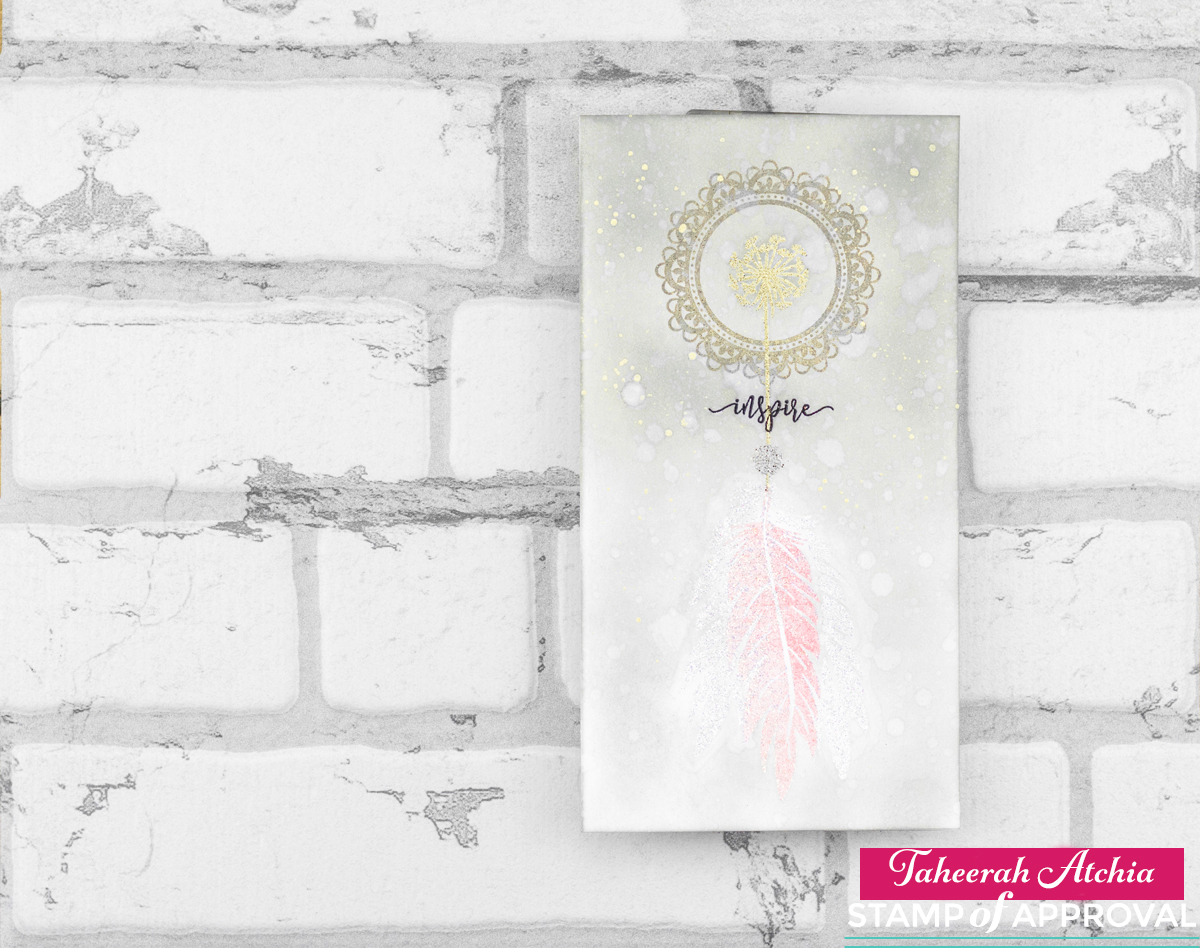 For this beauty I played around with the stamps from the Wild Garden, Medallion Mix-Up, and Birds of a Feather stamp sets, to create this totally awesome dreamcatcher!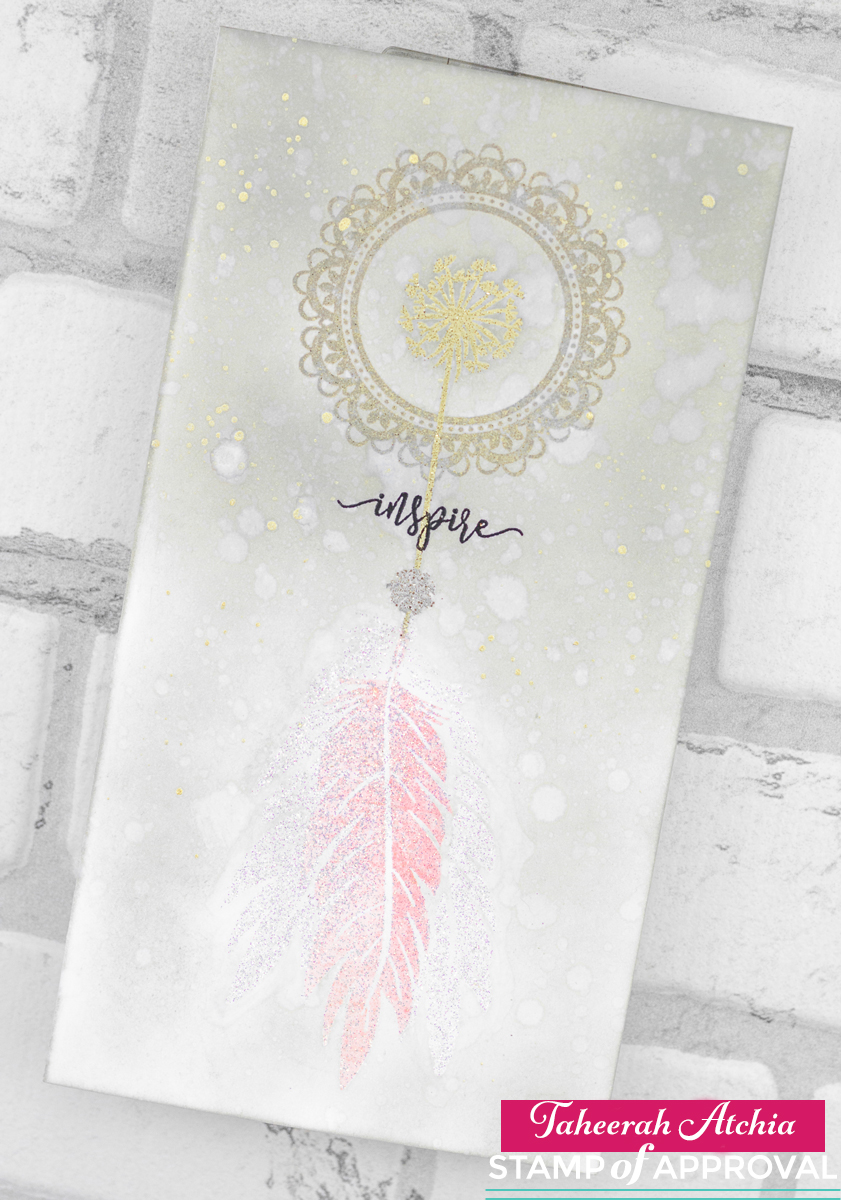 I love the whimsical nature of this card. It really feels peaceful and serene to me!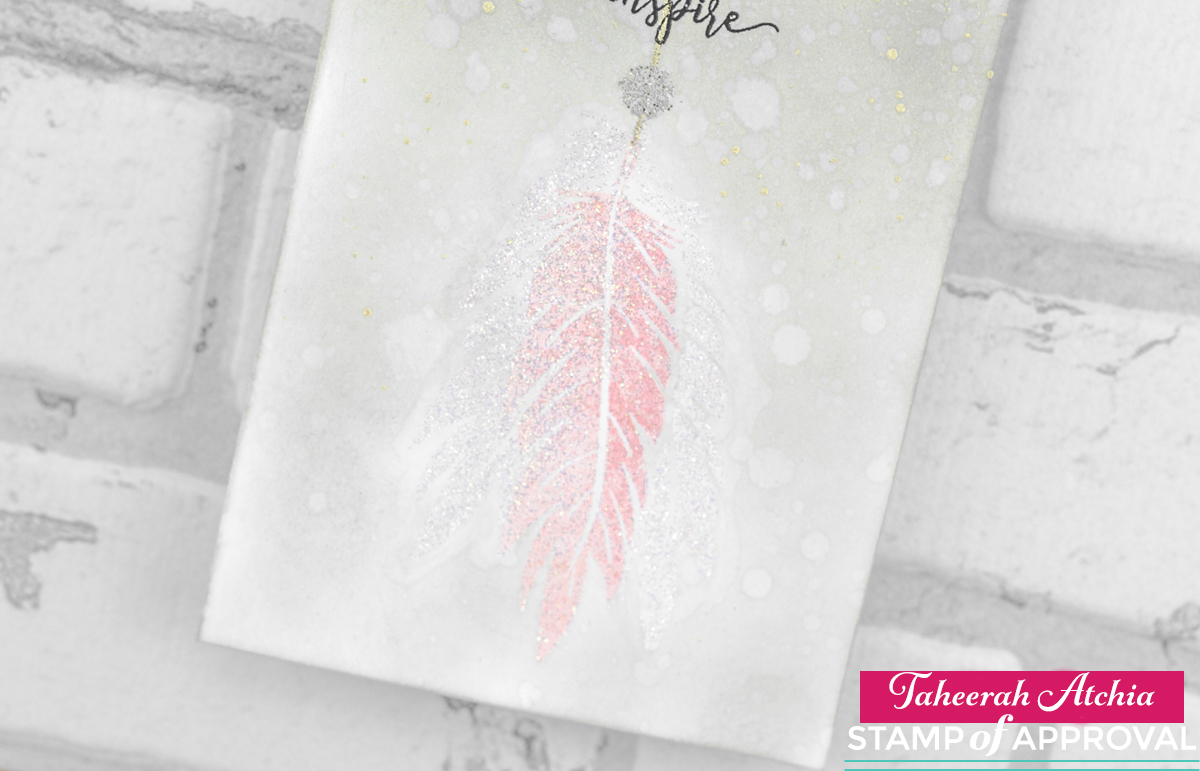 Can we talk about those feathers? The stamp is generously sized to take the focus of a card, so I created a tall, large card to work with my design. The centre feather was stamped with a mix of Bellini and It's A Girl inks, and the two flanking feathers just with Versamark ink. But that sparkle. Oh, that sparkle. That comes from heat embossing all the feathers with the exclusive Wanderlust embossing powder that comes with the collection!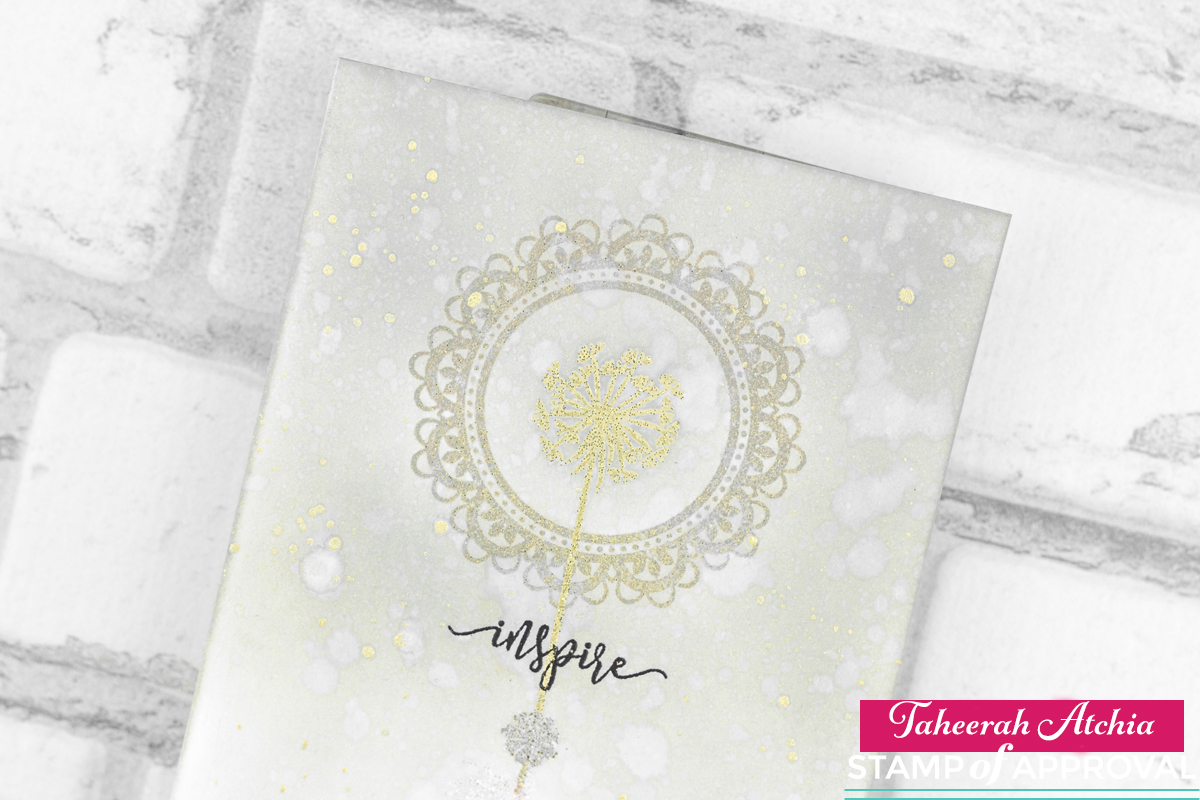 The centre of my dreamcatcher is pretty clever too, I think – it's the dandelion image from the Wild Garden set! As you can see, I pulled out some other embossing powders for that, and for the smaller flower and the sentiment too! I blended Pumice Stone Distress Ink over my base and added splatters and mists to finish it off! I love this card so much!
For my second card, I went with a completely different look:
Gorgeous, right?! Here I brought the Wild Garden stamp set out to play in style! Just look at that gorgeous watercolour-style flowery meadow!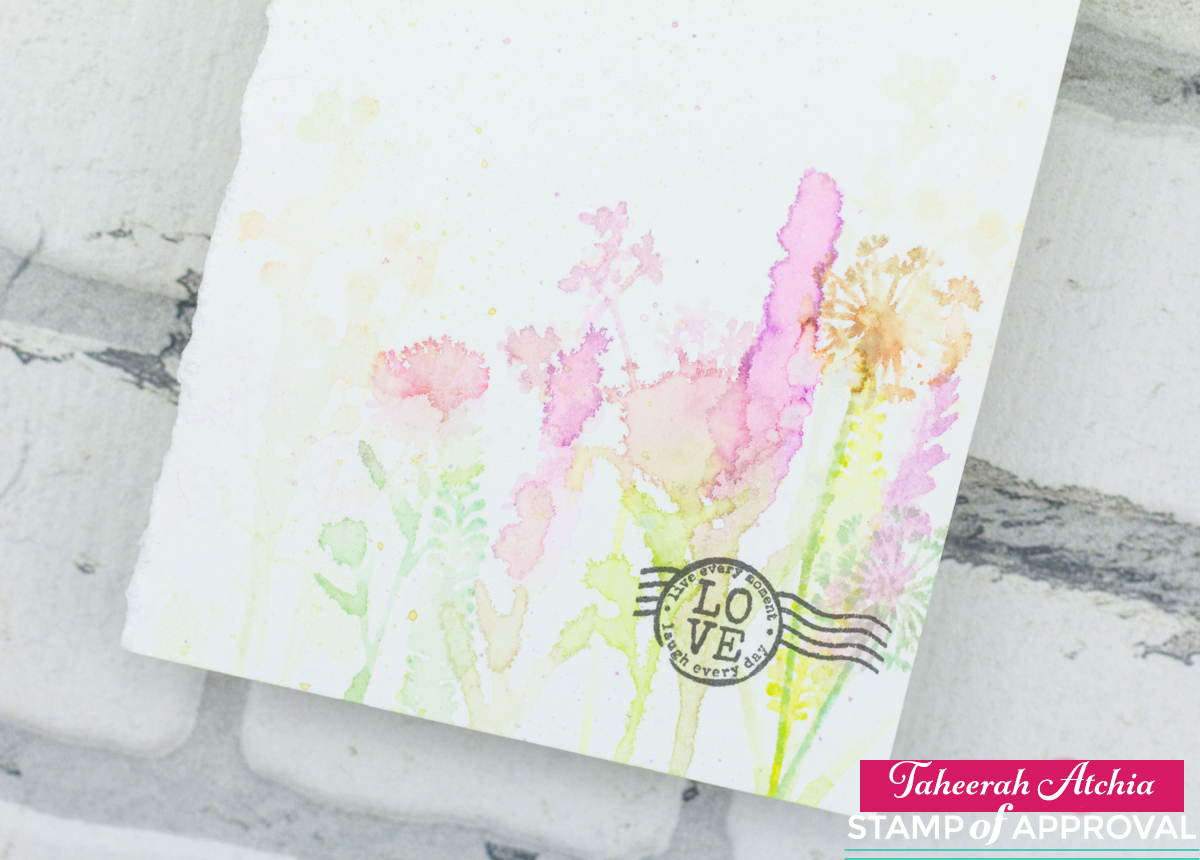 To create the watercolour look, I inked the stamps with various colours of Catherine Pooler inks, spritzed the stamps with water and then stamped them.If you don't have these inks yet, seriously, do yourself a favour and go grab them. Now.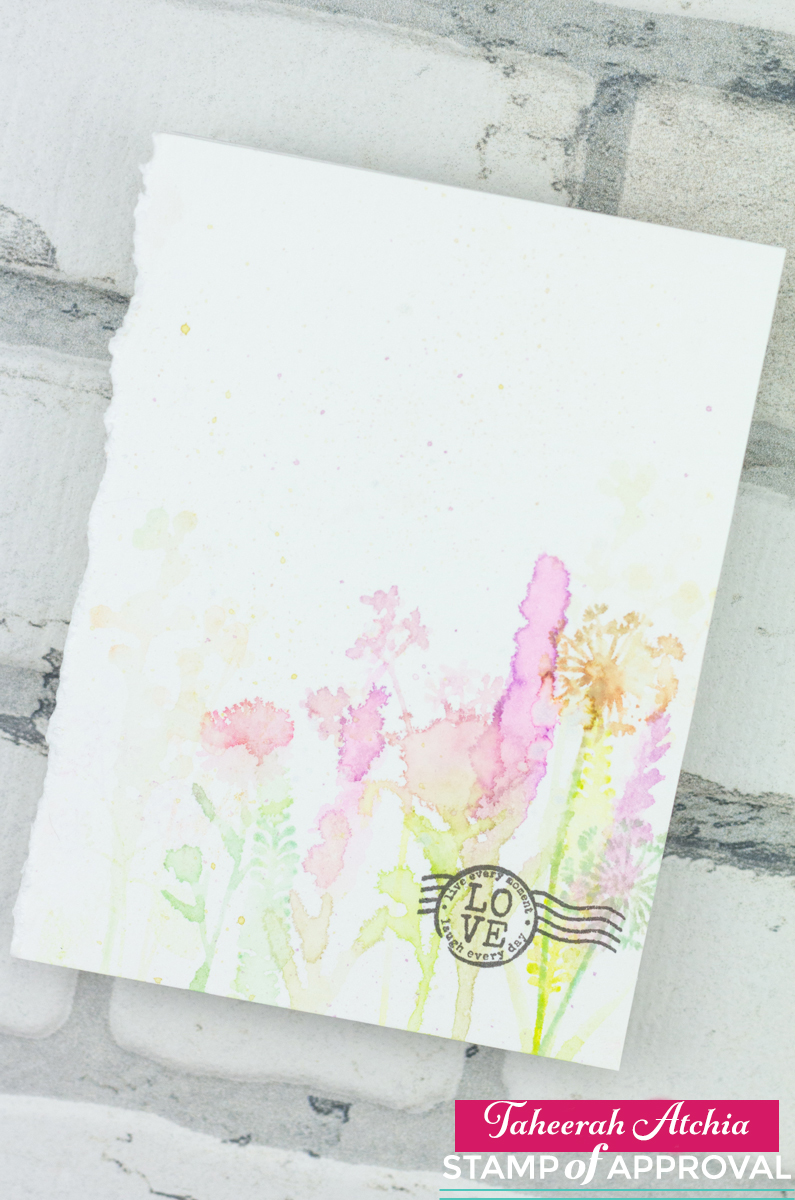 I splattered a little watered down inks too when done, to really add to the feel of the scene, then stamped the mail cancellation image/sentiment from the Birds of a Feather set to finish.
Giveaway!
So I bet you'd like to win one of these amazing collections for yourself, right? Read on!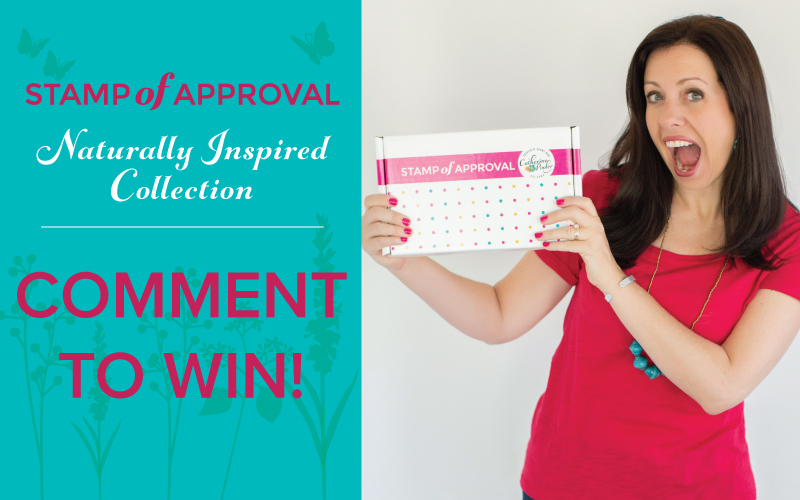 All you need to do to be in with a chance of winning is leave me a comment – and then make sure you visit the other hop destinations too to check out the amazing inspiration and increase your chances of winning by commenting there too!
Here's your Hop line-up for today!
Catherine Pooler
Taheerah Atchia
Laurel Beard
Lydia Evans
Ingrid Blackburn
Heather North
Cynde Whitlow
As I mentioned, this is the third of three Blog Hops – and each day's Hop has a box to give away! That's three boxes up for grabs for three very lucky winners – and the more you comment the better your chances, so be sure to comment on every single stop of every single hop! And if you've already bought a box, you'll win a $100 gift certificate instead! You can head back to Catherine's blog to get the list for the other two days!
You have until 9am EST on Thursday 8th June to enter. Good luck!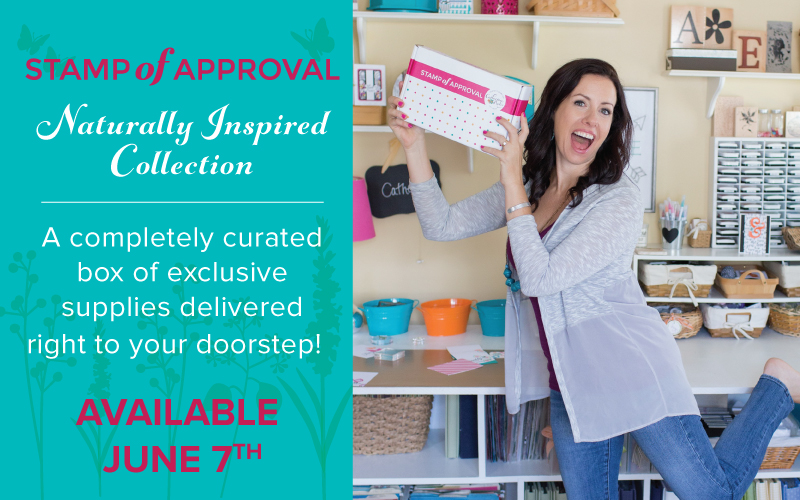 And don't forget that The Naturally Inspired Stamp of Approval Collection goes on general sale on Thursday! In fact, I'll be back with another post then to remind you!
Thanks for stopping by!
Supplies
Dreamcatcher Inspiration Card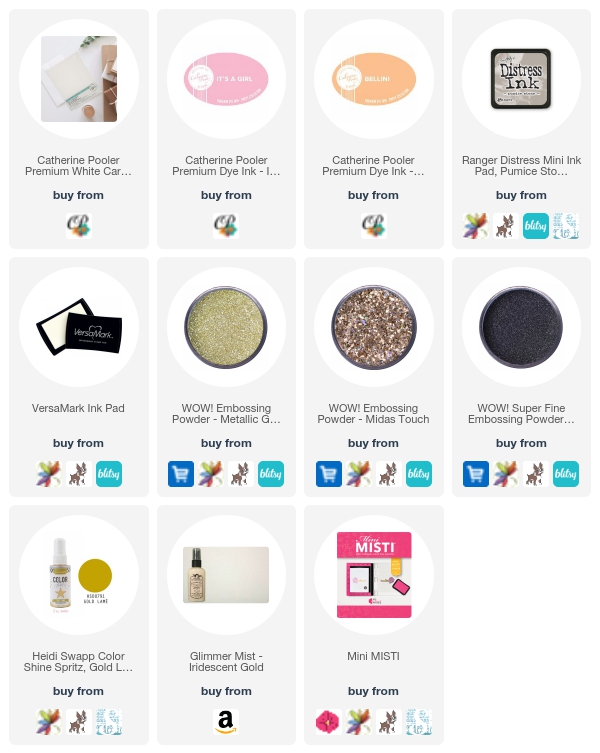 Love Wildflower Card