Hey everyone, Happy Wednesday!
Sympathy cards are never easy to make. Our creativity seems to be swamped by the heaviness of the occasion, and it can often feel difficult to convey the appropriate 'feel' of such a sombre design.
Personally speaking, I create as an outlet, and I find it difficult enough to design when I'm not in an upbeat mood. What then, when the very nature of the card carries its own, inherent sadness?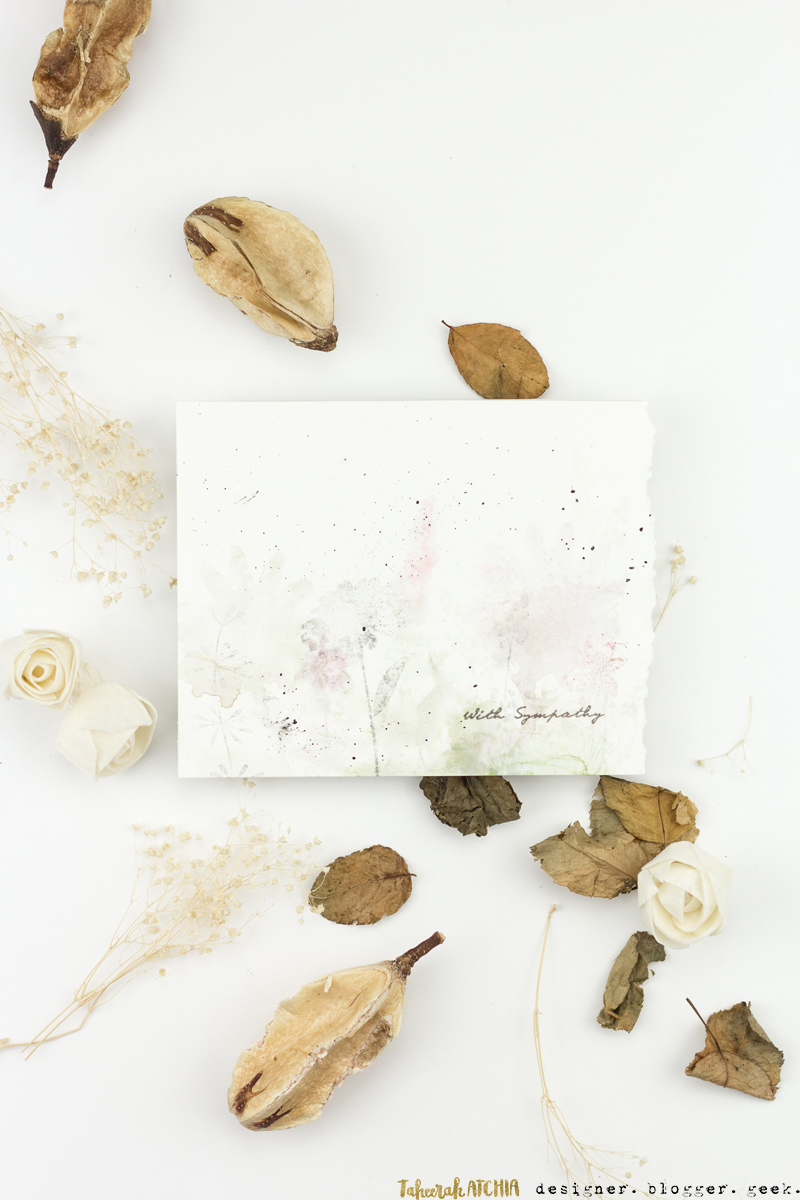 I unfortunately needed to create a sympathy card a few days ago, and this was the result. And whilst part of me doesn't feel quite right about sharing it, I felt it might be useful to talk through the design and my process to help others when faced with the same need.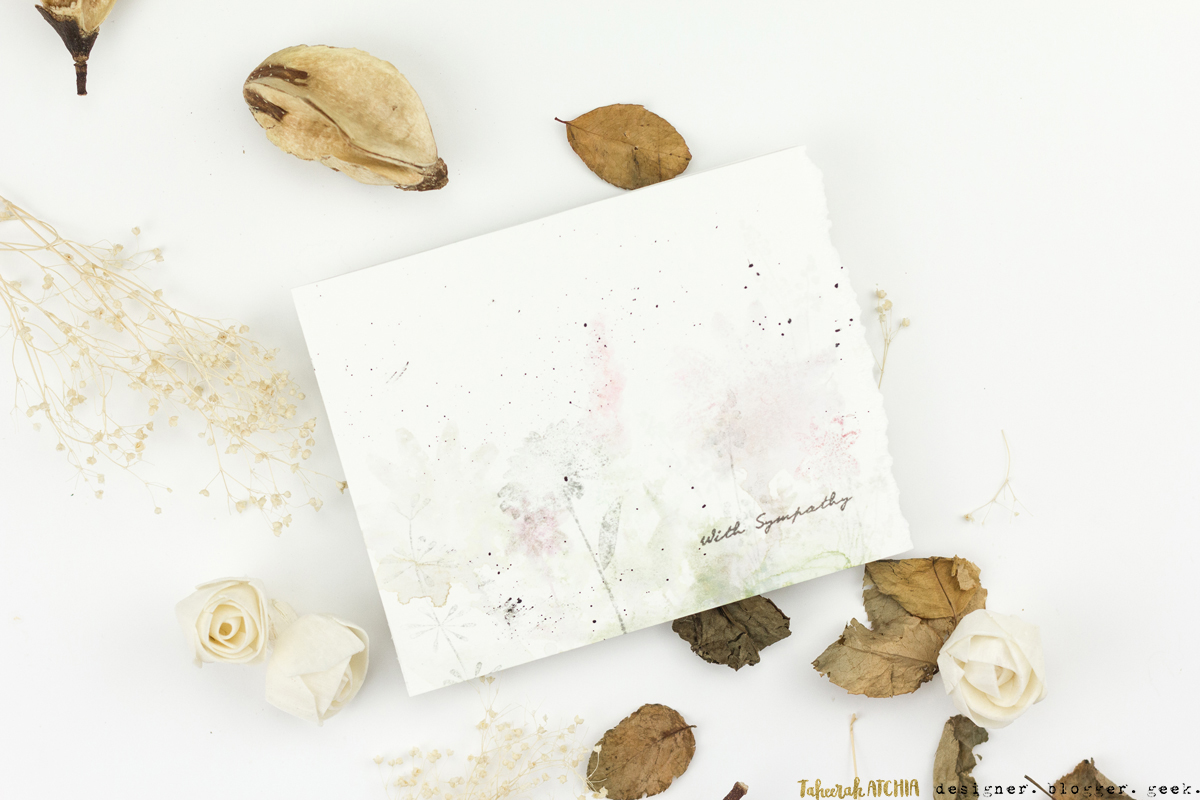 I love the soft, delicate nature of this card. To me it reflects the delicacy and frailty – and beauty – of life perfectly.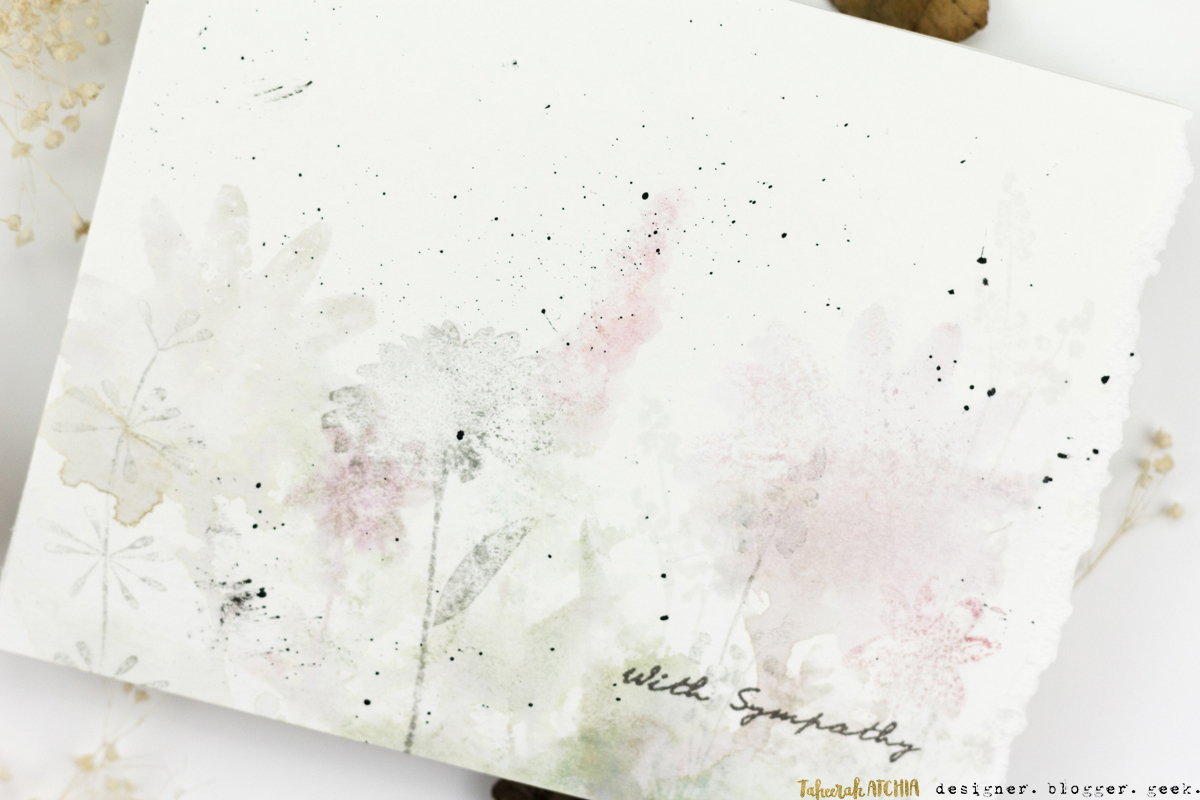 Although it might not be completely easy to make out, this card actually features a variety of florals, stamped with Distress Inks. I misted the stamps, and also wet the watercolour paper beforehand, to soften both the colours and the edges of the images. I dried my watercolour paper between images so that the colours did not muddy and they still kept a semblance of definition.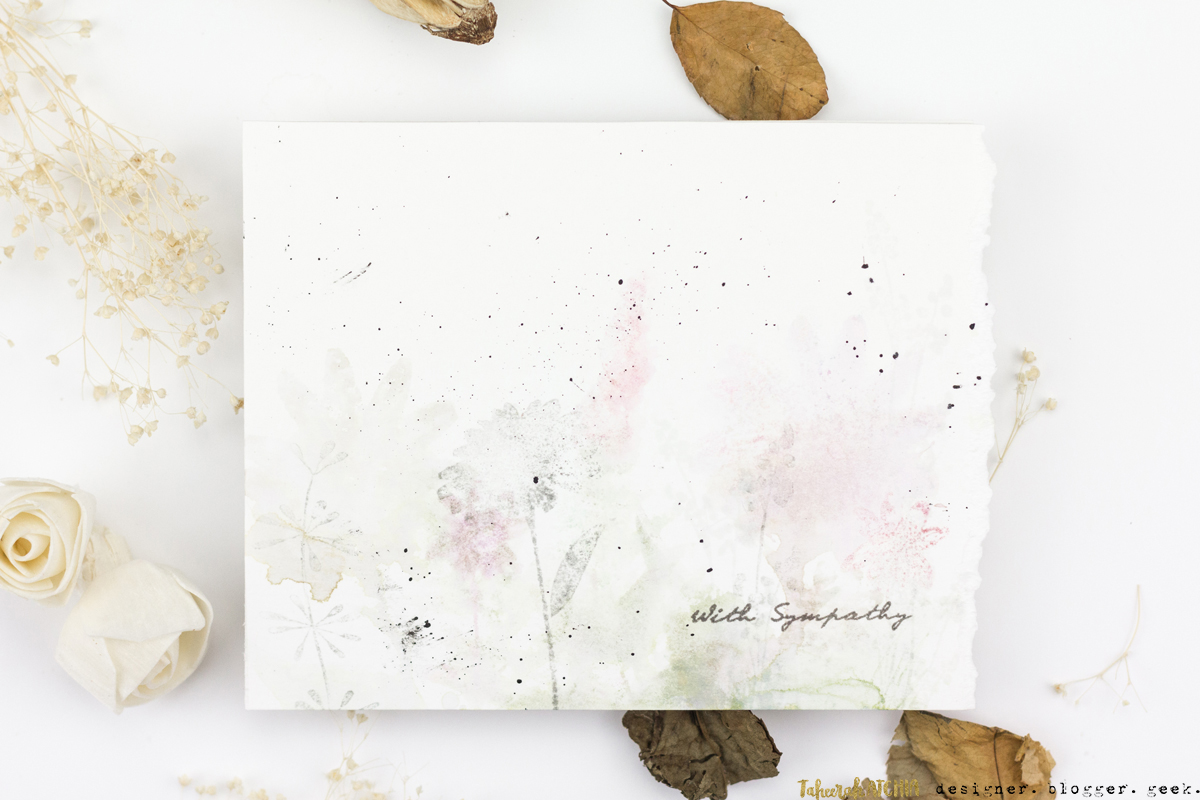 Once my initial layers of stamping were done, I stamped a handful of florals again with a soft colour palette, and without misting the stamps. I wanted a few of the images to be in the foreground and also to convey a sense of depth. The overall look is one that speaks of a longing to me, and it feels in keeping with the swell and muddle of emotions and overwhelming sense of being in the wilderness after experiencing a loss.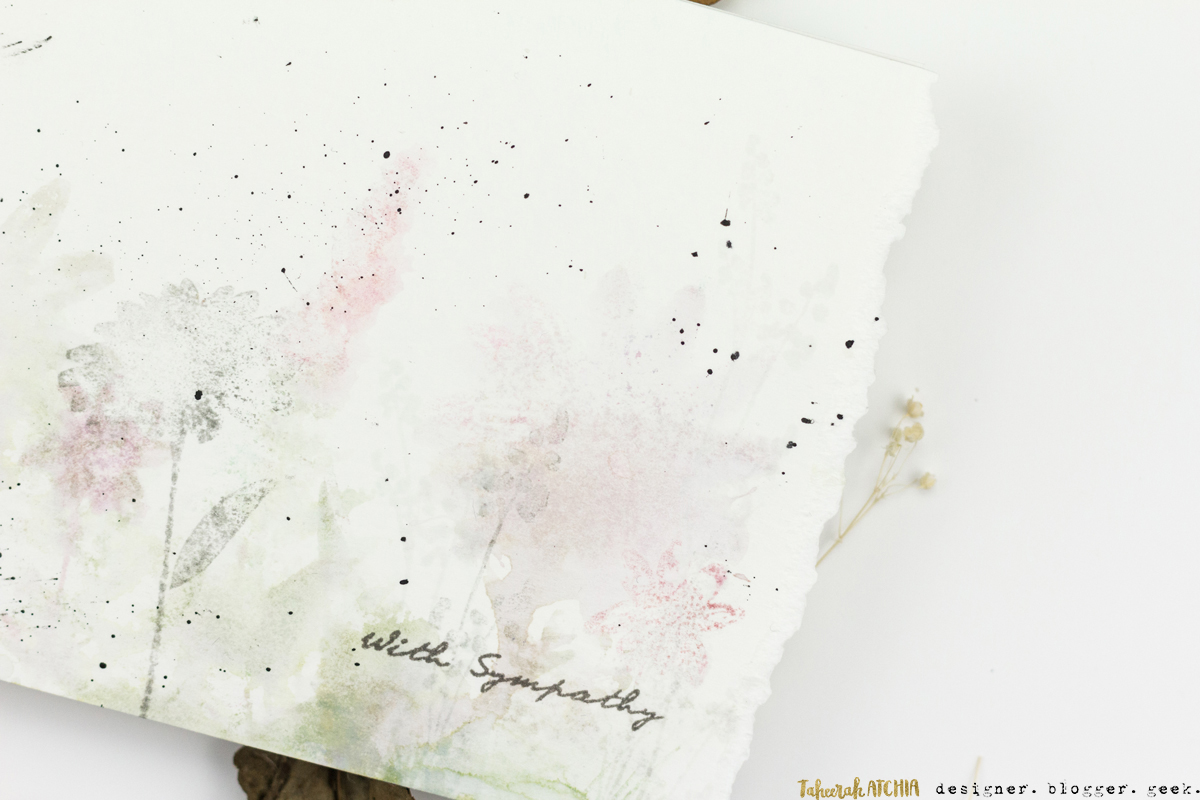 I stamped the sentiment in a grey ink instead of black, to soften the look. And, in keeping with the feeling of nature and of emotions not being 'neat', I tore the edge of my panel before adhering it to my card.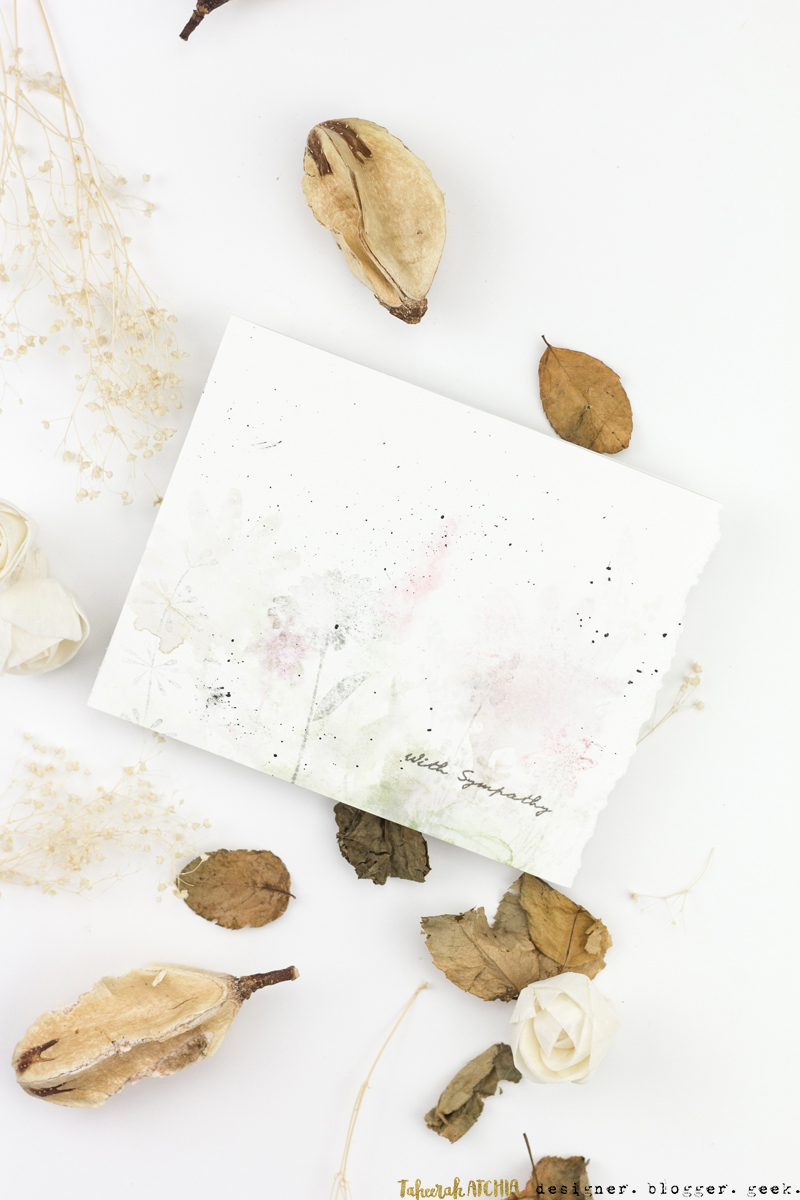 A little black splatter felt very much in keeping with the sombre notes the card casts, and added to the delicate finish of the card.
I hope the recipient will take some comfort in knowing that they are being thought of, and considered, with this card.
Sympathy Card Tips
I promised a few tips for creating Sympathy cards, and I hope the following will help those who find themselves needing to create them.
Tip 1: Go With What Works
I always strive for originality when I create a card, but a Sympathy card tends to be one of the few times when I feel it alright to be a little more formulaic. I naturally reach for florals, for example, as they feel peaceful and appropriate.
Tip 2: Create For Your Recipient
I know many people try to keep at least a small stockpile of sympathy cards so that they have one on hand should it be needed. I certainly understand why, given how difficult they are to create. However, I think there's a lot to be said for creating the card at the time it's required. Not least of the reasons for this is that you can channel the recipient it is intended for. Perhaps there's a particular design, colour or sentiment that would be perfect for the intended person, or perhaps a particular religious or spiritual message might bring the recipient comfort – whatever it is, incorporate it, if you can. Even if you don't know exactly what would resonate, the recipient will still be deeply touched that you created a card especially for them. It is an expression of consideration and support at such a difficult time that I'm sure will touch them.
Tip 3: Natural Elements and Soft Colours
Particularly effective for almost all sympathy cards, natural elements and soft colours strike the difficult balance of beauty and consideration. Unless you know the recipient (or the person they lost) would truly appreciate a bright, bold design at such a time, a soft, delicate card is the way to go.
Tip 4: Keep It Simple
A sympathy card is one instance where the sentiment you convey is far more important than how accomplished your design eye is. Forgo the embellishments and fancy techniques and keep it simple.
I hope you've found these tips useful and also appreciate the card. Thanks for stopping by!
Supplies