Hi everyone! Happy Friday!!
I thought I would drop by with a quick post for you today! I haven't blogged since Tuesday and I was worried you might be missing me. *wink*
So, just before the New Year, I created a bunch of cards for Pinkfresh Studio featuring their brand new Up In The Clouds collection. If you follow me on Facebook you'll know I've been *raving* about this collection – it is truly amazing!!! I know it was a complete *hit* at CHA2015 too – which *hopefully* means that lots of places will start to carry it soon!! Once you've got through this post I know you'll be banging on the doors of your favourite retailer, begging them to carry it!!
So, where was I? Ah yes, CHA. I created 4 cards for Pinkfresh for CHA and I was amazed and delighted when I found out that ALL FOUR appeared in their CHA catalogue!!! Aaaaaaaaaaaaaaaaaaaaaaaaahh!!
So, for those of you who had to experience CHA vicariously, here are my cards. 🙂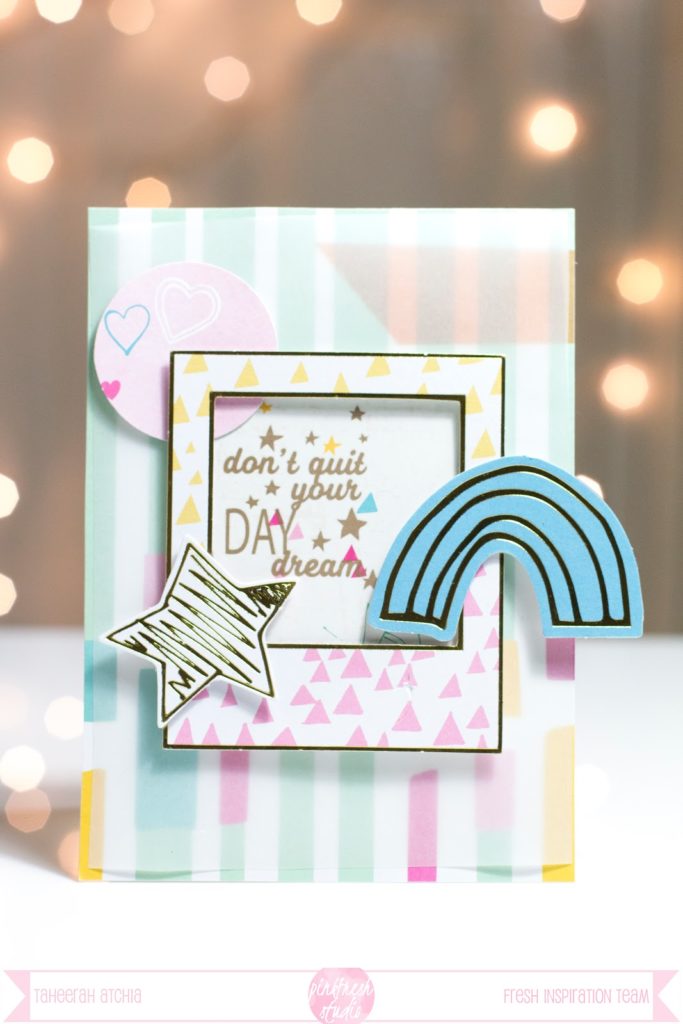 First up, this combines some of the fun 12″ x 12″ paper along with the foil embellishments/ephemera and one of the gold foil rub-ons!!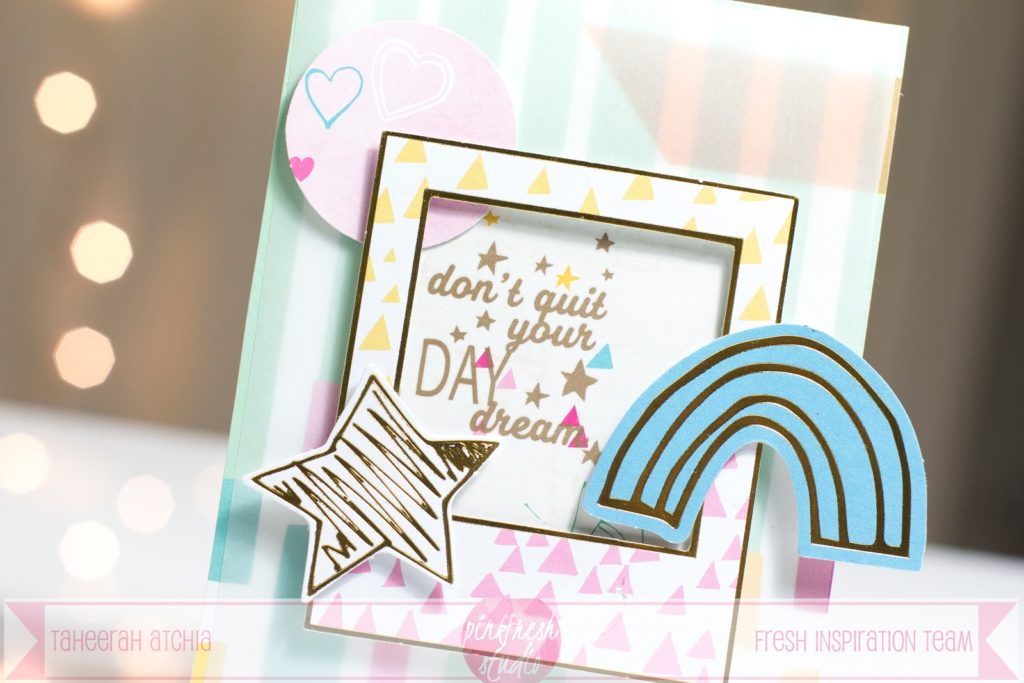 I added a layer of vellum between the patterned paper and the embellishments to soften it and to not distract your eye too much.
Next up: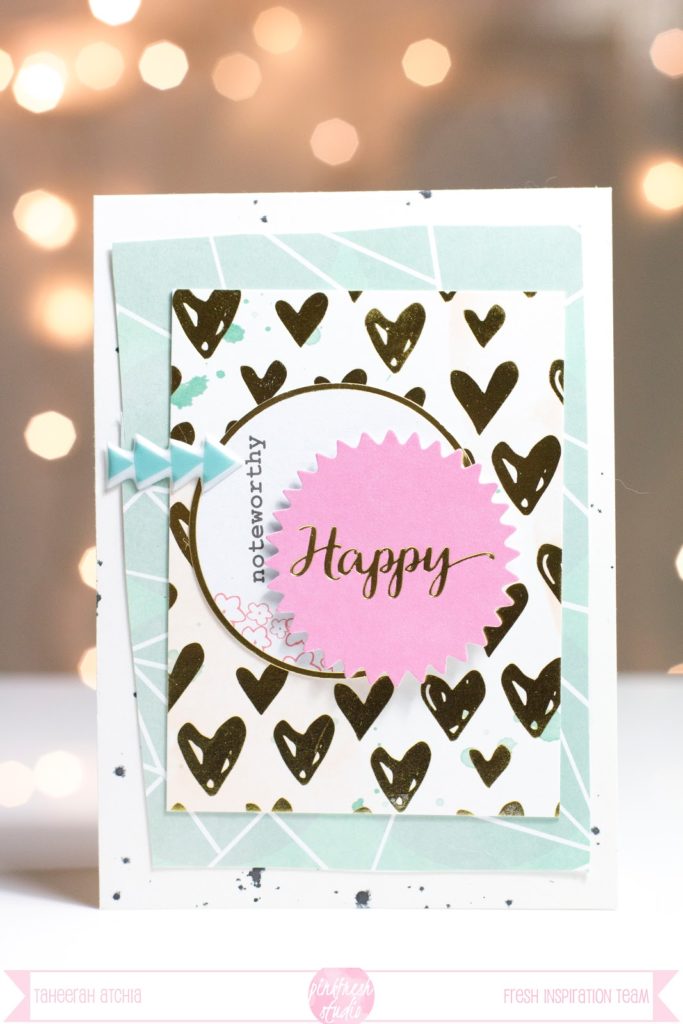 *squeal* Love this one! I combined patterned paper, foil embellishments, a puffy sticker and one of the *amazing* 4″ x 3″ watercolour/foil cards!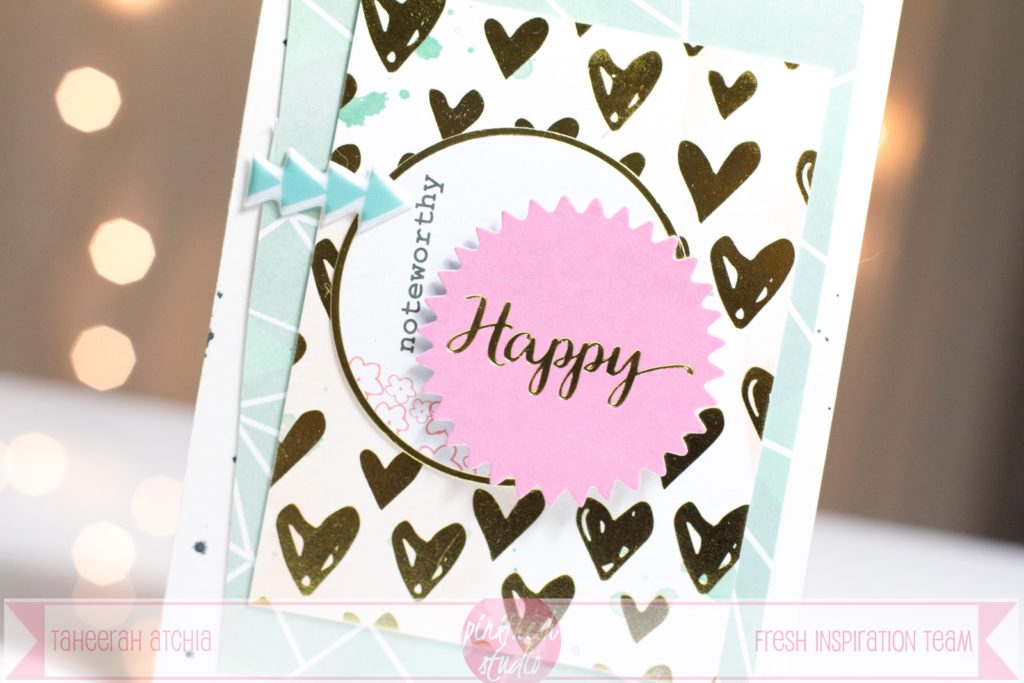 I added some splatter from some Studio Calico Mister Huey's to the base – I love adding that!
And next: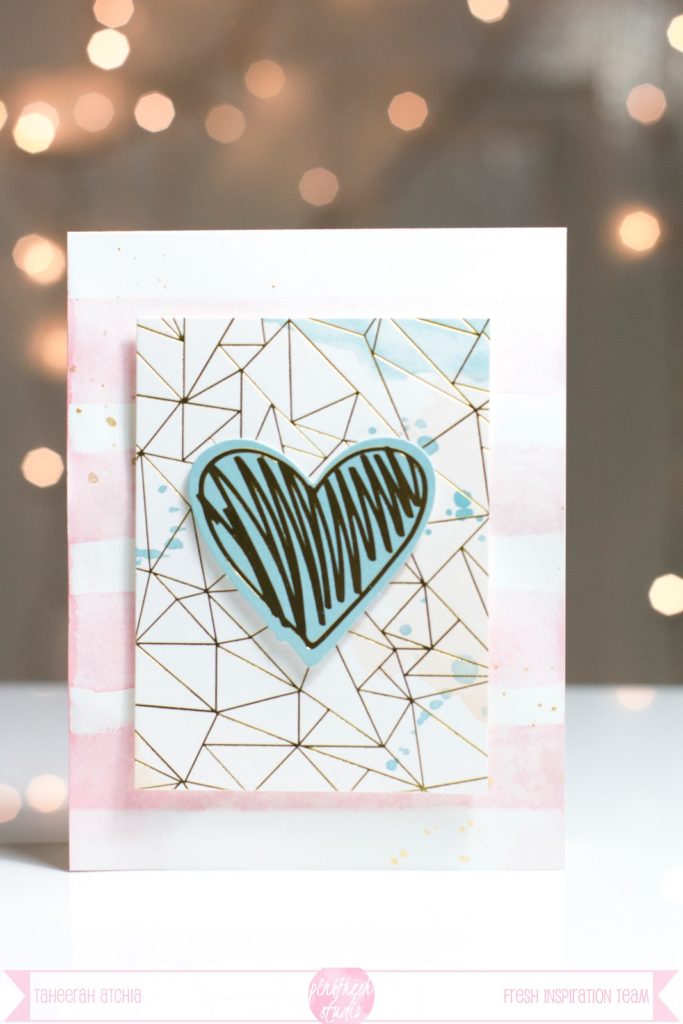 I don't think I can pick a favourite amongst my cards here, but if I could, this might be it!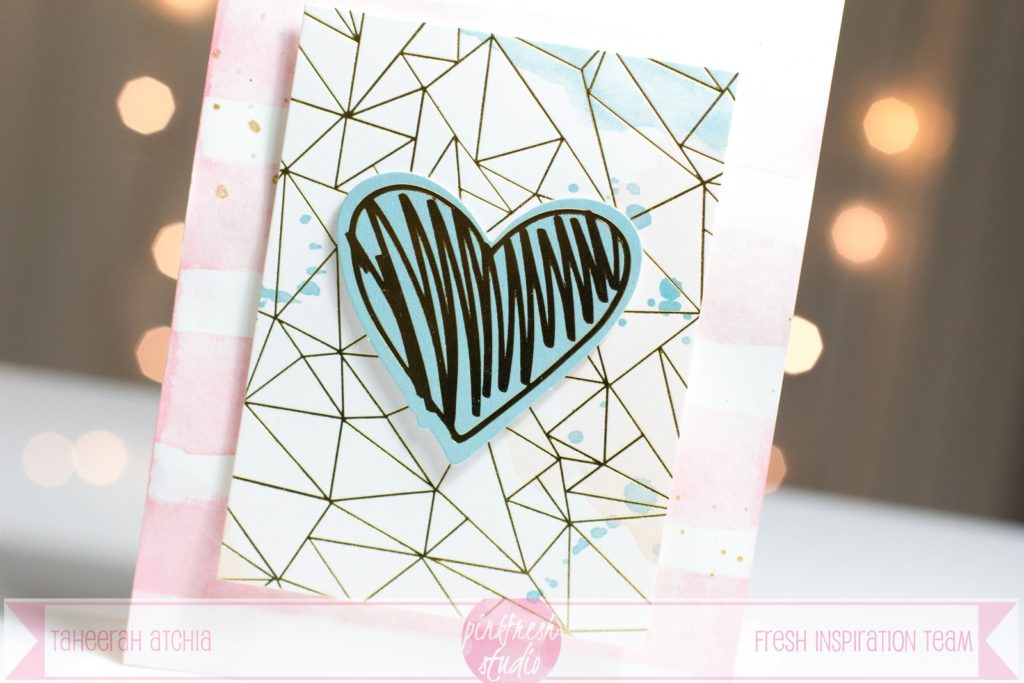 I painted the watercolour stripes onto the base, then added one of the 3″ x 4″ cards and one of the foil embellishments to finish!
*So* pretty in real life!!
And finally, an almost all-patterned paper number: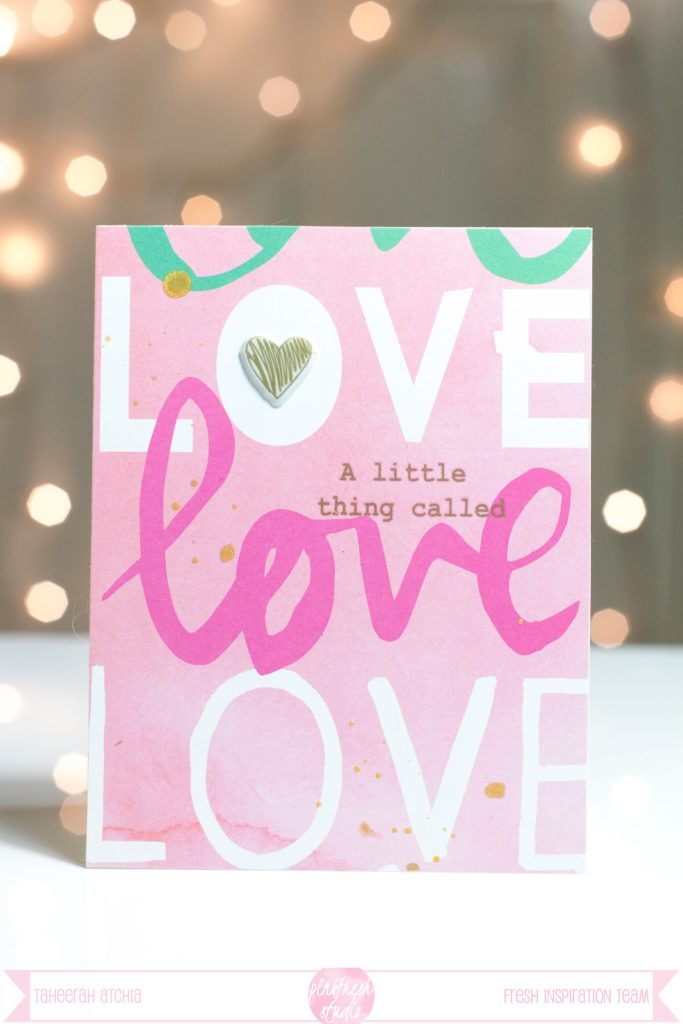 When your patterned paper is this awesome, all you really need to do is choose a section of it and cover the entire card!!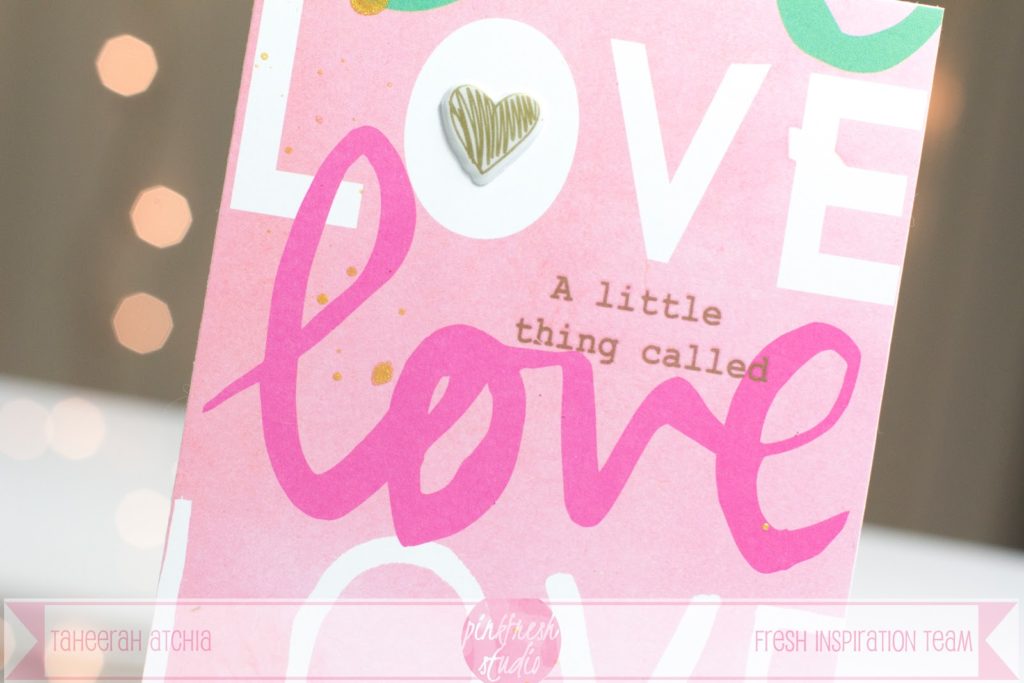 I added some mist splatter from Heidi Swapp Colour Shine Mist in Gold Lame, and a puffy sticker and rub-on were all that was needed to complete this one!
So what do you think?! Are you drooling?!?! You certainly should be!! I tell no lie that when this collection arrived I almost didn't want to use it because the thought of running out of any one item almost gave me heart palpitations, lol!!
I would *love* to hear what you think about the collection!! Do you have a favourite amongst these cards, or a particular item of the collection you really want to see? I would love to know!! Thanks so much for stopping by!!