Hey everyone!
Happy Monday! I know, I know, Mondays are tough. We all need a little tonic to help us get through the day. Luckily there's a new challenge in town to help us do just that – the Cure For The Monday Blues Challenge!!
This is a challenge which I've created myself, yay me! Every Monday I will bring you a photo inspiration challenge, with images that focus on lifting us out of those Monday doldrums and all inspired to create!! I'll be asking you to play along as well and linking up your creations! At the end of each week I'll pick a Top 3 who'll be my Cures For The Monday Blues and receive a special badge to add to your blog!!
This challenge is really going from strength to strength now – woo hoo!! Thank you to everyone who has given it love and support and helped it to grow – especially the weeks where you've been patient with me while I've extended the challenges!

In case you missed this previous post, please read on for some of the recent changes made to the Challenge – including info on how to be in with a chance of becoming a Guest Designer!
Right then. Back to business, lol!
Before we get to this week's challenge I want to once again thank all of you that submitted entries for the last challenge. I am always especially happy to see some new faces to the Challenge, as well as 'regulars'! They were all truly beautiful entries and you did not make my life easy when choosing the winners!! I really wanted to pick you all!! Here are my Top 3 Cures For The Monday Blues:
Olga Brilliant
Heather (Houses Built of Cards)
anja curvers
Winners please contact me to be sent your challenge winner's badges!
***Pure Cure Winner!!***

As you know, this month I have the absolute honour of the challenge being sponsored by Winnie & Walter, and that means I have an overall winner to announce! The winner receives a $30 gift certificate to Winnie & Walter!! I'm delighted to announce that this week's Pure Cure is… 
Olga Brilliant!!!
Huge congrats Olga!!! Please Contact Me with your e-mail address to claim your prize!!

To my Top 3 Cures: you girls have no idea how much I agonised over picking just one of you as a winner! I wish I could have picked you all! Seriously outstanding work!!
Yet again I had some absolute stunners for entries. It is seriously getting harder and harder each week to pick out only a Top 3! All of you have really been putting in some amazing designs and it makes me so happy when you play, so please keep playing along!
As I mentioned in my last blog post, each challenge this month is very kindly being sponsored by Winnie & Walter – which means that there's a prize up for grabs! I'll give more details at the end of this post! 🙂
One final thing before we get underway! I've finally created a badge for the challenge for anyone who wishes to add it to their blog, you'd make me so happy! I've included it on my blog sidebar along with the code you need to use it, so it couldn't be simpler! And just in case you'd like to see it here, here's what it looks like!
Fun right?! I'd love to see some of you grab it and use it!!
So are you excited to get this week's challenge under way?! Let's see what's up for this week's inspiration.
You're gonna need your sunglasses for this one: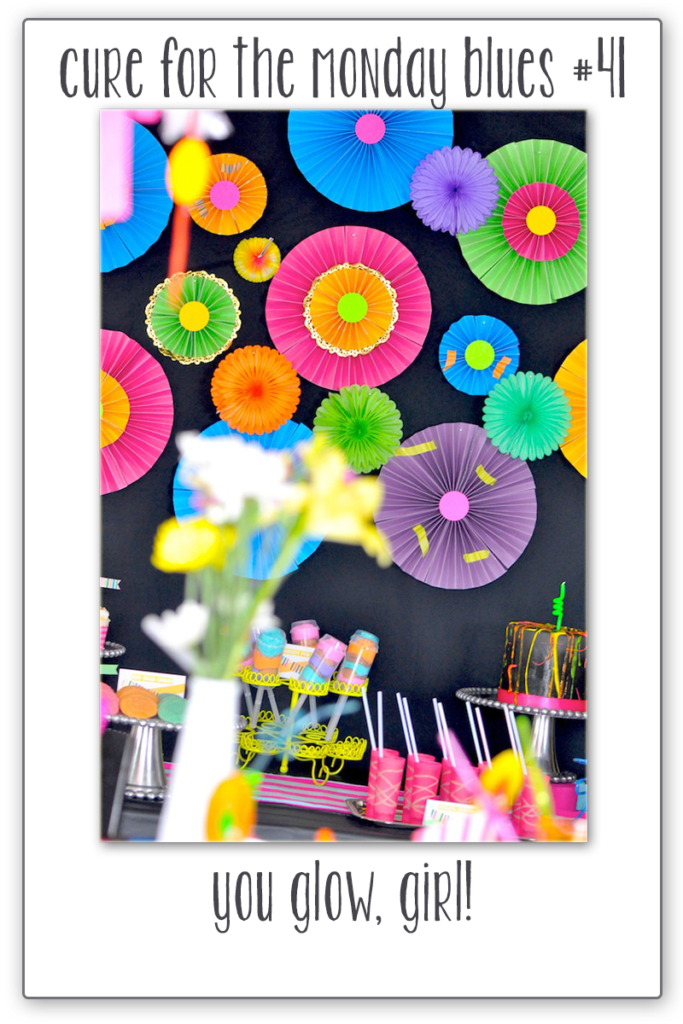 Source: Pinterest 
I warned you, didn't I?! lol!! I *love* neon and I haven't played with it for a while, so I just had to pick this amazing inspiration!! Now, don't go panicking because this is all neon!! I know a lot of people do. But if you look past the neon (again, use sunglasses) you'll see circles and patterns and cakes and paint splatter and even flowers!! See, this inspiration is more versatile than when it first blinds you, lol!!
Here's what I came up with: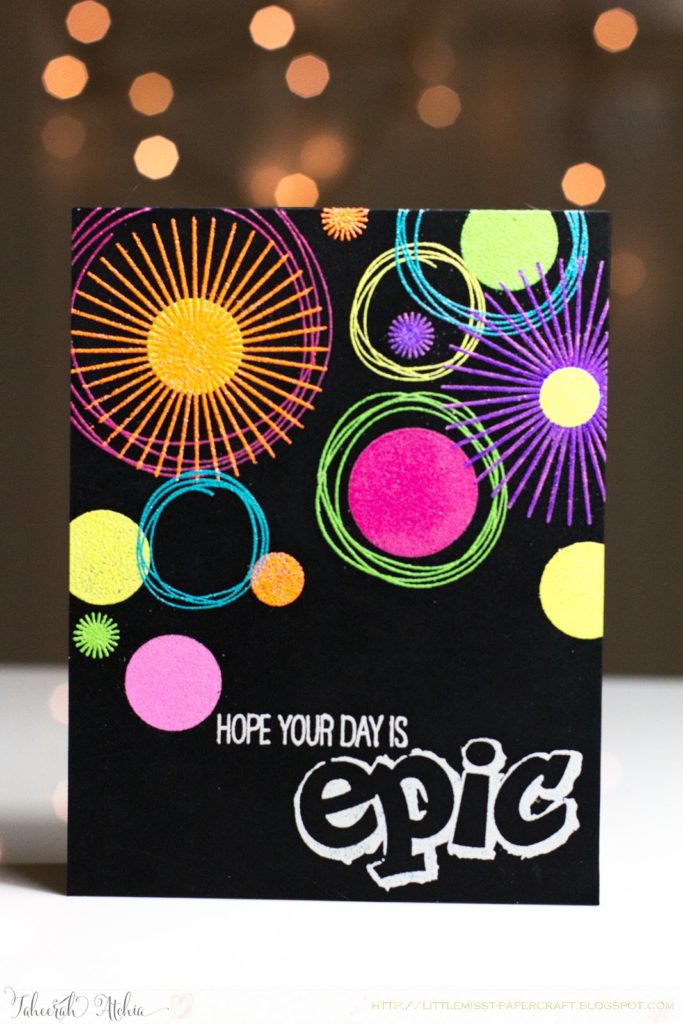 Gotta tell you – I am in *love* with this!!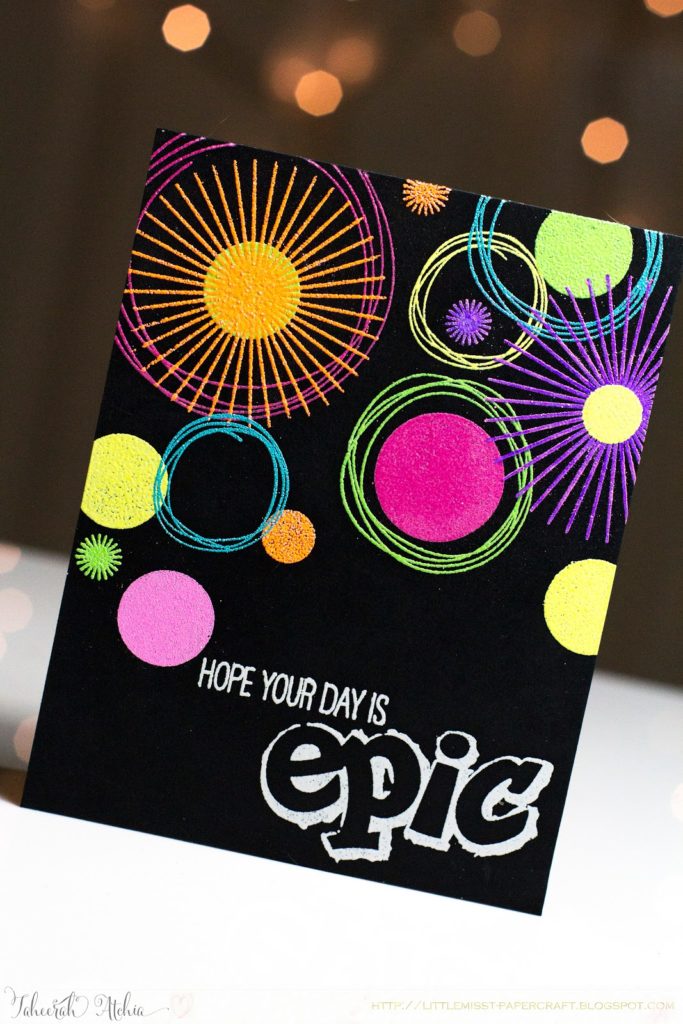 I started with a panel of True Black cardstock and went over it with my EK Success Powder Tool to minimise the risk of any embossing powder specks clinging to the cardstock. I then pulled out my Essentials by Ellen: Bokeh Dots stamp set and set about building up my pattern, stamping a couple of images at a time with Versamark ink and heat embossing with a variety of WOW! Fluorescent embossing powders. They don't have a fluorescent purple powder so I went over a magenta ones with a Fluorescent Dull Violet Copic Marker.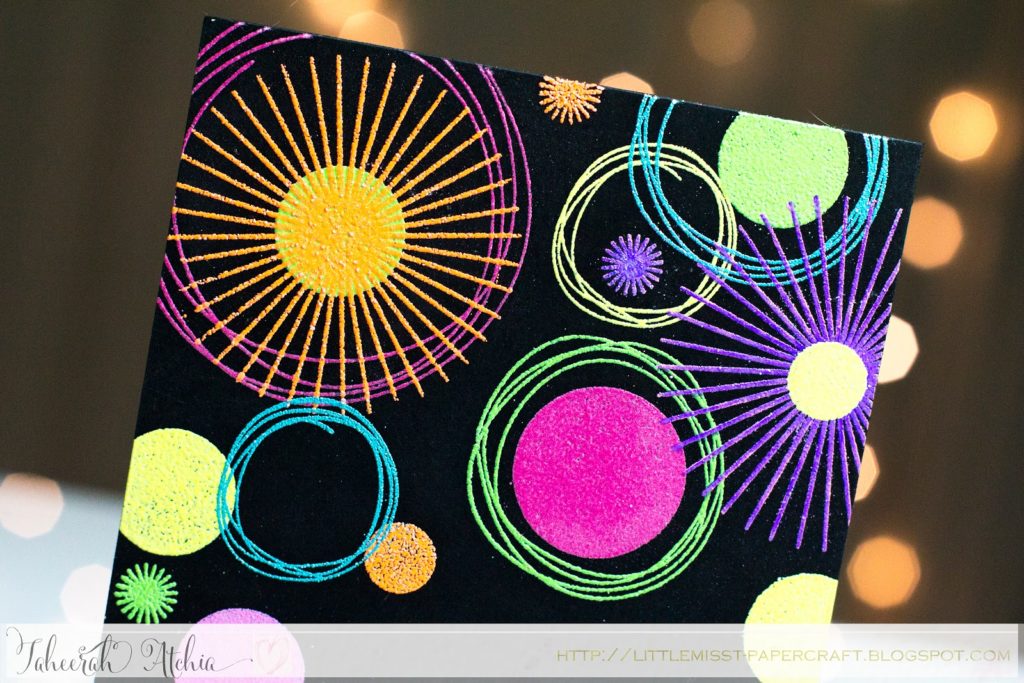 LOVE!!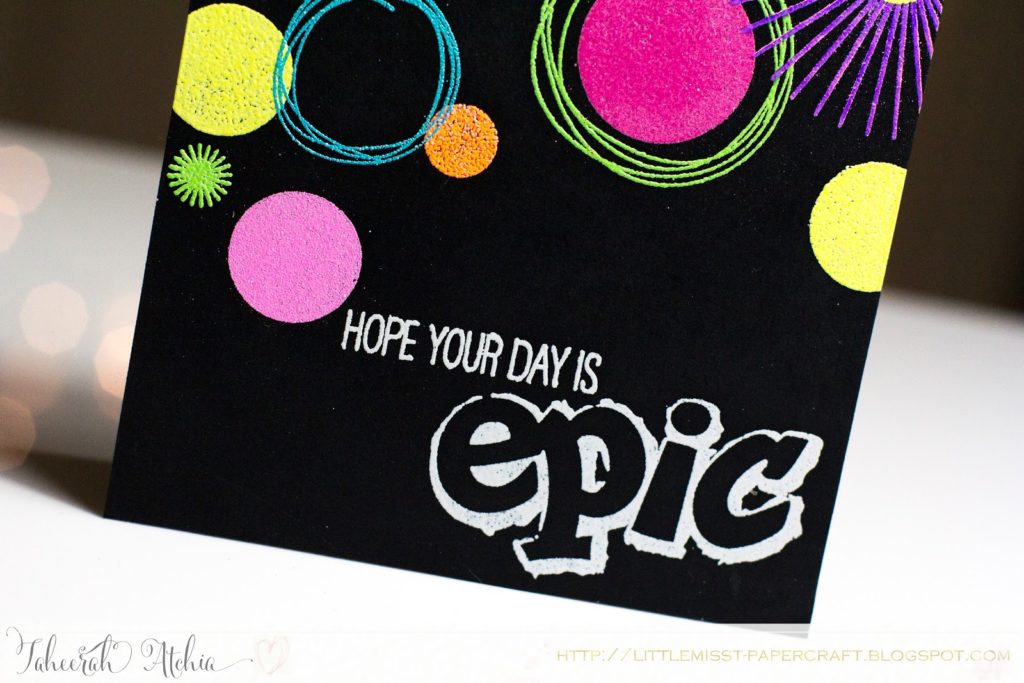 I then stamped the sentiments from the WPlus9 Epic Dad set and heat embossed with WOW! Opaque Bright White embossing powder and adhered my panel to my card base using Scor-Tape and I was all done!!
So now it's your turn to cure the Monday Blues! Here's how to participate in the challenge!
The Rules
Create a brand new project using the photo inspiration
Post on your blog or to an online photo album. Ensure you link up to this challenge post in your blog post and include the inspiration photo
If it is not obvious how the image inspired you then please explain your process in your post
Link up your creations to this post using the Inlinkz below. Please use the link to your actual post rather than the link to your blog
You can enter as many times as you like!
The deadline for linking submissions is Sunday 1st February at 11pm GMT/6pm EST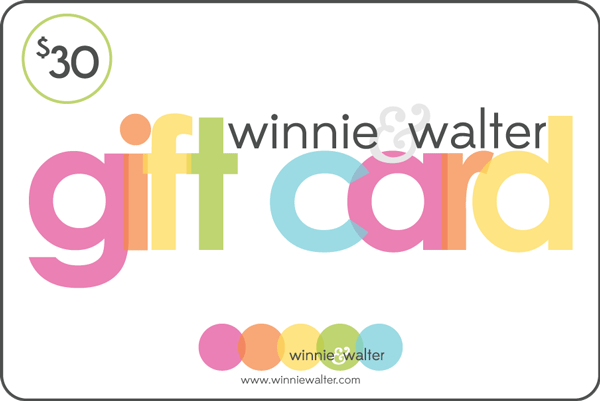 As I mentioned, every challenge this month is being sponsored by the super-generous Winnie & Walter! I'll be giving a $30 gift card away to one winner from every challenge! I'll be picking one top winner from my Top 3 Cures, and most likely there'll be more entries throughout this month there being the chance of a prize *wink*, so really do create your best work to increase your chances of winning! Remember you can enter each challenge as many times as you like!
So are you ready to play?! I can't wait to see your creations!!
PS: if you would like to check out all of the previous challenge images you can see them here on my Pinterest board!
I'll be back again soon with something new! Thanks so much for stopping by – I would love it if you left some love before you went on your way! And I would love some feedback on the challenge itself!!
Supplies