Hey everyone!
I'm back today to welcome to Day 1 of the Newton's Nook June Release!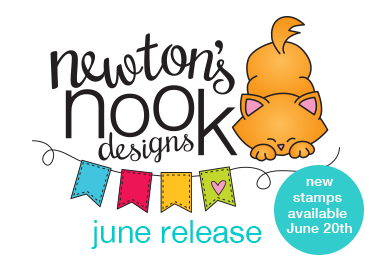 We have two *awesome* sets being released this month – and you're totally invited to come party with us!
This month we've two very different sets but both are totally versatile and awesome! Today's set is a great little one embracing the cute farm trend with images featuring cute little chickens and fun sentiments – Chicken Scratches!!
I really wanted to just 'play' with this set and see where it would lead. I totally had an idea in my head based on a sentiment I'd though of! Here's what I came up with: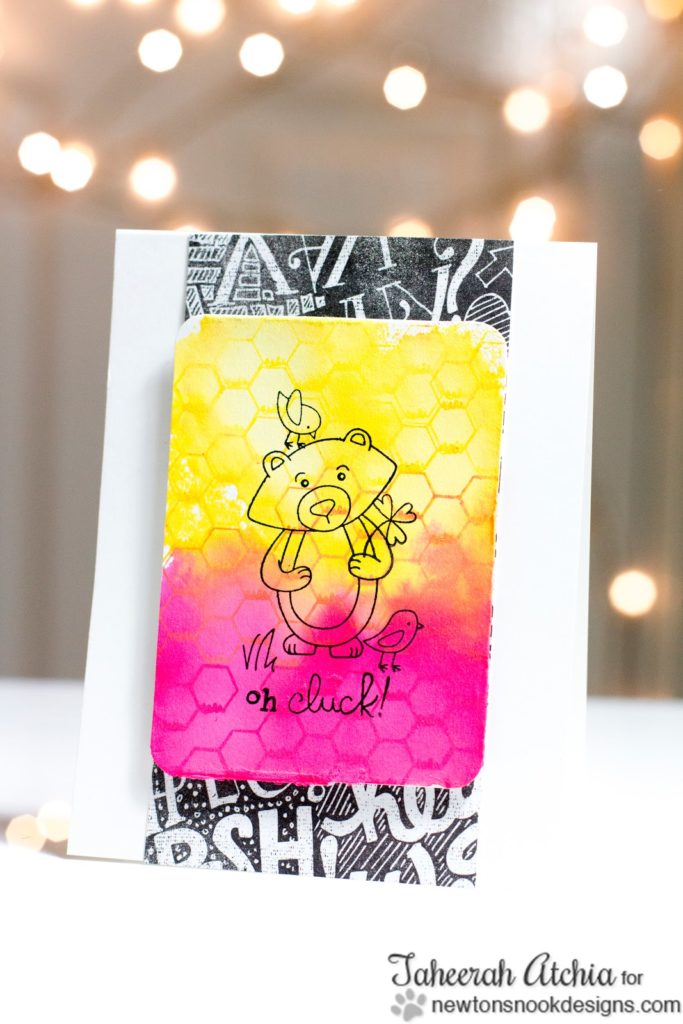 What do you think? It totally has me laughing!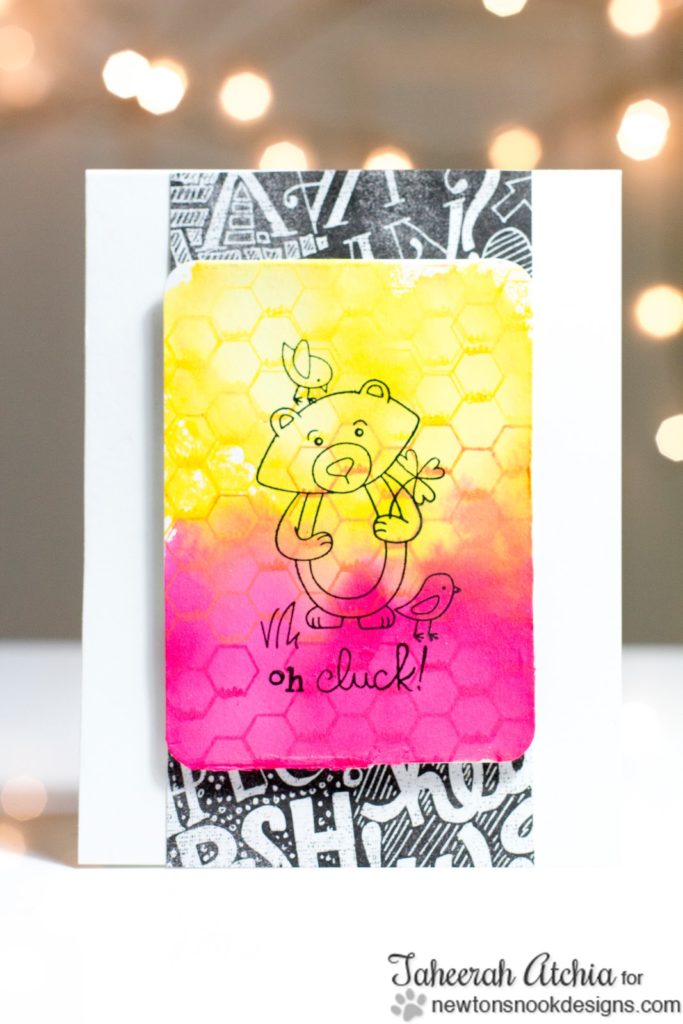 Winston, bless him. I always see him getting into situations he can't handle or feels out of his depth with – and today's card is no exception! So this time I totally pictured him with one of the chicks pecking at his head with him unable to do anything other than utter an amusing sentiment!!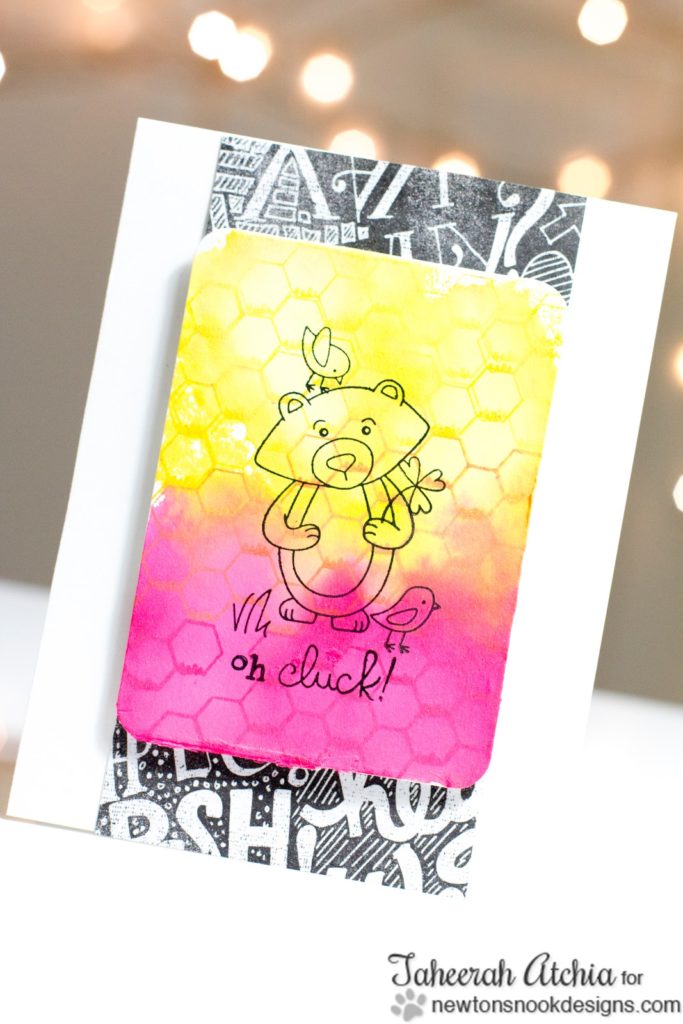 I started with a panel of Pure White cardstock. I wanted to create a watercolour ombre look, so I rubbed my Studio Calico Colour Theory inks in Well Red and Sunny Day onto my acrylic block, spritzed with water mixed with Perfect Pearls, and pressed onto my panel. I then stamped the chicken wire image repeatedly using the inks, along with a little Orange County ink as well!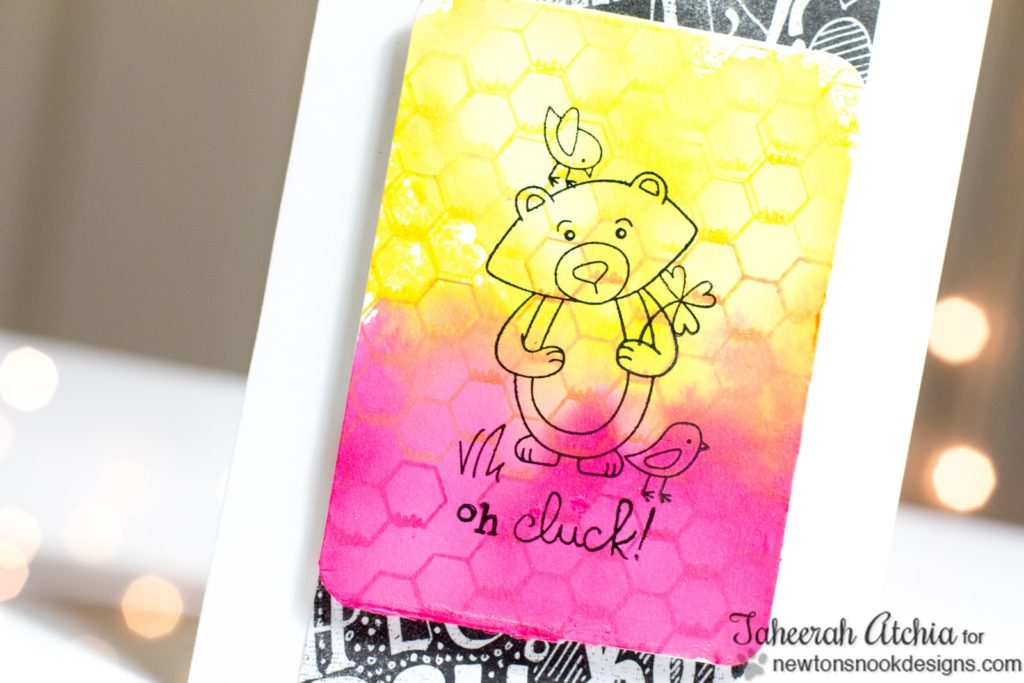 I then stamped the Winston from Winston's Birthday, as well as the chicks, clover and grass using Versafine Onyx Black ink. I added the sentiment by partially inking a couple of the sentiments, then drawing on the 'o'! I backed my panel onto a piece of patterned paper from a previous Studio Calico Card Kit using Pinflair Glue Gel, then adhered that to my base and I was all done!
All the Newtonians (that's what I've decided to call us, hehe!) are blog hopping today! Please be sure to join us and hop along and comment on each of the team's creations! Read on because there's a prize up for grabs!
Would you like to win Chicken Scratches?
This set will be given away to two lucky winners!
Here's how to win:
Comment on the NND blog and Design Team and Guest blogs (see list below)! Two winners will be chosen at random from the collective blogs release posts. Make sure to check out each of their blogs and comment for your chance to win. You will not know which blog has been chosen so the more you comment on the better your chances are of winning! You have until Thursday, Jun 19th at 9pm Central Daylight Time to comment — winners will be announced on the blog post on Friday, June 20th.
Check out all these awesome Design Team Blogs below to enter:
Taheerah Atchia
I do hope you'll join me again tomorrow for some more Newton's Nook fun! Thanks so much for stopping by!
Supplies: