Hey everyone!
Happy Monday! I know, I know, Mondays are tough. We all need a little tonic to help us get through the day. Luckily there's a new challenge in town to help us do just that – the Cure For The Monday Blues Challenge!!
This is a challenge which I've created myself, yay me! Every Monday I will bring you a photo inspiration challenge, with images that focus on lifting us out of those Monday doldrums and all inspired to create!! I'll be asking you to play along as well and linking up your creations! At the end of each week I'll pick a Top 3 who'll be my Cures For The Monday Blues and receive a special badge to add to your blog!!
This challenge is in its twelfth week now – 3 months old!! Wow! Thank you to everyone who has given it love and support and helped it to grow!


In case you missed last week's post, please read on for some of the recent changes made to the Challenge!

I've made a few changes to the Challenge which I hope will result in a better Challenge for all!
I'm giving you two extra hours to play! From now on, the deadline for submitting entries will now be 11pm UK time/6pm EST! I know a few people have missed the deadline before because of the time difference so hopefully this will help you out!
And there's more!

I really want to encourage and reward repeat participants of this challenge. I appreciate you so much. Therefore, I am now opening up the challenge to search for a Guest Designer each month! Read on for more details!
I will pick one designer a month to join me in a Cure For The Monday Blues Challenge. The Guest Designer will create a project for one of the weeks in that month and be showcased on my blog when that challenge plays out! The first Guest Designer will be announced next week!!
What you get:
The Guest Designer will receive a special badge to promote themselves on their blog and social media channels, where appropriate. I will also give you a shout-out on my FB, promote your work, and add your project to a special new Pinterest Board reserved just for Guest Designers!
In addition to this, as a special 'Thank You' for their efforts, the Guest Designer will be gifted with a $15 gift certificate to an online crafting store of their choice!
Isn't that fabulous?! Want to know how you can make it as a Guest Designer? Read on as there are a few criteria!
What you give:
Guest Designers will be selected from previous participants of the challenge. To be eligible you must have created and submitted to at least 3 previous challenges and been chosen as a Top 3 Cure at least once. The entries/wins don't have to be within a single month, if you have entered 3 times in the whole history of the challenge and won once then you are eligible! I'm hoping this will encourage and reward true supporters of the challenge!
Guest Designers will be required to promote the Cure For The Monday Blues Challenge and encourage others to play along during the week they are featured (and any other time you wish to, of course!). You are required to post your project at the same time as the challenge goes live. Promotion can be on your blog and/or social media channels of your choice. Some of you are true lovers of the challenge and already give it shout-outs which I am so thankful for! Together we can help this challenge continue to grow!
Disclaimer:- please note that, on occasion, I may feature a 'Special Guest Designer' for the challenge who may not fit the criteria above, but who can provide exceptional promotion of the challenge. I'm not even sure if this will even ever happen (as I'm thinking of the Jennifer McGuires/Julie Ebersoles of this world!) but if it does ever occur I hope you will understand!
I hope you are as excited about these changes as I am! I really want this to feel like a challenge that you truly get something out of and feel a part of with me! I would love some feedback on these changes and the challenge itself! What works? What doesn't? Please let me know!
Right then. Back to business, lol!
Before we get to this week's challenge I want to thank all of you that submitted entries for the last challenge. They were all truly beautiful entries and you did not make my life easy when choosing the winners!! I really wanted to pick you all!! Here are my Top 3 Cures For The Monday Blues:
Winners please contact me to be sent your challenge winner's badges!
Yet again I had some absolute stunners for entries, oh how I truly *agonised* this week picking out only a Top 3! All of you have really been putting in some amazing designs and it makes me so happy when you play, so please keep playing along!
So are you excited to get this week's challenge under way?! Let's see what's up for this week's inspiration: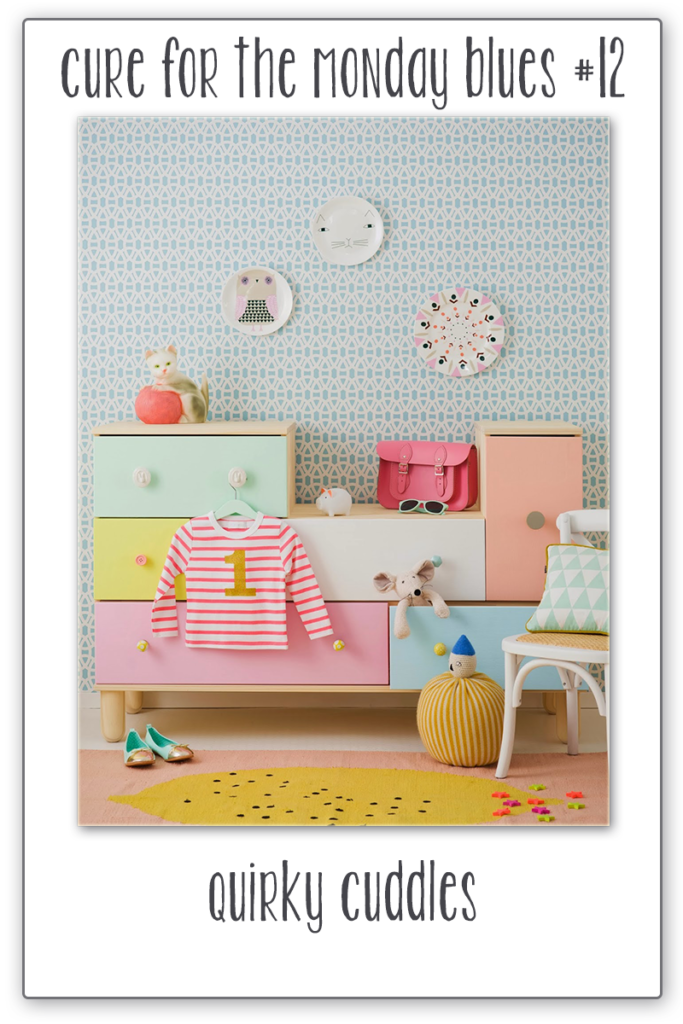 I just love the soft pastel colours here – and still with some great pops of design quirkiness from the wall art, toys and other little details! Love it!!
Here's my take on the inspiration: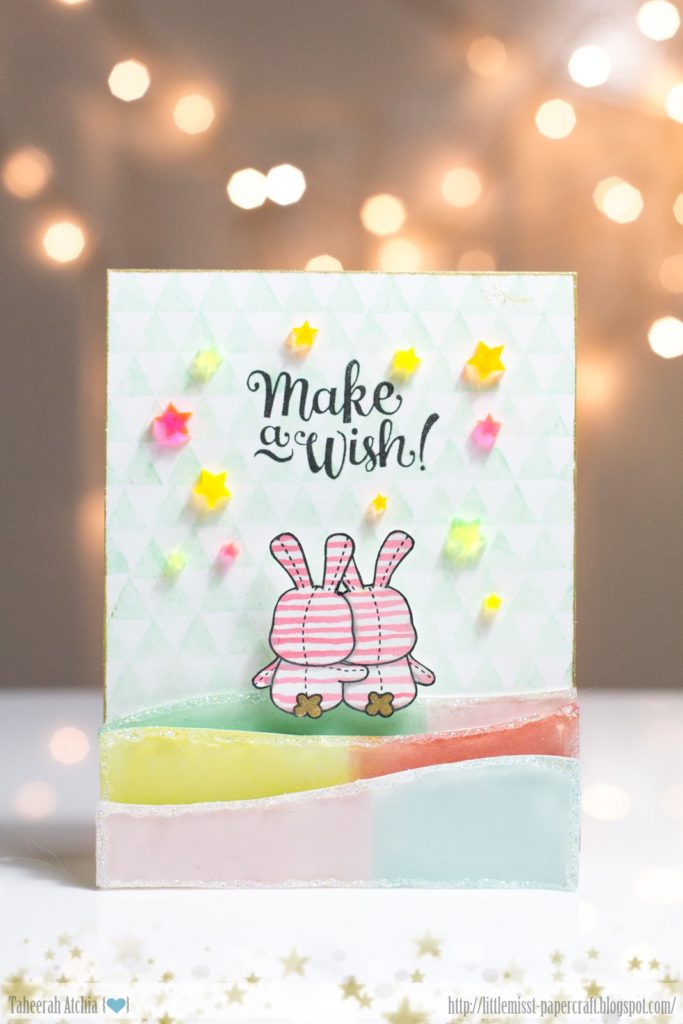 Hmm, I really liked this card as I was making it, but for some reason now I'm not sure, lol! What do you think of it? 🙂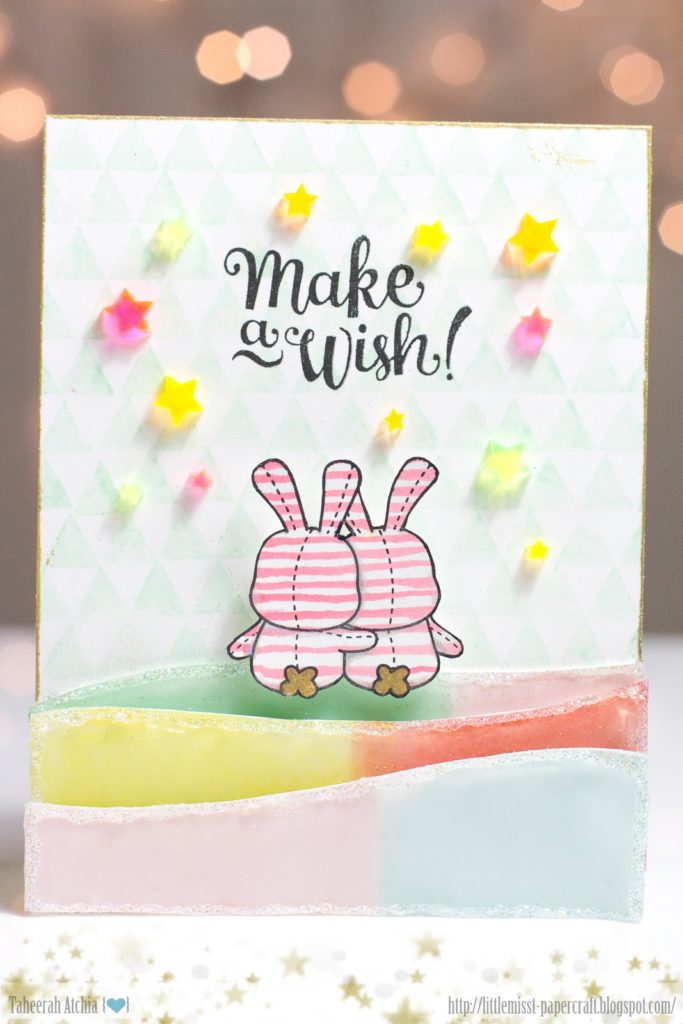 I started with a Pure White card base and stamped the entire base with a single triangle from Mama Elephant's Triefecta set using Studio Calico ink in Mint Hint (stamped off once). I edged the card with my Wink of Stella Glitter Brush Pen in Gold.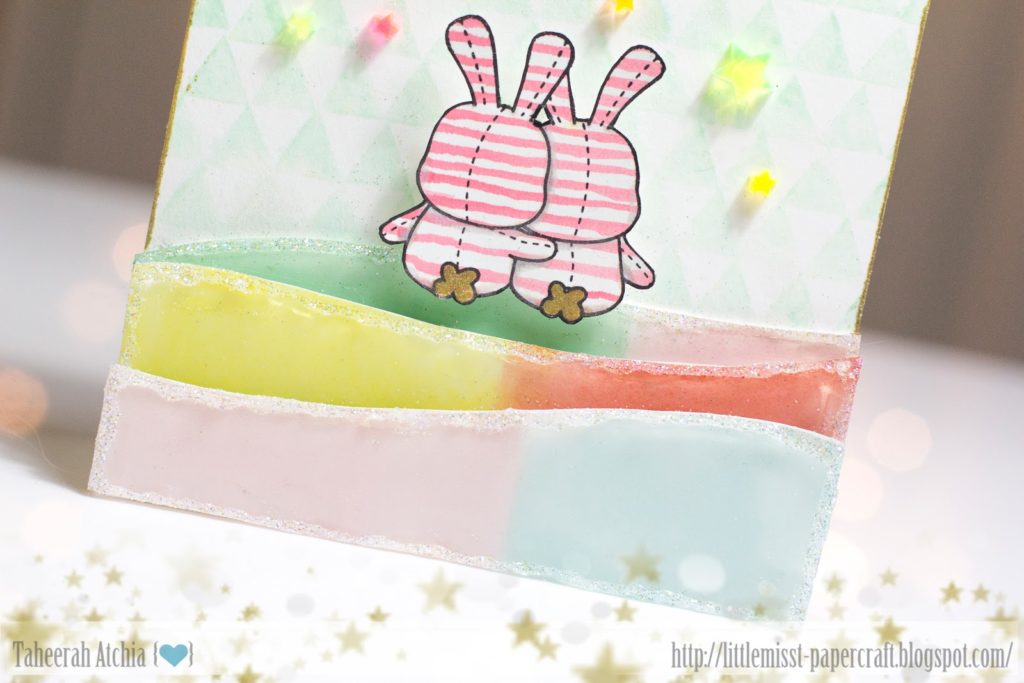 Next I wanted to bring in the colours of all those drawers, but make them work with my design! I pulled out some vellum and die cut it several times using the Mama Elephant Landscape Trio dies. On the reverse I inked up the vellum with some colours to match the drawers – Mama Elephant inks in Blush and Sunshine, Simon Says Stamp ink in Sea Glass, Studio Calico ink in Mint Hint and SU! ink in Crisp Cantaloupe. I used my heat tool to dry the inks a little before backing them onto some white cardstock using Pinflair Glue Gel. I added some Glossy Accents to the front and sprinkled on some Donna Slazar Glitter.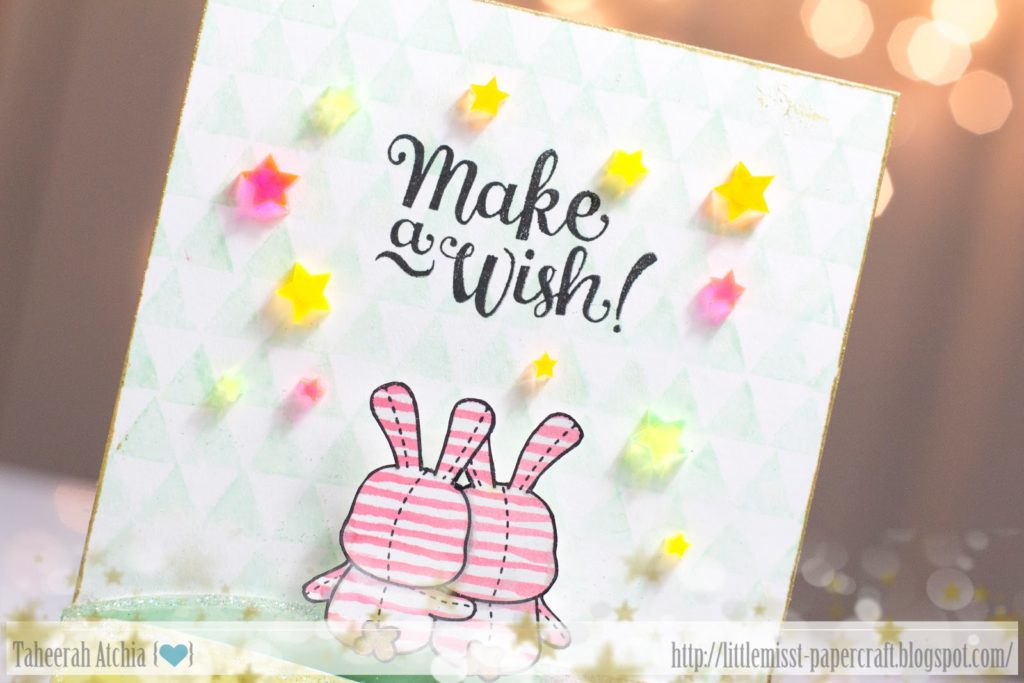 Next came the cute bunnies! I loved the stuffed animals from the inspiration and was dying to break out Mama Elephant's Honey Bunny set so I did! I first used some Beerry Sorbet reinker mixed with a mixture of water and Perfect Pearls and watercoloured some uneven lines before stamping my bunnies with Versafine Onyx Black ink. I trimmed them out, went over the edges with a black pen, added a little shading with some watercoloured Distress Ink in Pumice Stone and added the gold Wink of Stella to their tails! This works perfectly to echo that shirt in the inspiration don't you think?!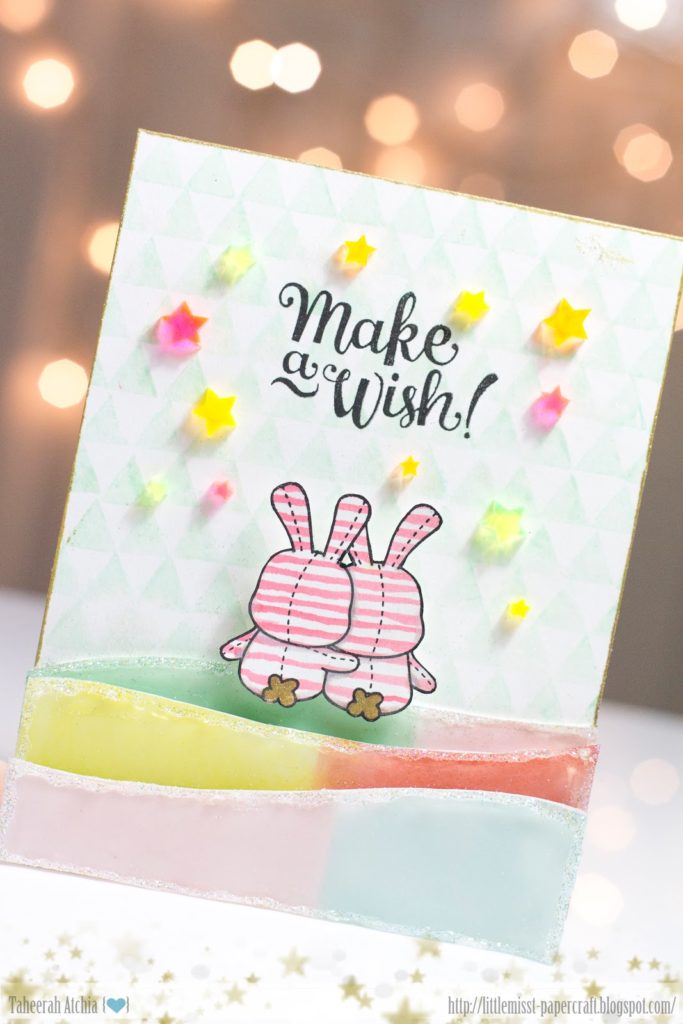 I adhered my bunnies to the base using Pinflair, added a sentiment from the awesome new Mama Elephant Make A Wish set then added a pack of Studio Calico Neon Acrylic Stars. Yes, a whole pack! Luckily I still have 3 more – though that's making me antsy, lol! I added some Wink of Stella Clear Glitter Brush Pen over the hills and that was me done!
So now it's your turn to cure the Monday Blues! Here's how to participate in the challenge!
The Rules
Create a brand new project using the photo inspiration
Post on your blog or to an online photo album. Ensure you link up to this challenge post in your blog post and include the inspiration photo
If it is not obvious how the image inspired you then please explain your process in your post
Link up your creations to this post using the Inlinkz below. Please use the link to your actual post rather than the link to your blog
You can enter as many times as you like!
The deadline for linking submissions is Sunday 13th April at 11pm BST/6pm EST
So are you ready to play?! I can't wait to see your creations!!
PS: if you would like to check out all of the previous challenge images you can see them here on my Pinterest board!
I'll be back again soon with something new! Thanks so much for stopping by – I would love it if you left some love before you went on your way! And I would love some feedback on the challenge itself!!