Hey everyone!
This is my third post of the day, phew! Please scroll down to check out my posts for the Neat & Tangled release and the latest Runway Inspired Challenge too!!
I'm back to welcome to Day 1 of the Newton's Nook February Release!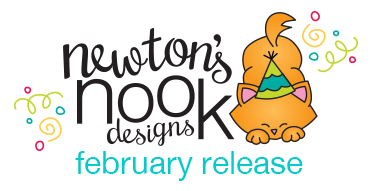 We have three *awesome* sets being released this month – and you're totally invited to come party with us!
Today's set is a cute little birthday set featuring our bear, Winston! Winston was recently named by our fans in a FB poll – what a great name!! There have been a few cute sets featuring Winston so you really should check them out!! But back to this release and the introduction of Winston's Birthday!! The cute little set is in a brand new 4″x3″ mini size and contains enough images and sentiments to create some adorable cards!!
I decided to team Winston up with some images from last month's Love à La Carte set and came up with this: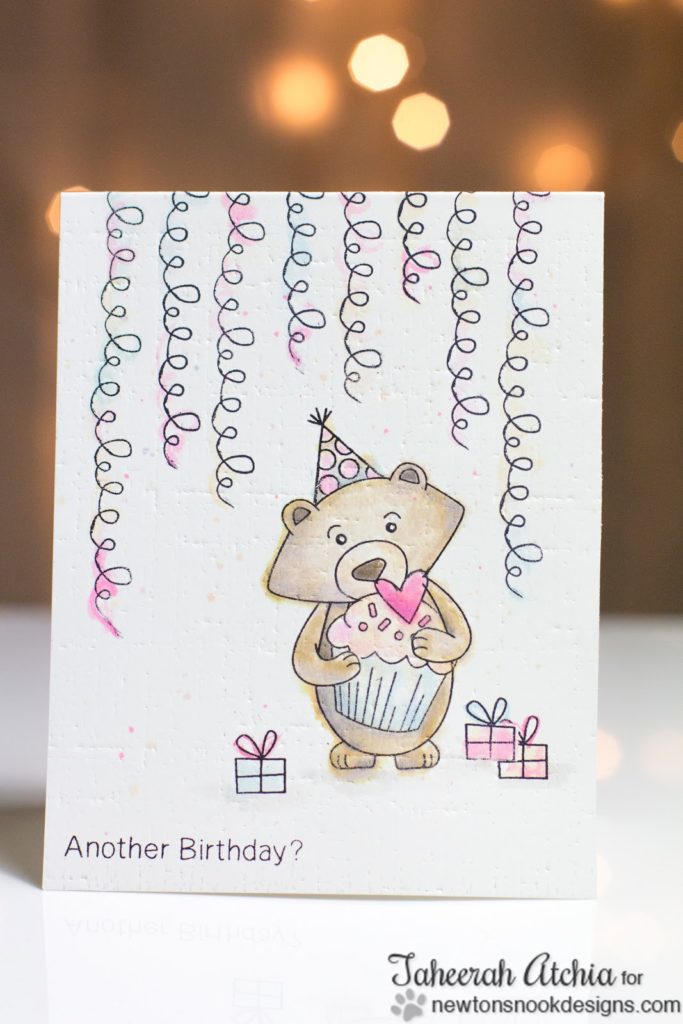 What do you think? I love how this turned out!
I started my stamping Winston and the cupcake from Love à La Carte using Archival Jet Black ink. I did some clever masking to make Winston appear to be holding the cupcake! Look at him, it's so big he can barely hold it – awww!!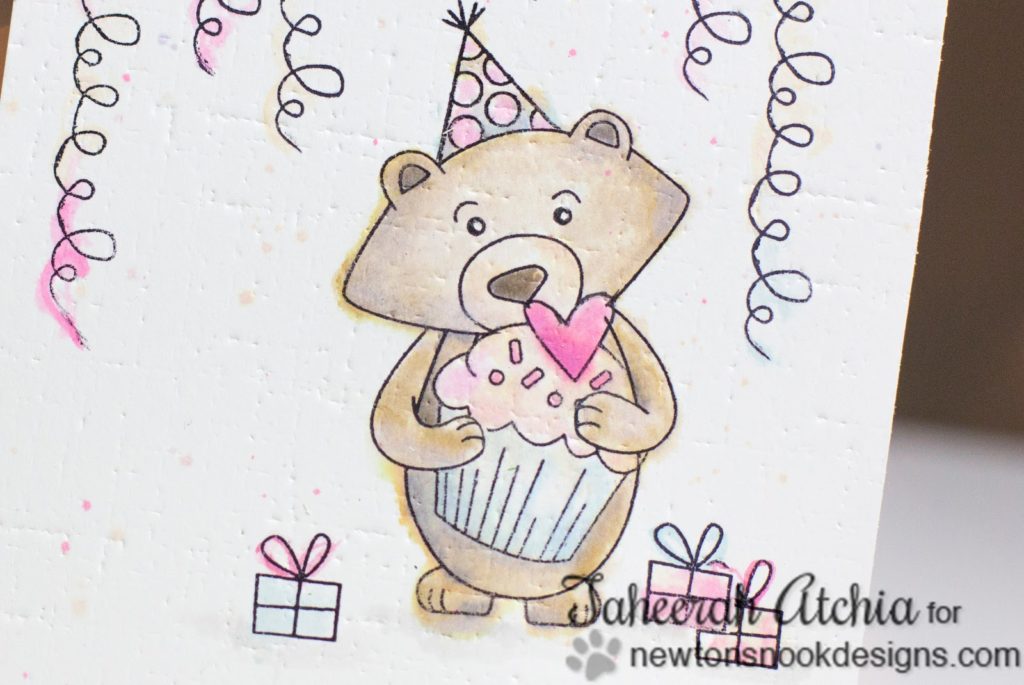 I then added the party hat, presents, sentiment and streamers and watercoloured the whole thing with Distress Markers. I wanted a 'natural/messy' watercolour look so I didn't always stay in the lines. Love the way it turned out!! And to give the look of a textured paper I impressed the card front with the Linen & Canvas Impression Plate and I was all done!!
All the Newtonians (that's what I've decided to call us, hehe!) are blog hopping today! Please be sure to join us and hop along and comment on each of the team's creations! Read on because there's a prize up for grabs!
Would you like to win Winston's Birthday?
This set will be given away to Two lucky winners!
Here's how to win:
Comment on the NND blog and Design Team and Guest blogs (see list below)! Two winners will be chosen at random from the collective blog February release posts. Make sure to check out each of their blogs and comment for your chance to win. You will not know which blog has been chosen so the more you comment on the better your chances are of winning! You have until Thursday, February 20th at 9 pm Central Standard Time to comment – winners will be announced on the blog post on Friday, February 21st.
Check out all these awesome Design Team Blogs below to enter:
Taheerah Atchia
I do hope you'll join me again tomorrow for some more Newton's Nook fun! Thanks so much for stopping by!
Supplies: