Merry Christmas everyone! 'Tis the Season of giving, hence my second post of the day!!
I'm so very grateful for all of you. Your kind words and support always mean so much – so my gift to you, and my way of saying thanks, is the chance to win some awesome goodies!!
I'm giving away quite a package – and I may even add one or two extras as we go along! *wink* For now though, here's a photo of what's up for grabs (NB: better picture to follow!):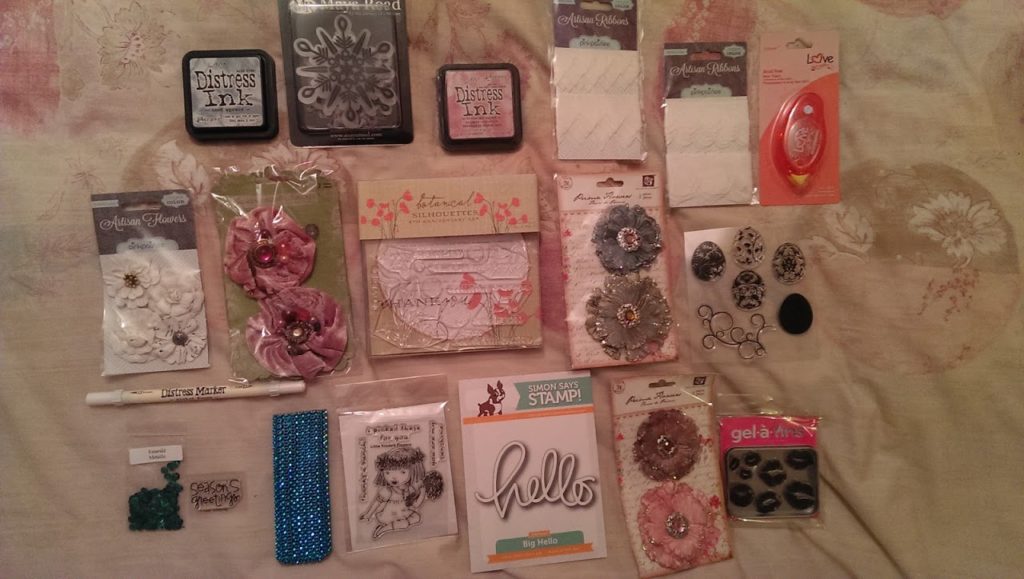 I'll make a list of what's featuring shortly, but in the meantime this should help give you an idea! 😀
So, some specifics for this Blog Candy, and how you can enter:
The Details
This Blog Candy giveaway will run for two weeks, starting from today (25th December 2013) until 8th January 2014. The 8th of January is my birthday, so call this a double giveaway if you like! Comments close at 7pm GMT/2pm EST on Wednesday 8th January 2014, and I will draw a winner shortly after.
I will be drawing one winner for this prize. I will give that winner 3 days to come forward after the drawing, and if I've heard nothing I will pick another winner, and so on.
This giveaway is open to followers and sharers only (see 'The Rules!' below!)
This giveaway is open worldwide!
The Prizes
Papertrey Ink Botanical Silhouettes 4th Year Anniversary stamp set – cannot be purchased anywhere!
Gel-à-Tins Fabergé Egg stamp set
Gel-à-Tins SWAK mini stamp set
The Crafts Meow stamp set (set name to follow)
Paper Smooches Seasons Greetings stamp
Prima Flowers – 3 packs, different designs
Pink Paislee Mistables – 2 packs of ribbon rolls and one pack of flowers
Victorian Velvet Distress Ink
Iced Spruce Distress Ink
Picket Fence Distress Marker
Gel–Tins Gelly Gems roll-ups in blue
Neat & Tangled Emerald metallic sequins
Love My Tapes tape runner
Simon Says Stamp Big Hello die
Maya Road acrylic snowflakes
… and maybe more to follow!
The Rules!
To enter the giveaway for this amazing Blog Candy you can do any or all of the following:
Leave a comment on this post, telling me something you've liked about my work this year. Your comments make my day and I would also love to hear what you've loved this year so I can hopefully bring you more of it next year! 🙂
Share this giveaway on FaceBook, Twitter, or Pinterest – you can add one additional comment for each one of these shares!
Follow me on Feedly, BlogLovin, e-mail or FaceBook (links to all of these can be found at the top left of my blog, underneath my photo 🙂 ) then come back and leave an additional comment!
Introduce a friend to my blog – if they sign up to follow me then you can leave another comment! New friend – you can then enter this giveaway in any and all of the ways mentioned above!!
I think that's enough to get you all started!! Let the giveaway begin!! 😀