Hey everyone! Happy Saturday!
Today I'm playing with some new goodies – yay!! I got my latest
Mama Elephant
order today, as well as a
package of goodies I won in one of the Moxie Fab challenges
that my friend
Miriam
kindly took delivery of and sent on to me! Thank you Miriam!
And seeing as the big focus of this card is a stamp that came in that package, and a thank you sentiment too, I thought it would be *perfect* to convey my thanks and appreciation of the wonderful Cath Edvalson. If you missed it, Cath is stepping down from the Moxie Fab World blog and from Paper Crafts Magazine. The news hit me like a ton of bricks on Friday and I was so, so sad. Cath has had a *huge* impact on me as a designer and really helped me strive to become better. I can't imagine Moxie Fab World without her!
So Cath, this is a card for you, to say thanks. I had you in mind when I was making it, so I hope I've done you justice, and I hope you like it. xoxo
In my pack of goodies I got a gorgeous Cottage Rose stamp by a company called Layers Of Color. The large format was *perfect* for a big, bold statement, and this is what I ended up with: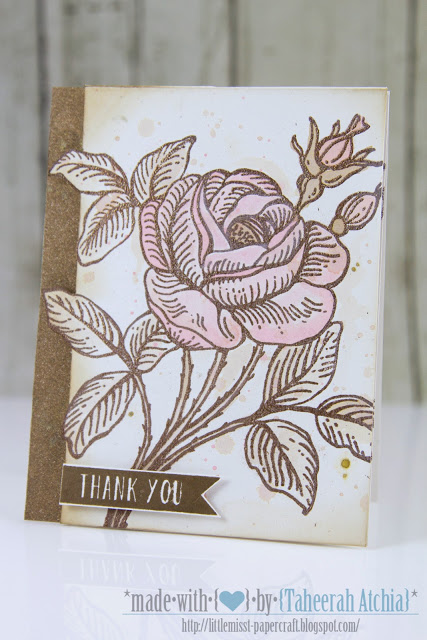 What do you think? I really love how this turned out!!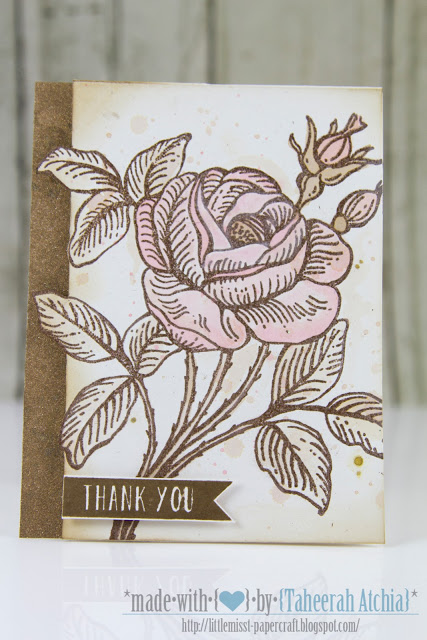 I started with a Rustic White card base and stamped my rose using Memento Luxe ink in Rich Cocoa. I then coated it in an embossing powder I've been wanting to get my hands on for *years* – the Ancient Gold embossing powders from Ranger!! I've loved the idea of all those different shades of gold!! Here I used the Tarnished Gold embossing powder and it is so swoon-worthy!!!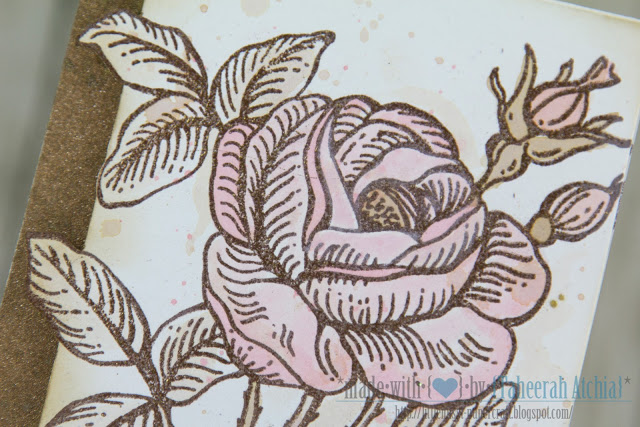 I used SU! inks in Blushing Bride and Baked Brown Sugar to watercolour my rose, then flicked on some spatter with what was left before lightly inking the edges with Distress Ink in Vintage Photo.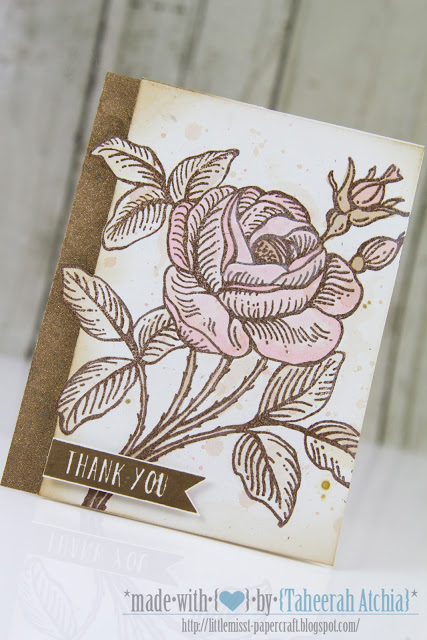 At this point I had a plain card front with this amazing design but I really wanted to incorporate a strip of gold glitter paper (figures!) down one side, and I wanted it to be behind the leaves. I decided to perform a little card surgery, trimming down one side and around the leaves, then adhere the glitter paper on the inside edge.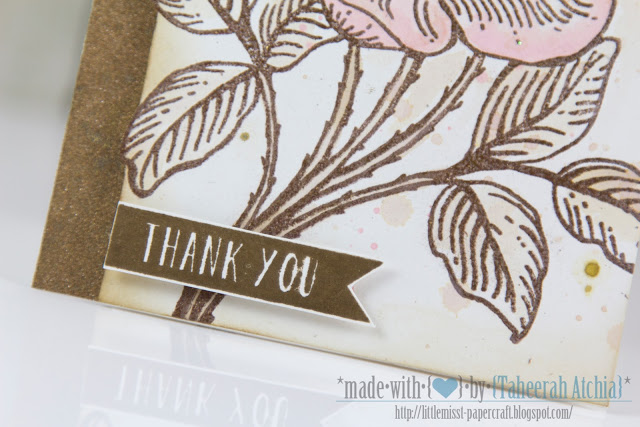 It did not work as I wanted, lol. I really wanted some dimension and it was too hard to distinguish the leaves from the paper. So I cut my card base apart, and used a new base. I adhered a strip of POW! Glitter Paper in Caramel, that I'd vintaged up with some of the Vintage Photo Distress Ink, then sprayed with Perfect Pearls Mist in Heirloom Gold (I *love* this stuff!). I then adhered the cut out card front to the base using Pinflair Glue Gel, before adding the sentiment from Mama Elephant's Many Thanks set, stamped with SU! ink in Soft Suede. And I was all done!

Well I do hope you will join me again tomorrow for the latest Couture Christmas Collection! I'm kinda wishing I hadn't scheduled those posts for Sundays as they don't get many visitors, lol! In the meantime I would love it if you left some love before you went on your way! Thanks so much for stopping by!
Supplies: