Hello all, and welcome! Thanks for stopping by!!
Well, it's that time of the month again – Blog Hop time that is!! I haven't participated in the Blog Hop for a few reasons, but thought it was about time I put that right!
So the challenge this month was to use a stamp set that we haven't used before. Here's the brief from Nichole:
With the new year comes a clean slate along with many resolutions. This month's blog hop challenge involves you challenging yourself to use a Papertrey stamp set that has yet to see ink or even one that might be collecting a little dust! Go through your stash and see what little used treasure it might hold. If you are in need of inspiration for your chosen set, feel free to utilize the gallery posted in the side bar of each set's sale page on our website, or go to the
Previous Countdown
page here on my blog where each set is organized by month of release. 2011 is the year where what's old is new again!
Because I haven't crafted in so long finding an uninked set was easy! Choosing which set was the hard part! In truth I could have created a lot more but simply didn't have the time!
I decided on Love Lives Here, which I completely fell in love with from the moment I saw the Sneak Peek. I just love the idea, the sentiments, the dies – everything!! So I decided to utilise some of those products and came up with this: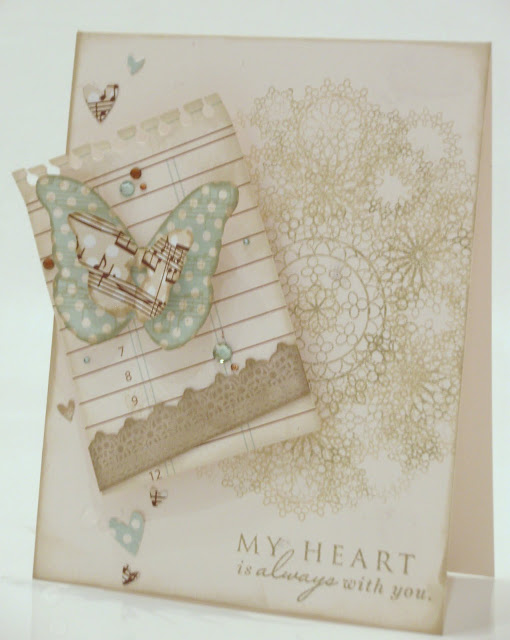 This is definitely my new favourite card, lol. I love so much about it!! Definitely still on my vintage kick!!
I started with the butterfly. The small butterfly was cut from Sweet Symphony patterned paper uaing the Love Lives Here die and inked with the VintageTouch Tea Dye Duo, including the centre cut-out for definition. The larger butterfly was cut from Library Ledger patterned paper using the Signature Series: Butterfly die then gently stamped with Background Basics: Sheet Music using Palette Haystack ink. I edged this butterfly with the Tea Dye Duo before adhering the butterflies together wih Pinflair for dimension, bending the wings to add dimension too.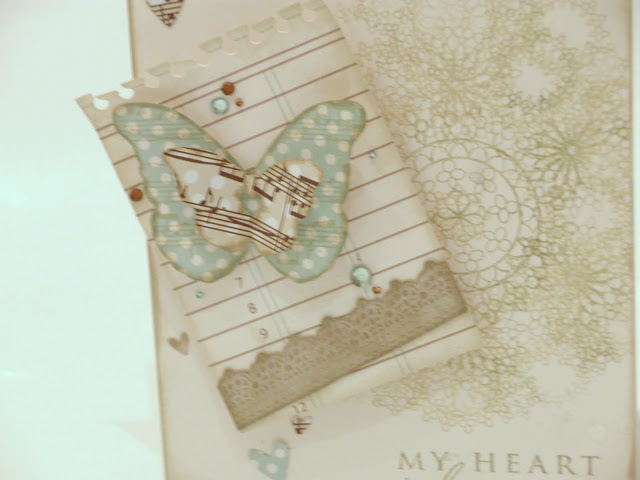 I then cut another piece of Library Ledger paper using the Spiral Notebook die, carefully positioning the die to get the numbers where I wanted them on the die cut. I bent the tabs before edging with Tea Dye Duo. The butterfly was then adhered with Pinflair, before adding co-ordinating rhinestones, the aqua ones starting as clear rhinestones which I then coloured to match using Copics. I then added a strip of Kraft cardstock stamped with another company's stamps using Vintage Cream ink (then overlaid with Tea Dye Duo and Palette Haystack to vintage it up), cut to match the pattern then adhered at an angle.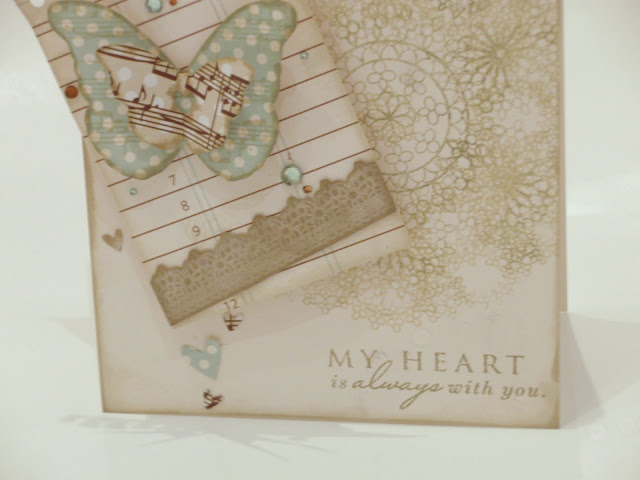 For the amazing doily effect I built up the pattern from many smaller stamps from another stamp company, alternating the inks between Palette Haystack and CTMH Desert Sand (stamped off once). I stamped these directly onto the Vintage Cream card base before adhering the notebook page using plenty of Pinflair. I have stamped doilies like this before with this set but this is the first time I'm posting the results!!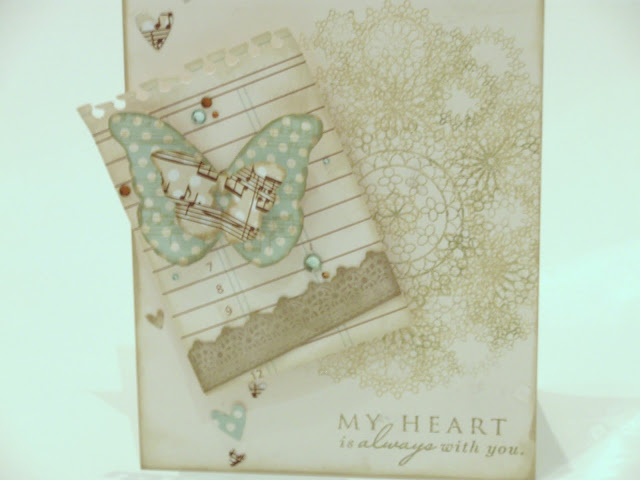 I finished off the card adding some small hearts cut with the Love Lives Here dies, cut from the previous patterned papers, stamped the sentiment from Love Lives Here with CTMH Desert Sand, then edged the card with VintageTouch Tea Dye Duo.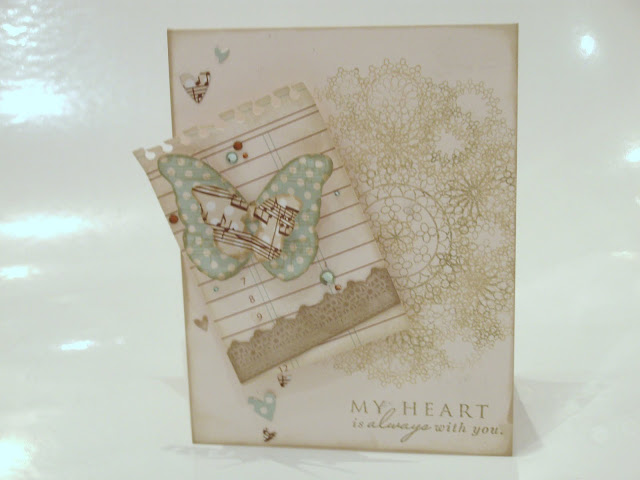 I'm truly proud of this beauty and am currently displaying it at my desk at work!! I'd love to hear what you think of it. Thanks so much for stopping by, and happy Hopping!!