Hey everyone!
Long time no speak! I've not been up to much crafting lately, terrible I know! So I thought I'd pop on and share a card I made for the wedding of my two friends Rob and Jen. I was commissioned to produce their wedding invitations and was honoured to be amongst the Evening Reception guests! So I made them a card that tied in closely to their wedding colours: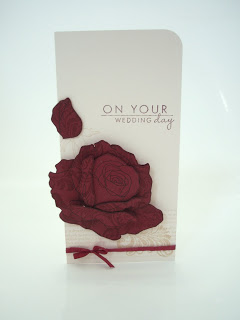 I started with a Vintage Cream card base and stamped the text from Background Basics: Hearts using Palette Haystack ink, then overstamped with one of the flourishes from Embellishments. The rose bud stem was stamped onto the base using the same ink.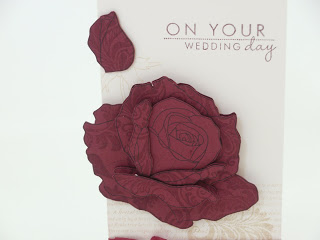 The rose from
Year of Flowers: Roses
was stamped repeatedly onto
Scarlet Jewel cardstock
using
True Black ink
which had been stamped with the flourishes from
Embellishments
using
Versamark
ink. I carefully cut out the roses and assembled using
Pinflair
to vary the depth. The rose and the rose bud were adhered to the base with Pinflair.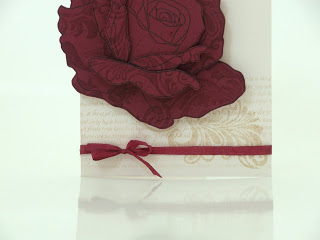 I coloured a strip of Silk Ribbon with Copics to match the colour, cut a slit in the base and threaded through and tied into a bow. Finally the sentiment was stamped using Scarlet Jewel ink.
Thanks for stopping by and I will hopefully will be back to crafting and blogging soon!