Hey everyone!! It's Blog Hop time!!!
This month's Blog Hop was to focus on something you've learned during your stamping career. Here's the brief from Nichole:
"One of the most fun things about this hobby is the people you meet, whether in person or online, and the things you learn from them. Now is your chance to show off any skills you might have learned from a fellow stamper, and perhaps even give them a little shout out to thank them for the inspiration they have provided. Create a project using one of your favorite learned skills and perhaps after a little blog hopping, we will ALL learn some new tips and tricks and continue to pass on the love of this hobby!"
Should be simple right? Not so much for me! See, I'm always so intent and determined (read: stubborn!) to create something unique and all my own that I try my hardest not to CASE, take ideas or techniques or designs etc from anyone else! However I obviously have learned a lot from all the amazing creations and designers I see out there everyday so obviously I have absorbed lots from them!
So my entry tonight I'm focusing on a style more than anything else. As you may know I've been on a real vintage kick recently. Well, I decided to finally embrace it 'properly' and do a 'proper' vintage-y card! So for my inspiration I've trawled the blogs of
Melissa Phillips
,
Sarah Martina Parker
,
Ashley Cannon Newell
and
Betsy Veldman
! Quite a bevy of talent!
The things/techniques/designs/whatever I picked up on the most were probably from Melissa, mostly in terms of how she composes her amazing vintage creations. When it comes to vintage I think she can't be equalled by anybody!
From Betsy I learned how to make the style a little cleaner and more modern/funky, whilst still maintaining a lot of vintage aspects.
From Sarah and Ashley I learned of wrinkly ribbon and all the amazing ways you can use it! In particular I learned a bit more about placement for their ribbon treatments.
So, although my creation has taken inspiration from the various creations I've seen by these ladies I've made something that is all my own, and showcases a lot of techniques and individual design elements that I've come up with by myself! Without further ado, here is my creation: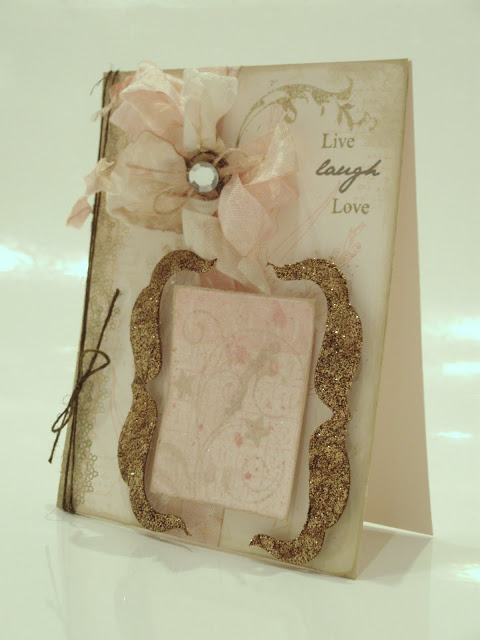 *Very* different for me, huh? But boy I love it!!
It would probably take me all day to describe all the little extras I've added to this card. It was a true labour of love and some elements have been sat on my desk for weeks on end, just waiting for me to work out how I wanted to incorporate them. I'm really proud of the end result.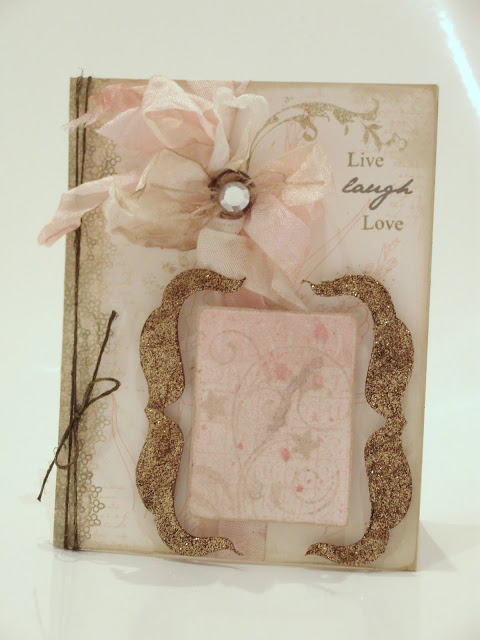 So instead of describing all the bits that make up this card I thought I'd touch on some of the individual aspects that I've created that make this card unique. Apart from the wrinkle ribbon every single thing on the card is hand made by myself you see. I told you it was a labour of love!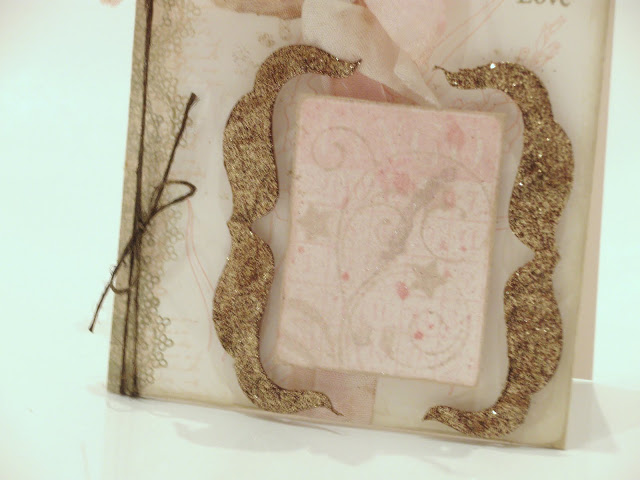 The Bingo card. This was stamped, coated completely in glitter, then I overstamped on the glitter to add the flourishes and stars etc, as well as adding some glimmer mist. This stamping on glitter gives the effect of coloured glitter almost, just love it! Super shimmery and sparkly in real life!
The gold brackets. These were created with the mat stack 4 die, the running through again with the Fillable Frames #4 die in the middle, creating two curly brackets. I coated with Martha Stewart Antique Gold glitter then smudged on some VintageTouch Chai ink (from the refill bottle), and again with the True Black ink refill too, and smushing in with my finger to antique it up some more. More overstamping on this (probably can barely see it) using Embellishments.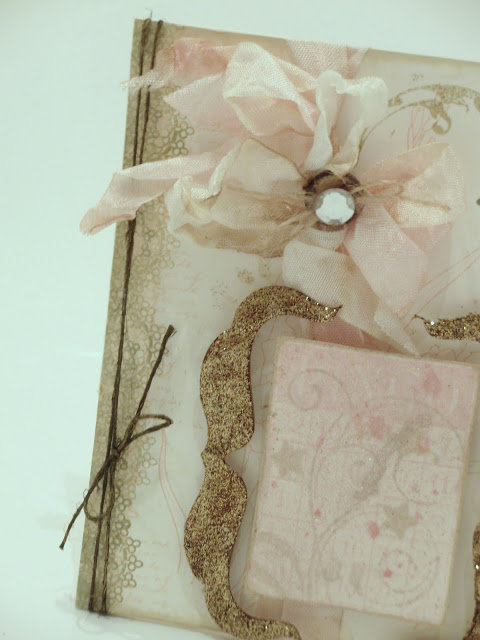 The wrinkle ribbon bow is a double bow with the pale pink ribbon then a single bow with the cream ribbon on top of it. The button treatment is a Rustic Wood button (rough side) tied onto the bow with twine then a rhinestone attached.
The twine bow on the side. Started as Rustic Jute twine but smeared on Stazon Metallic Gold ink and True Black ink to vintage it up. This also made the twine stiffer which means the bow holds better.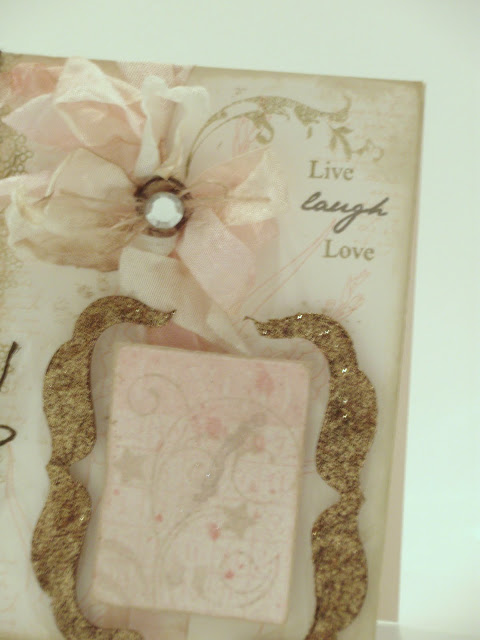 The background. Probably can hardly be seen but definitely contributes to the overall feel of the card. Stamped Year of Flowers: Gladiolus in the middle, and some Text Style I stamped at the edges of the base. The lace effect on the left side is created with a different company's stamps, lots of overstamping and so on to make it vintage and soft.
I can't wait to see what everyone else has come up with for this hop! Really hope you like this creation I've posted, as I said it was a real labour of love and I'm truly proud of how it's turned out. I know I haven't provided much by way of step-by-step, so if you have any specific questions please ask and I'll do my best to answer! Other than that I would love to know what you think of this card. Thanks for stopping by and happy hopping!!