Hey everyone!
Well, this post will just go to show exactly how far behind I am in my posts! Today I'm posting a masculine card I made for Valentine's Day – and no, it's still not my GSS Honourable Mention either, cripes!! One of these days I will get it posted though!
Today's card was also one I considered using for the February Blog Hop but I decided not to as Dawn's card was out for publication and so wasn't showing on her blog. Still, I really liked how it turned out, and it was well received too, so here it is!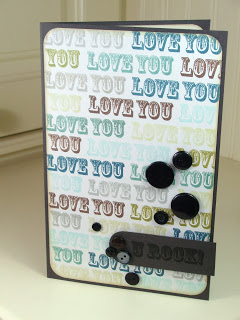 I really like how this turned out! I think it makes a good, sentimental statement but still manages to be masculine at the same time!
I started with a Smokey Shadow base. This card is a big 'un, coming in at 8.5″ x 5.5″, but that was because I wanted to write a lot inside! The main panel is Rustic White, onto which I repeatedly stamped the 'Love You' sentiment from Say It With Style, using Enchanted Evening, Smokey Shadow, Ripe Avocado, Ocean Tides, Dark Chocolate, Spring Moss and Aqua Mist. I actually bought this set because I had the idea for this card!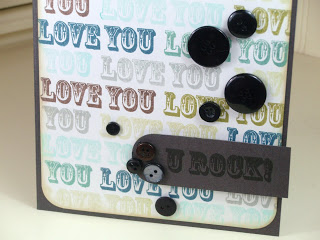 I rounded each of the corners of the panel then inked the edges well with my VintageTouch Tea Dye Duo. I need to get some more of these, have finished my second set off already!
I added a smaller Smokey Shadow panel on top, with the 'U Rock!' sentiment stamped with True Black (or Black Versafine, I forget which!). I added a trio of buttons on the smaller panel. They are actually all True Black buttons but I managed to find some that looked more Smokey Shadow and Dark Chocolate in nature – perfect!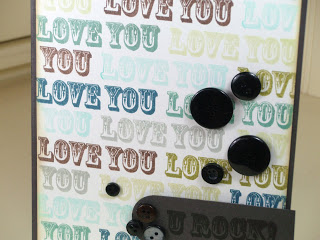 I decided I also wanted some extra buttons on the main panel, and you'll laugh at how I decided on their position – I literally picked out a selection of buttons, dropped them onto the card, and decided I liked the placement of where they'd fallen so I went with it, lol!
I'd love to hear your thoughts on this one, it really makes my day when you choose to leave some love! I'll hopefully be back later tonight with another card too so bye for now!!