Hey everyone!
Well, I promised I'd return with another post today so here I am!!
I'm still really loving the tall cards a la Maile Belles, so I have another today. This one is one that I'm rather proud of!
How fun, zesty and fresh is that?!! I love the colour combo – Berry Sorbet, Dark Chocolate and Spring Moss on Stamper's Select White! Looks good enough to eat!!
I started by stamping various blooms from Beautiful Blooms using the three inks, alternating the blooms and colours as I went along. I then chose a select few flowers and added rhinestone centres, colouring them with Copics to match the colours. I then added a few other random rhinestones as well. Love the tiny diddy ones!!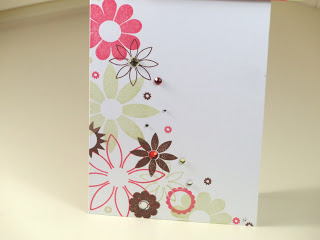 The sentiment is from Big & Bold wishes, and is stamped on Berry Sorbet cardstock using Dark Chocolate ink. I added a small piece of punched Spring Moss cardstock, finished with a rhinestone in the centre.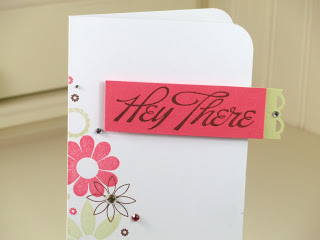 I'd love to know what you think of this one – it really gets me in the mood for Summer!! Take good care of yourselves and I'll be back again soon!!