Hey everyone,
I hope you're all enjoying the Papertrey festivities as much as I am!
I have to say I've loved doing these colour challenges, they're so much fun!! There were 12 to choose from and I really wanted to do all 12 but didn't have enough time. I plan to revisit the ones I missed though and try them out some other time!
Next up are Heather's colours:

Aren't they gorgeous?! So soft and gentle!! I really wanted to bear that in mind with my design and create something that felt just as soft and relaxing as the combo made me feel! Keeping up with my plans to do a series of mini cards I came up with the following: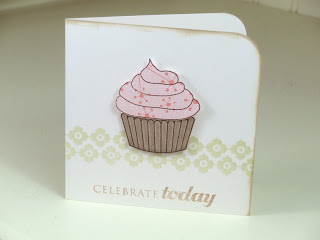 I love this one!! Cupcake Collection was one of the first sets I got from PTI and it's still one of my favourites, lots of fond memories of when I was first wowed by Nichole and the team, lol!
I started with a Vintage Cream base and rounded one corner. I stamped one of the designs from Background Basics: Petal Power using Spring Moss ink. Such a lovely, subtle effect, and so much better in the new formula!!
I really wanted to keep the card sweet and simple, so I stamped the cupcake frosting onto the Melon Berry design from the Pretty Pastels patterned paper collection. I stamped the base onto Kraft cardstock and added some shading with my Copics. Both top and bottom were stamped using Dark Chocolate ink so the result wasn't as stark as black. I adhered both to the base using lashings of Pinflair as usual!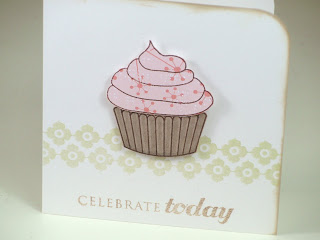 The sentiment was inked up with Versamark first (to protect the stamp from staining) then VintageTouch Chai then Dark Chocolate lightly over the top, then all stamped down together to give a lovely Kraft coloured ink. I also used the Chai ink to edge two of the edges of the card. And that's all there is to it!!
I'd love to hear your thoughts on this little series so far. Which has been your favourite colour combo and/or design? I really love them all and can't wait to get some spare time to complete the collection!!