Hello again!
I'm back with Part 3 of my Christmas Order posts – and I'll probably follow up with Part 4 straight after as that's only one card! If I get all that done that paves the way nicely for just a couple of posts tomorrow for the ones from the heart (friends and family).
This order was a bit more challenging in some ways. The lady in question seemed to only want greens and reds for her cards. No problem, I hear you say, that surely makes it easier! Not so for me! I prefer to not be restricted on colours etc too much as it allows the creative juices to flow more easily! So for these ones I had to work those juices a bit more to come up with the goods!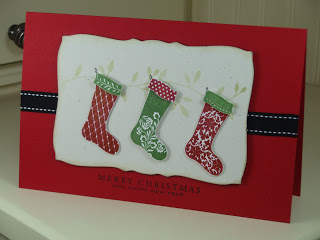 This first card used Stocking Prints. I paired three stockings with two branches from Turning a New Leaf. The stockings were stamped with New Leaf and with a mix of Pure Poppy and Scarlet Jewel for the red. The leaves were stamped with Spring Moss onto Rustic White cardstock, die cut of course with my Mega Curved Rectangle Nestabilities! I inked the edges with the VintageTouch Tea Dye Duo, then the very edges with True Black to make it stand out a bit more.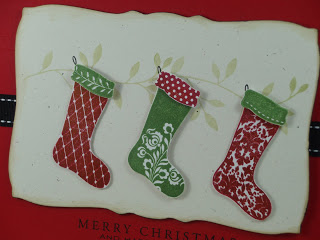 The stocking tops were stamped separately and adhered above the stockings and then each stocking adhered onto the branch. The hooks and sentiment were stamped with black Versafine. The base is Pure Poppy (another Supersize Me card!) and a strip of True Black Saddle Stitch ribbon was added for contrast.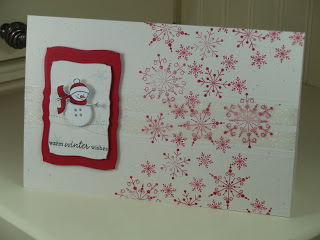 The second card used the snowman from Holiday Button Bits. This was to be another Supersize Me card so I had to find a way to make use of the remaining space! I decided to create a snow 'blizzard' and stamped the snowflakes from Snowflake Serenade and Holiday Treats in a sort of random drift pattern. I added some score lines with my Scor Pal and lengths of Scor Tape onto which I sprinkled some Martha Stewart Crystal Fine glitter.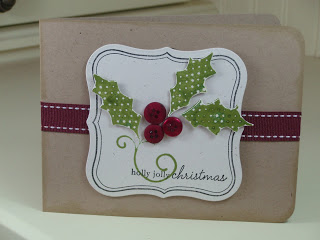 This next card was just another one of my Holly cards, nothing much to say on this except that it was a very popular design this year!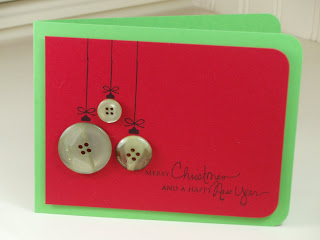 This next card used the ornament trio from Holiday Button Bits, this time with the string stamped in black Versafine (I really must rush less and get the strings lined up better!). The base is New Leaf and the buttons are Spring Moss ones I believe (they came from my Holiday Mix Button Collection so not sure!).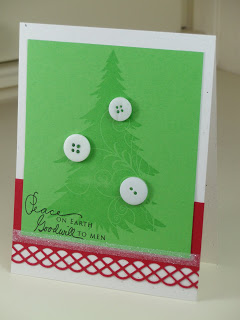 I think this last card is my favourite of the bunch, just because I didn't expect it to turn out well and I surprised myself! I stamped the tree from Tree Trimming Trio with Versamark ink onto New Leaf cardstock and added white buttons for the baubles. I added a strip of punched Pure Poppy cardstock underneath the mat. Here's the bit I like those – a strip of Scor Tape along the join and Martha Stewart glitter sprinkled on – it just really works!
So that's the third order! I'd love to hear what you think of these as they were more of a challenge in some ways than the others were. Just one more order to post on here as I said so stay tuned for that one!