Hi everyone!
Well, Christmas is over and everyone's already buzzing about the New Year. What happened to 2009?!
What with the upcoming New Year celebrations it seems like the perfect time for the latest
A Passion for Papertrey Challenge
, featuring none other than stars! If you get a chance take a look and join in, I'm sure you'll have a great time with it! As December's Featured Stamper I got to participate in the actual challenges and contribute and I had a great time doing so!
So here's my take on the challenge: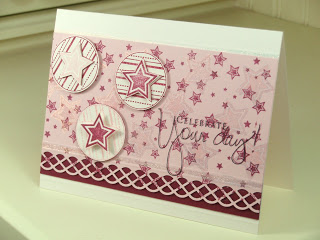 I'm really happy with how this card turned out! I set myself an additional challenge to create a stars card without using Star Prints and I managed to resist temptation and do it! I turned to one of my more recent stamp sets, Let Freedom Ring!, to put my card together!
The colour scheme was the main thing I struggled with when putting this card together. I knew roughly what kind of design I wanted but couldn't think what colours I wanted to execute it in, other than I wanted it to be feminine. Then one of those lightbub moments came as I glanced down at my pyjama bottoms – they are a Sweet Blush with Scarlet Jewel stars!! Perfect!!!
The rest of the card came together pretty easily after that! The base is Vintage Cream, onto which I added some decorative score lines with my Scor-Pal. The top set of lines is just peeking out above the Sweet Blush layer. I added some glue with my Quickie Glue pen and sprinkled on some Kars Extra Fine Glitter (this was before I had Scor-Tape!)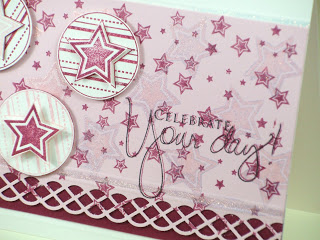 Between my sets of score lines I added a small strip of Scarlet Jewel cardstock and the main Sweet Blush layer. The bottom was punched with my Martha Stewart lattice punch. This is my favourite punch ever and I was devastated when it broke the other day!! A metal part inside it just clean shore through, couldn't believe it! Not sure if it was the pressure I applied or if it was just from stress from punching through so much PTI cardstock, but it's gone to punch heaven now. 🙁 I've already ordered a replacement though and I'm praying that one will last!!
The main background has the stars background stamped in Scarlet Jewel. I then added some randomly stamped larger stars using the Essential Glue Pad and sprinkled on some glitter. The picture was taken when the card was still drying, hence the slight blueiness, but it doesn't look like that anymore!! I added a couple of score lines on my Sweet Blush layer and added some glitter as before.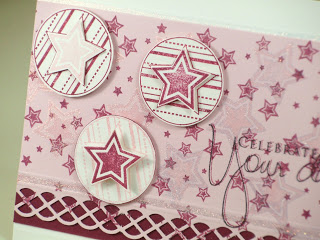 I then added 3 of the striped circles, one stamped in Sweet Blush (love the new formulation ink!) and the other two in Scarlet Jewel. I stamped the stars separately and adhered at different depths using Pinflair Glue Gel. I go through this stuff so fast now I think they ought to give me a direct bulk delivery from the factory!! The circles were cut out by hand and then adhered with more Pinflair. Finally the sentiment (from Signature Greetings) was stamped, first in Scarlet Jewel and then in True Black so that the Scarlet Jewel created a slight shadow effect.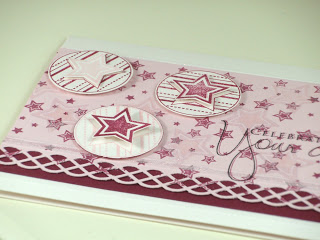 So there you have it! My first non-Christmas card for ages, feels so good to type that!! I'd love to hear what you think of it!!