Evening all,
My second post today is of a card I was commissioned to make for a friend's birthday. He is a huge St. Helens Rugby Club fan so I decided to replicate the club's shirt using Gina K's So Sporty set.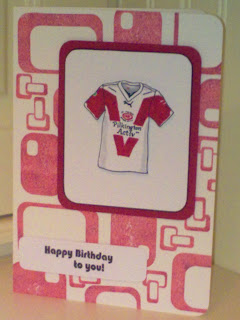 I stamped the shirt onto PTI's Stamper's Select White cardstock using Memento Tuxedo Black, but used the marker pens instead of the inkpad so I could choose exactly which parts of the stamp I wanted to use. The shirt doesn't have any stripes on the sleeves so I didn't want to include that portion of the stamp.
After stamping the shirt I carefully recreated the design using Copics. As you can see the Gina K stamps are incredibly versatile and can easily be customised to feature a favourite team, or even to create a design of your own!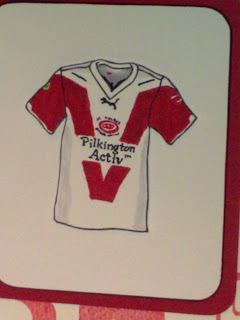 I rounded the corners using my large X-Cut Corner Rounder (expect to see several cards featuring rounded corners from now on!), edged with True Black ink and mounted onto a slightly larger Pure Poppy mat with rounded corners.
For the card base I used an A5 card created with white hammer card and repeatedly stamped some of the designs from Papertrey's Mod Squad stamp set. I don't have a Pure Poppy inkpad (yet!) so I used Berry Sorbet with a little Scarlet Jewel dabbed on top.
I added a simple sentiment stamped in True Black from the same stamp set onto Stamper's Select White and rounded the corners of that too. Finally, in keeping with the overall design, I rounded the edges of the card as well.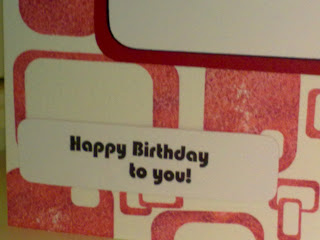 Apologies for the poor quality photos of this – I had to resort to using the camera on my phone as I didn't get my camera back before having to deliver the card.