Afternoon everyone!
Well, now that I've got my camera back I really must start posting in anger!
One thing that has seemed to 'scare' me with cardmaking is colour combinations. Picking out colours to combine together is all well and good if they all tone together, but picking out colour combinations with impact is something else altogether!
Fortunately the internet is full of inspiration and information, with everything from colour theory to fantastic examples on blogs. After taking a look at all the fab creations out there I decided to just be brave and start experimenting more.
I decided to try and combine colours I never would have dreamed of before – bright pink, olive and brown, with a little cream thrown in! I turned to my trusty Cupcake Collection stamp set once again for this combo – well, if you're going to be brave and daring you might as well have something of 'comfort' you can rely on, lol.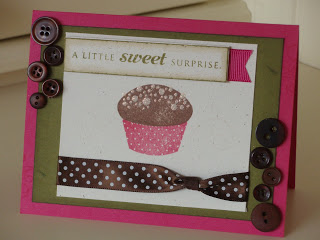 Almost all supplies are PTI (as usual!), with Raspberry Fizz, Ripe Avocado and Rustic Cream cardstock making an appearance. I used Raspberry Fizz and SU! Close to Cocoa for the cupcake, with Vintage Cream for the sprinkles. When dry I used my Quickie Glue Pen over the sprinkles and applied Kars glitter (I love this stuff!).
The sentiment was stamped in Ripe Avocado and edged with Ripe Avocado and the VintageTouch Tea Dye Duo. I layered the sentiment with Pinflair Glue Gel with a small tab of Raspberry Fizz Grosgrain ribbon to the side. I added a strip of Dark Chocolate Polka Dot ribbon across the bottom of the cream panel with a simple knot to one side. I'm loving trying these different treatments with ribbon, they really do add interest to the layout!
The cream panel was layered onto Ripe Avocado and then mounted onto a Raspberry Fizz base. I added rows of Dark Chocolate buttons as a finishing touch. There are also some light flourishes stamped with Versamark on both the cream panel and off the edges of the Ripe Avocado/Raspberry Fizz cardstock but they don't show up that well in the photos.
So what do you think? Has the combo worked? I think it has but would love to know your thoughts!