Me again!
Well, while I'm feeling energetic enough I thought I'd get another post up! If I keep up at this rate I might *finally* have a chance to get up to date by the end of this week. Here's hoping anyway!
These cards were inspired after seeing the PTI August Senior DT Challenge, which was to combine 4 different patterns on a card. The DT never disappoint and I really wanted to have a go myself! So here are two cards I created in the spirit of the challenge: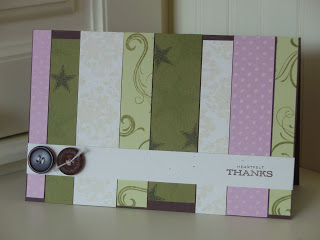 Both cards are a variation on a theme, using strips of patterned cardstock. The strips using Lavendar Moon cardstock stamped with Polka Dot Basics in Vintage Cream ink, Ripe Avocado stamped with stars from the Everyday Classics set using VintageTouch Chai ink and Dark Chocolate ink, Rustic Cream stamped with Damask Designs using VintageTouch Chamomile ink and Spring Moss stamped with Fancy Flourishes using Ripe Avocado ink.
I stamped small pieces of cardstock first (half of an 8.5″ x 11″ sheet) and cut into strips afterwards. The various strips were deliberately cut in different widths for interest. After this the strips were arranged on a Dark Chocolate card base.
The larger card has a strip of Rustic Cream cardstock across the card, with a sentiment from the Everyday Classics set stamped in Dark Chocolate ink. A couple of Dark Chocolate buttons tied with Rustic Cream Button Twine completes the card.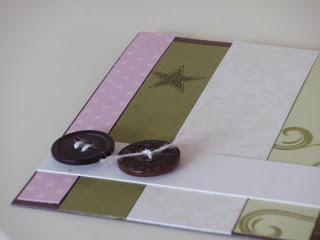 The smaller card uses a piece of Vintage Cream Topnotch Twill tied with a knot and finished with a small Dark Chocolate button tied with Rustic Cream Button Twine. The sentiment is from the Faux Ribbon stamp set.