Evening all,
You'll not be surprised at all to hear that I still have so much to post so I'd best get on with it!
Masculine cards are something we all find really hard to do I know. I don't think it's just the design, it's the audience!! Finding something that can be simple enough for a guy yet still allows us to have a bit of creative expression isn't easy!
That's why I'm so thrilled with PTI's Star Prints set which I got in one of my latest orders. This makes both masculine and feminine cards a breeze!
Anyway, onto the card itself. I wanted to make a congratulations card for a friend who'd just recently received a pay rise after a long-running project at work finally came to fruition. I wanted to make something special to say well done that wasn't too over the top: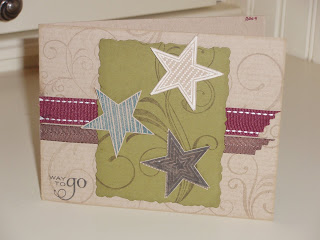 I *love* this card! I think the colour scheme suits a guy perfectly!!
The base is PTI Kraft, onto which I stamped some flourishes from Fancy Flourishes with Versamark ink. Flourishes can work on guys' cards too! I then wanted to make the base have less 'empty space' so I stamped one of the text stamps from Background Basics: Text Style using PTI VintageTouch Chai ink.
I added lengths of Scarlet Jewel Saddle Stitch and Dark Chocolate Topnotch Twill , cut at an agle with Pinking Shears. I'm loving jazzing up the ends of ribbon with this finishing touch!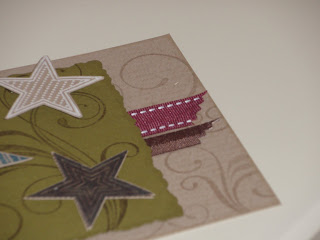 The main focus is three stars, each stamped on Kraft. The striped star is stamped in Enchanted Evening, the second in Vintage Cream (Vintage Cream on Kraft works *so* well!), and the third is actually two different star stamps on top of each other, one stamped in Dark Chocolate and the other in a mix of Smokey Shadow and True Black.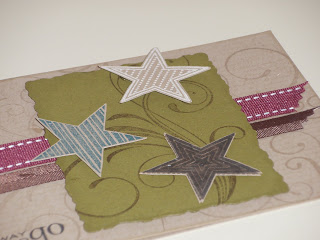 All three stars were adhered with Pinflair Glue Gel onto a piece of Ripe Avocado cardstock cut with Deckle Edged Rectangle Nestabilities. I stamped the large flourish in Dark Chocolate before attaching the stars.
Finally the sentiment was stamped in True Black. I like how the sentiment is on the left hand side as usually I would feel like it should go on the right.

Finally, I made an accompanying envelope, with a star stamped in Ripe Avocado and the sentiment overstamped in Pure Poppy. That inkpad finally made it into my order and all I can say is wow!

One thing that has made it into my next order is PTI envelopes though – making a co-ordinating Kraft envelope from cardstock was more painful than it should have been – especially with no template!! I think it turned out alright though!!
So what do you think? Feeling a little less afraid of doing masculine cards now?! I know I am – until the next one that is, lol. I have a few more masculine cards that will be going up here in the next few days so stay tuned!!