Evening all!
Just a quick post tonight, and it's something other than a card!
When the time came for Papertrey's June Release I was not only excited about the stamps, but also the wonderful templates that were also coming out. I absolutely fell in love with Lauren Meader's 'Pack A Picnic' template and knew I had to get it! $5 for a simple-to-put-together template that can be used an infinite number of times – and it was actually two templates in one as you got a large and a small template!
The templates are really easy to use, and the best part is that you can completely change the look by adding embellishments, using different colour cardstock, going to town with the design or sticking to something simple – the choice is endless!
I intend to create a lot of these over time, but for now here are my first two baskets: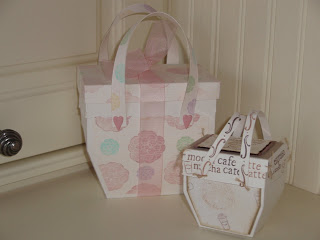 The first of these was created entirely with Papertrey's Vintage Cream cardstock. The design was put together using PTI's Everyday Classics set (the Anniversary Set I was lucky enough to win on eBay!) as well as PTI's Background Basics: Text Style stamps.

I stamped the large and small flowers using a variety of Versamagic chalk inks before overtamping the text in Vintage Cream ink. I used heart brads to attach the handles and some pink organza ribbon to tie round the top.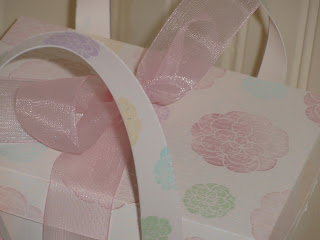 The second of these was created with Vintage Cream and Kraft cardstock. The main stamps are from Inque Boutique's 'Chai Latte' set, with the Starbucks stamp bought from eBay (this is the same design used for the coffee card I posted previously). I used SU! Creamy Caramel, Close to Cocoa and Chocolate Chip to stamp the words and swirls.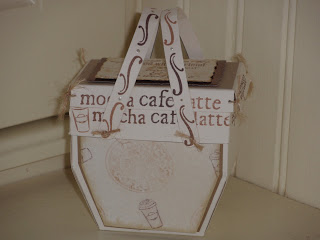 The lid uses the sentiment and one of the swirls from my Flourishes 'Coffee with Friends' set (sentiment stamped with SU! Close to Cocoa and swirl stamped with Antique Linen Distress Ink), and is matted onto some Vintage Mirri Card, both cut with nestabilities.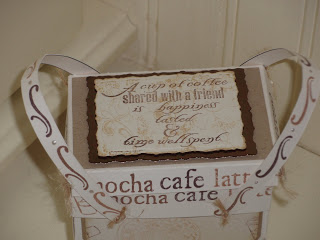 The handles are attached with PTI's Rustic Jute Button Twine. I cut off the tabs for the lid and tied the edges together with the twine as well for a more rustic look. The dots on the handles are done with Ranger Liquid Pearls in Platinum.
Hope you've enjoyed taking a look at these gorgeous baskets, and for more fabulous templates and ideas be sure to check out Lauren's blog!!