Well, I'm posting with a vengeance to make up for not having had a blog until now! I made this card over the weekend after taking inspiration from the very talented Lisa Somerville. Her unique and original idea for a card involved creating a Warhol-esque design! Her post can be found here: http://www.lisasomerville.com/2009/05/get-well-teddy-ala-warhol.html
Here is my take on this fabulous idea: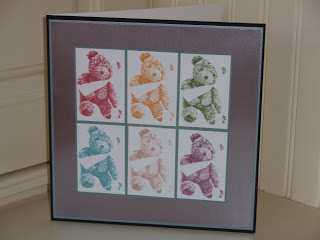 My version takes the same technique as Lisa's. Using the Kitchen Sink Stamps 3-Step Teddy stamp set I stamped 6 teddies in various colours (omitting the first of the steps), using the same colour with each 'step'. I actually stamped about 10-12 teddies but these 6 made the final cut, lol. I used a Woodware Stamp Positioner to help get the first stamp down at the same angle each time, then stamped the next two layers by eye.
The images were stamped on PTI Stamper's Select White cardstock. I used PTI's Berry Sorbet, Summer Sunrise, New Leaf, Plum Pudding & Spring Rain inks (the Spring Rain one making the pale brown teddy for some odd reason!). The bottom left teddy was stamped with SU! Baja Breeze. After stamping I carefully cut out and trimmed each teddy image using my paper trimmer and craft knife for closer detail.
The images were then mounted onto PTI Ocean Tides cardstock, some vintage pearl card, DCWV Metallic 8″x8″ cardstock, and finally all mounted onto a slightly larger than 8″x8″ card blank cut from a folded sheet of A3 cardstock. The A3 cardstock was actually white so I used Brilliance Graphite Black direct-to-paper (card) along the visible area before mounting to give a black base.
Just a close-up of all those gorgeous teddies: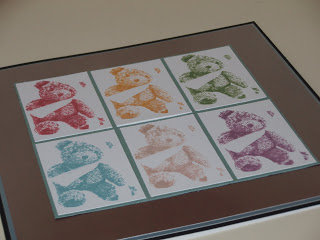 Thanks once again to Lisa for her inspiration and such a unique idea!