Hi everyone! Happy Friday!
I'm barely willing to accept that Autumn is in the air, let alone that Winter is coming! But, one thing I am already starting to get excited about is Christmas. It's still –far- too early for me to get excited about presents and putting up the tree and all that (I only do that in December, usually just a few days before Christmas as I'm usually so busy!) – but with all the awesome Christmas designs coming out from many of my favourite crafting companies lately (and my starting to plan for Advent Calendar Extravaganza!), that has certainly put me in the mood for some Christmas crafting!
I mentioned awesome Christmas designs from favourite companies, and The Ton definitely is two out of two for that! I mean, have you seen the release from Effie yet? It's amazing! The Ton has 24 new stamps, coordinating dies and 6 Couture Mixes for their new Fall 2017 Release which includes up to three free gifts with purchases. For more information on The Ton's incentive gifts, head over to The Ton's blog. All new release products are available now!
I couldn't wait to play with some of these babies and create some festive goodies…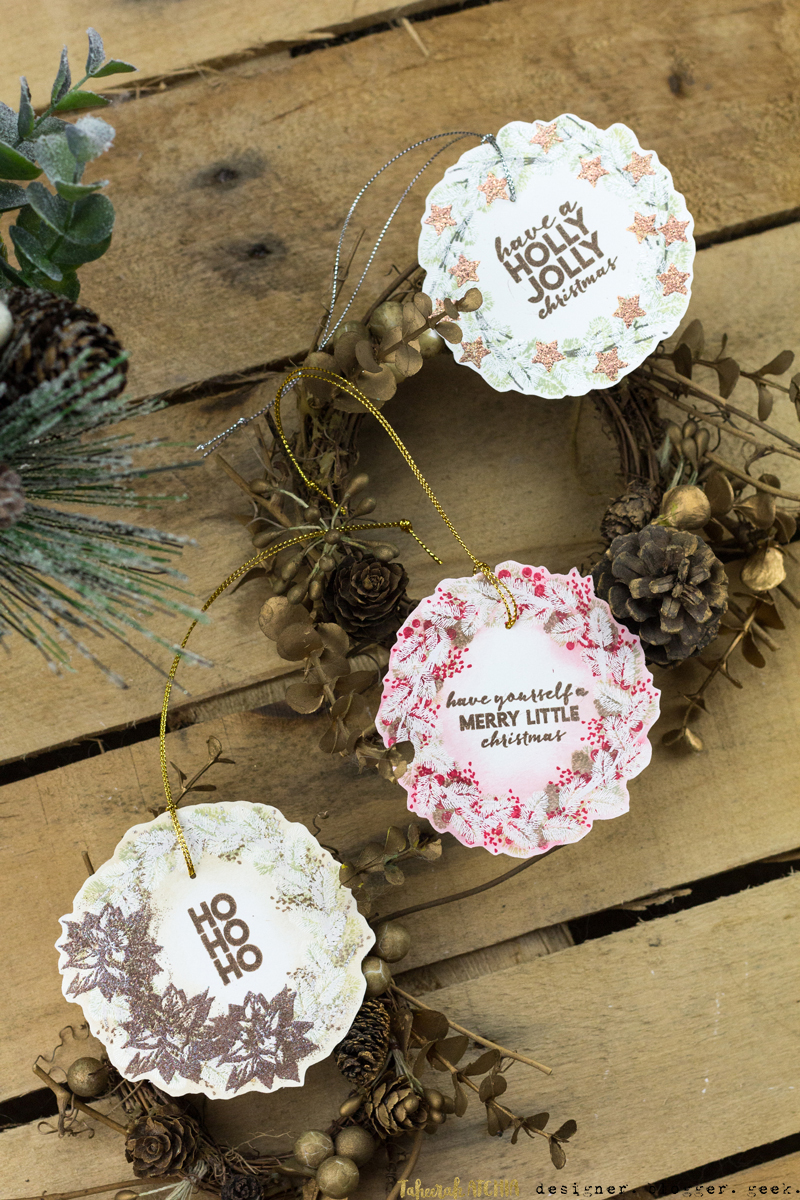 I started with a trio of wreath-shaped tags! I just love how they turned out!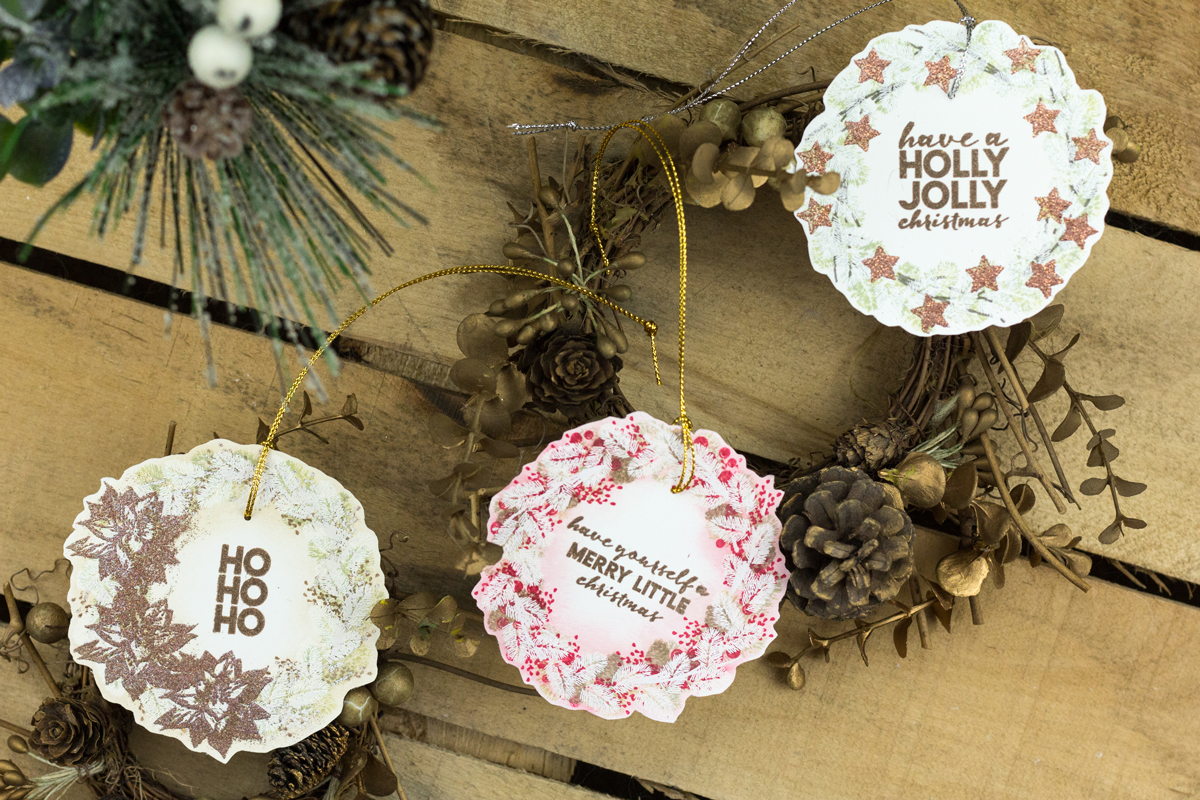 I used the stamps from the Christmas Wreath Builder set to create my layered wreaths. I heat embossed the top layer of stamping with white embossing powder for a snow-kissed look, and to add some extra depth to my designs!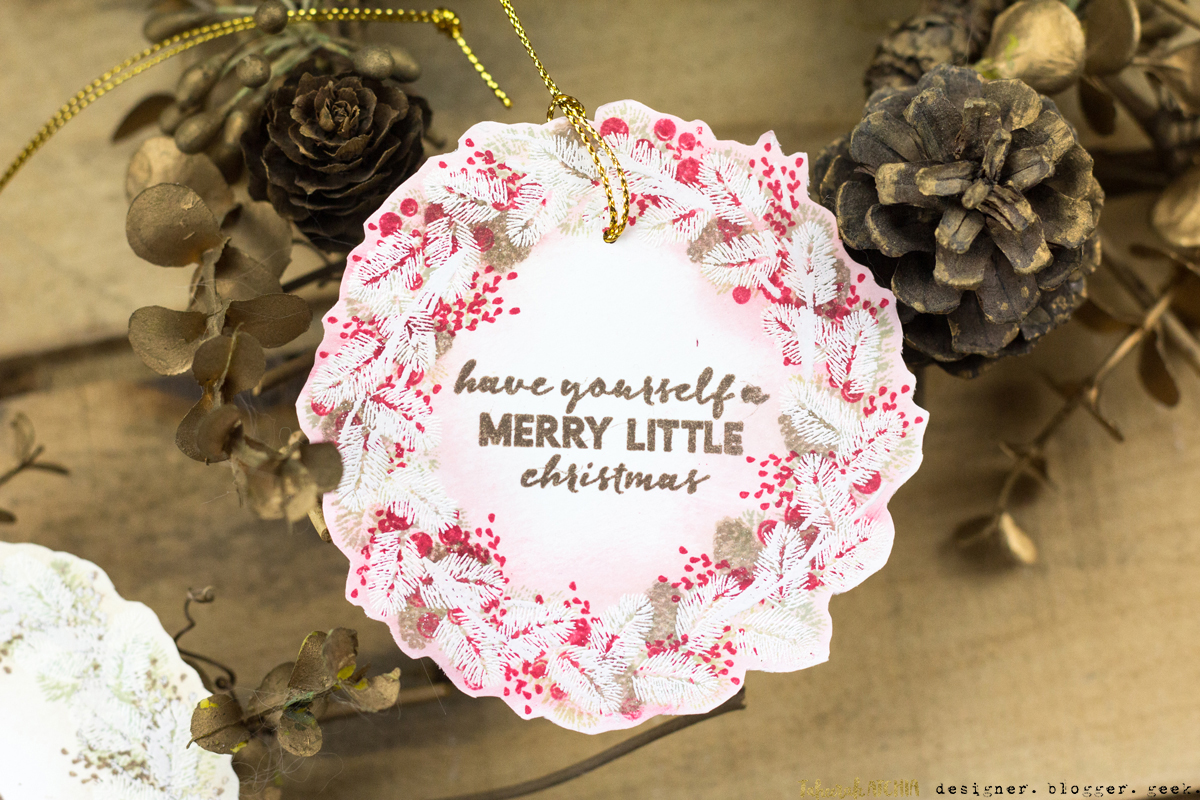 I had to play around with my techniques to get the look I wanted! I stamped the pine leaves in green first, then added the cones and some of the red berries. Then I heat embossed the white pine leaves, then stamped some more red foliage. The red ink rested on top of the embossing as it resisted it, so I used a paper towel to swipe it around. This left me with 'pink embossing powder' – erm, not the look I was going for! At this point I was beginning to despair and spritzed some stamp cleaner onto a tissue and rubbed around the branches… and that's how I ended up with that lovely pink/red glow around my wreath! Perfect, and exactly the look I was going for!!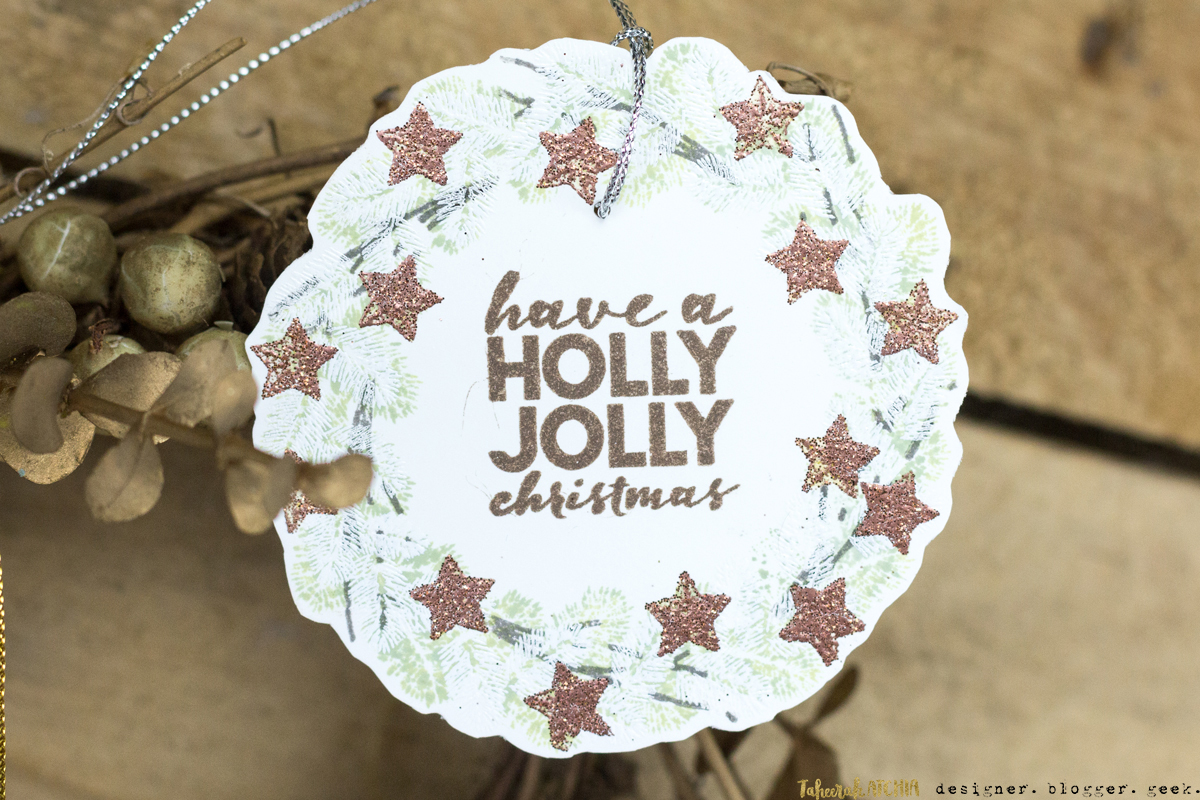 My other tags followed along similar lines – layered stamping, heat embossing, and more layered stamping, with a little halo effect around the wreaths. This one featured sparkly copper embossing powder for the stars (from the Christmas Tree set)!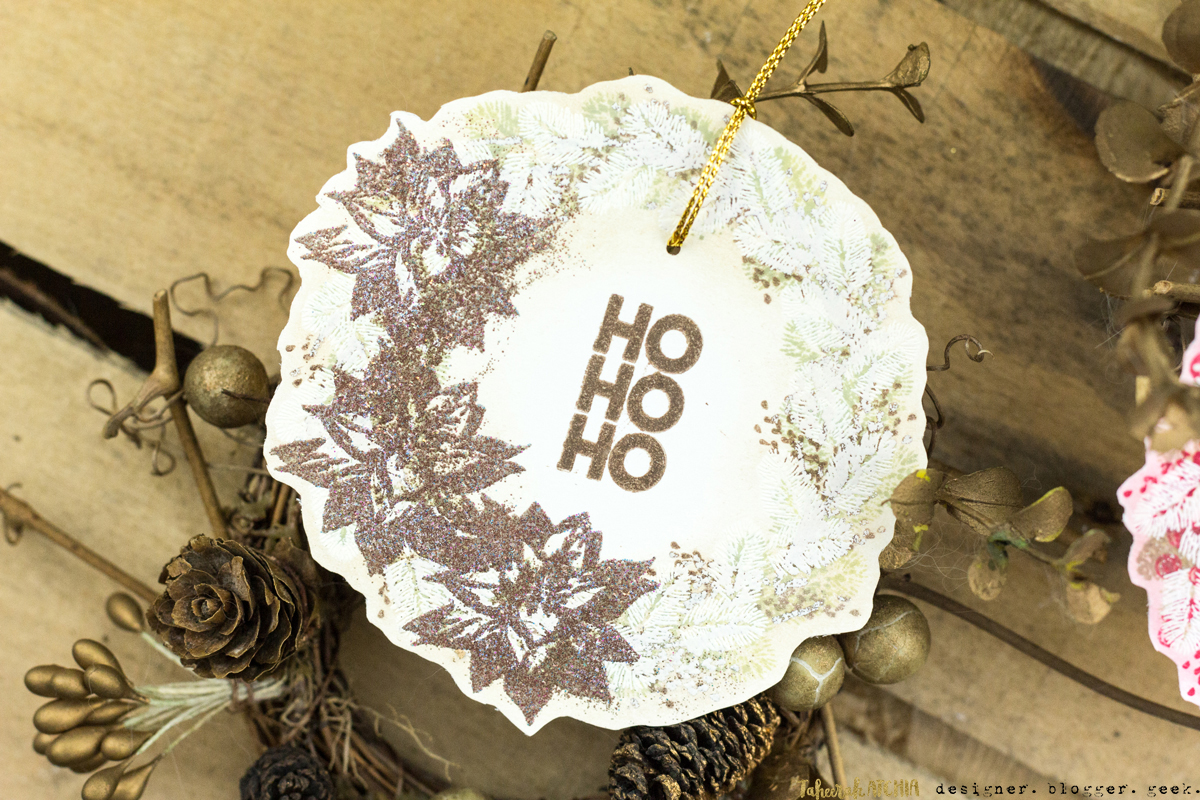 The final wreath featured brown berry sprigs and heat embossed poinsettias (using a sparkly rose gold embossing powder!). I stamped sentiments in the centres of all my wreathes, fussy cut them out, punched a hole and threaded through some metallic string to finish them up!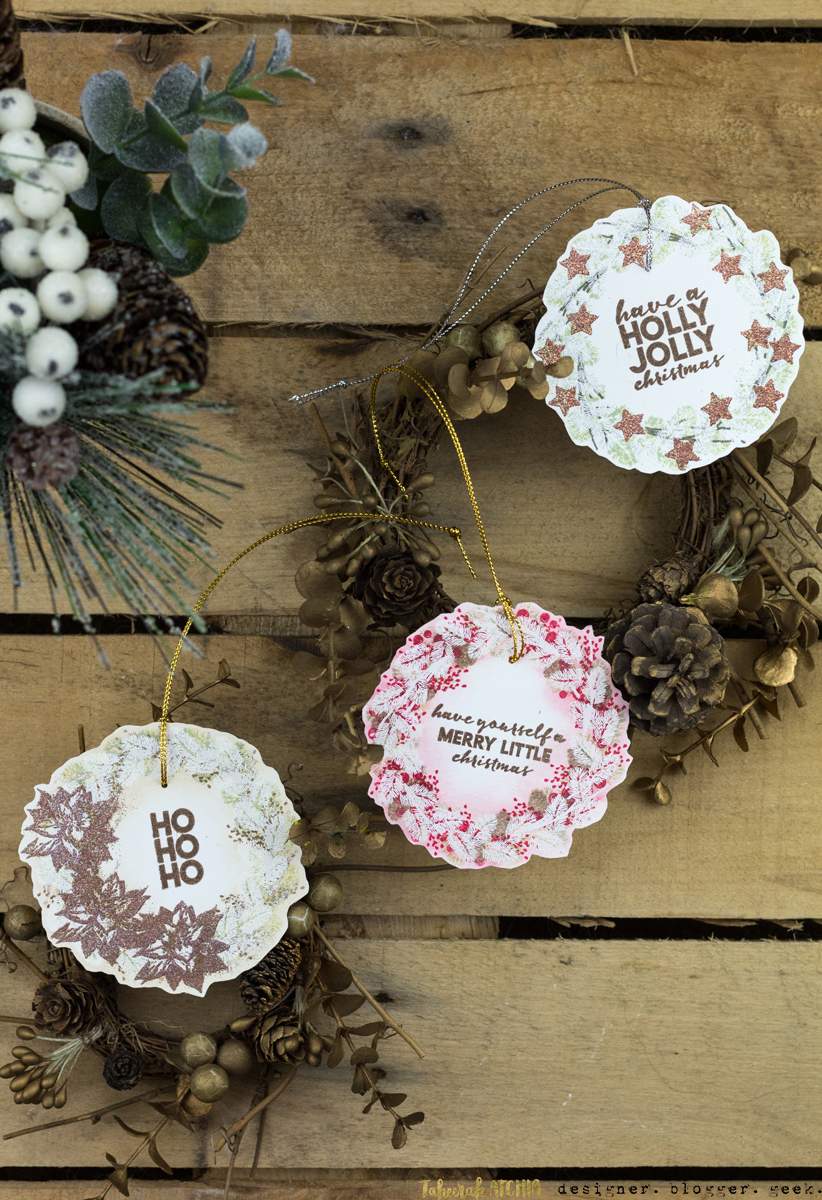 These babies could also do double duty as ornaments after the presents have been unwrapped – love that!
I also wanted to make a card with one of my other favourites from the release: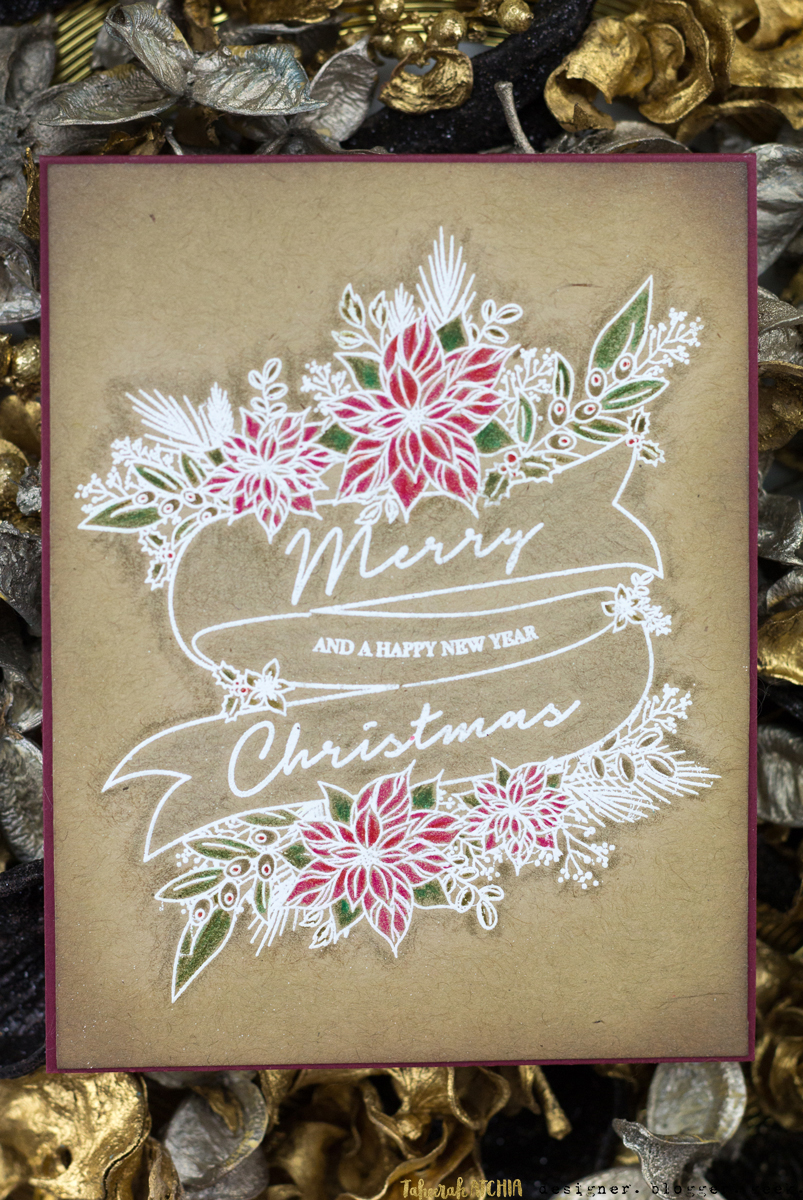 Totally in love with this look – white heat embossing on kraft cardstock, with pops of colour too!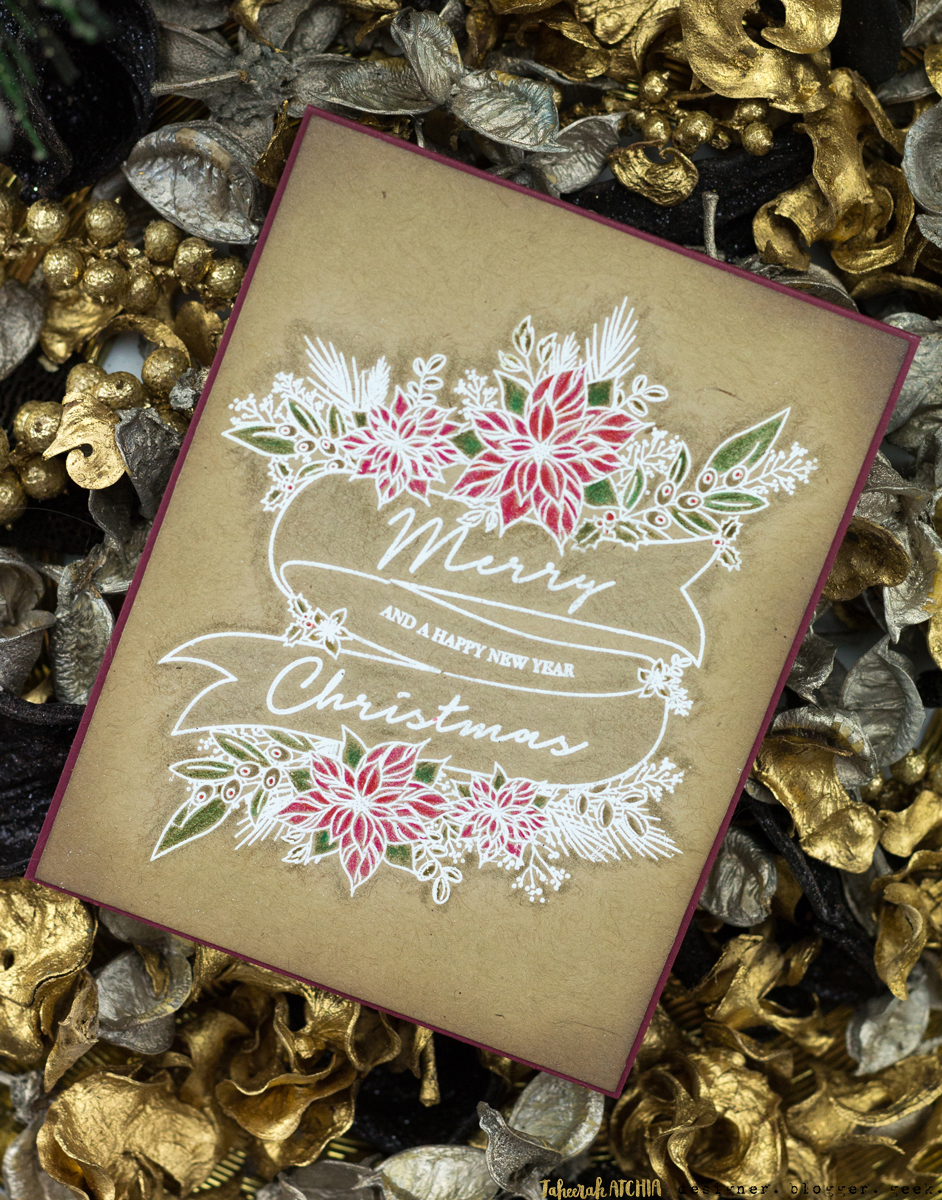 I heat embossed the banner image (from the Poinsettia Banner set) and heat embossed it with white embossing powder. The detail in this image is incredible! I added some pops of colour, and subtle shading around the image, using Prismacolor Pencils.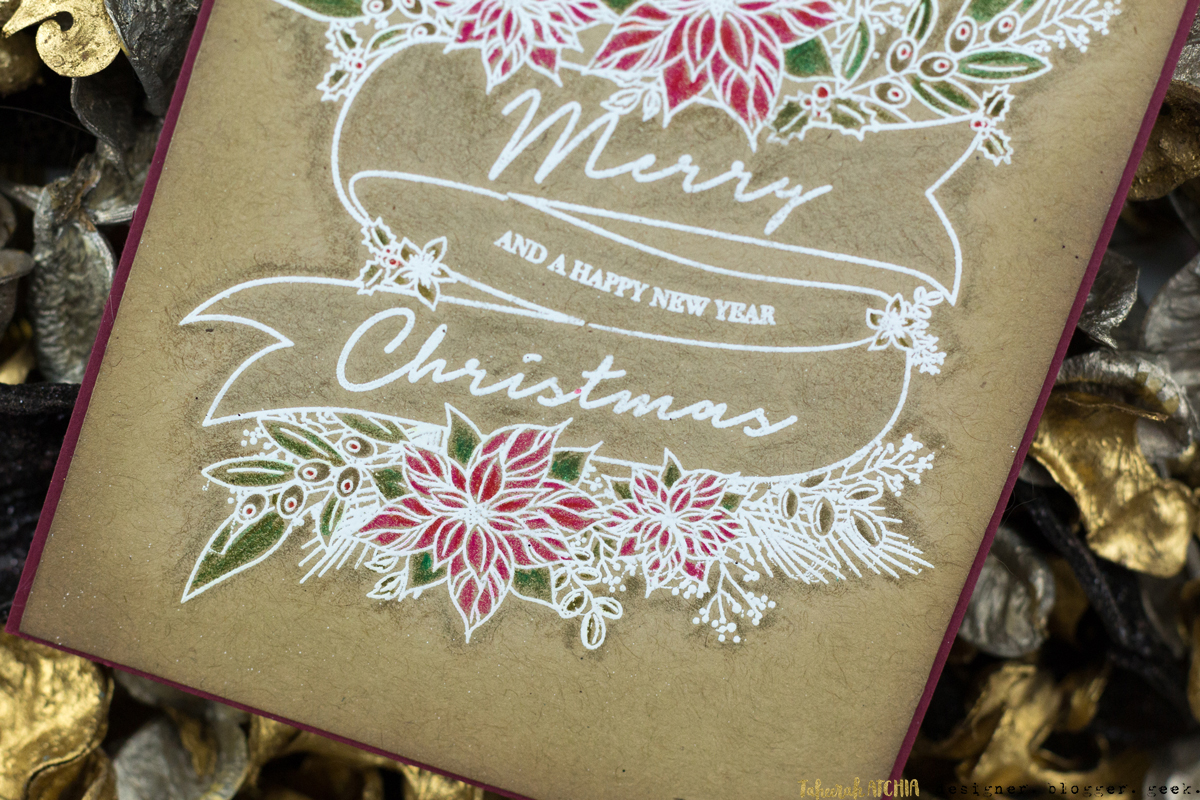 The sentiments in this set are interchangeable so that you can build your own message. I opted for quite a traditional sentiment for my design.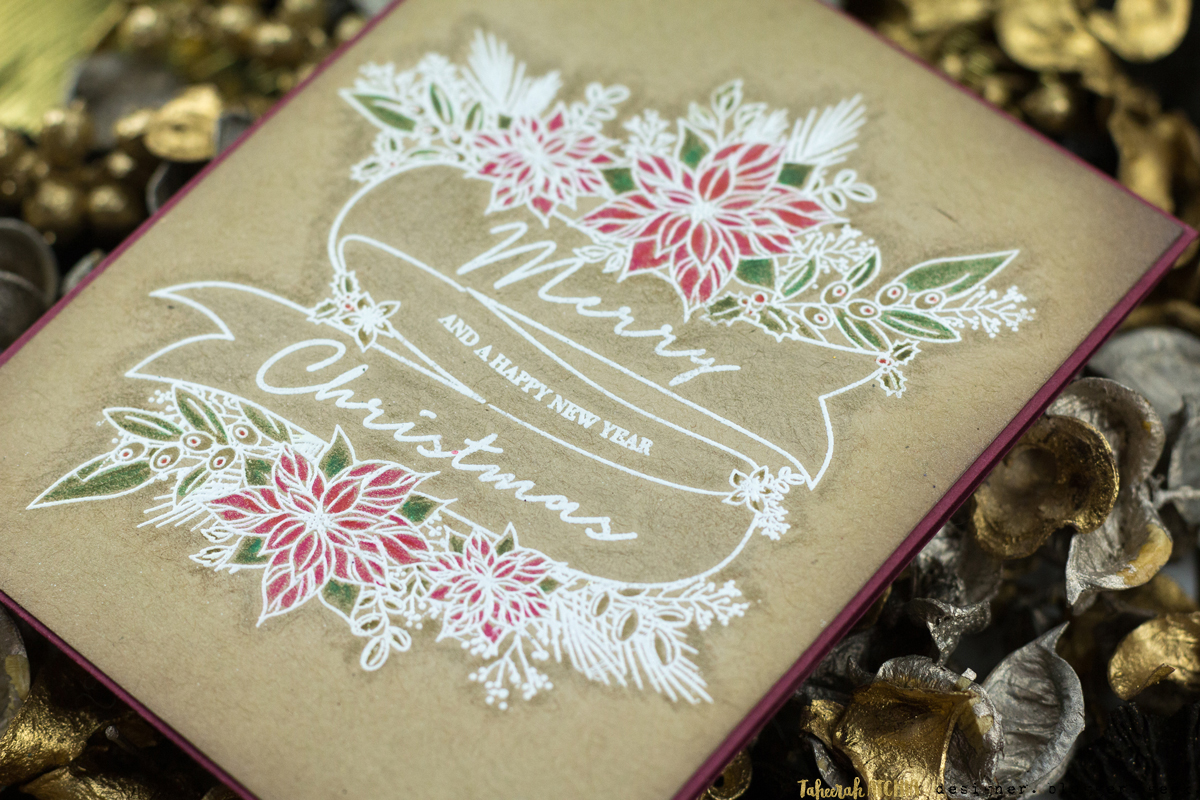 Hopefully you can just about see the shimmer on the corners and edges of my kraft panel – I blended some Rose Gold Bangle ink for a sparkly festive feel!
Giveaway!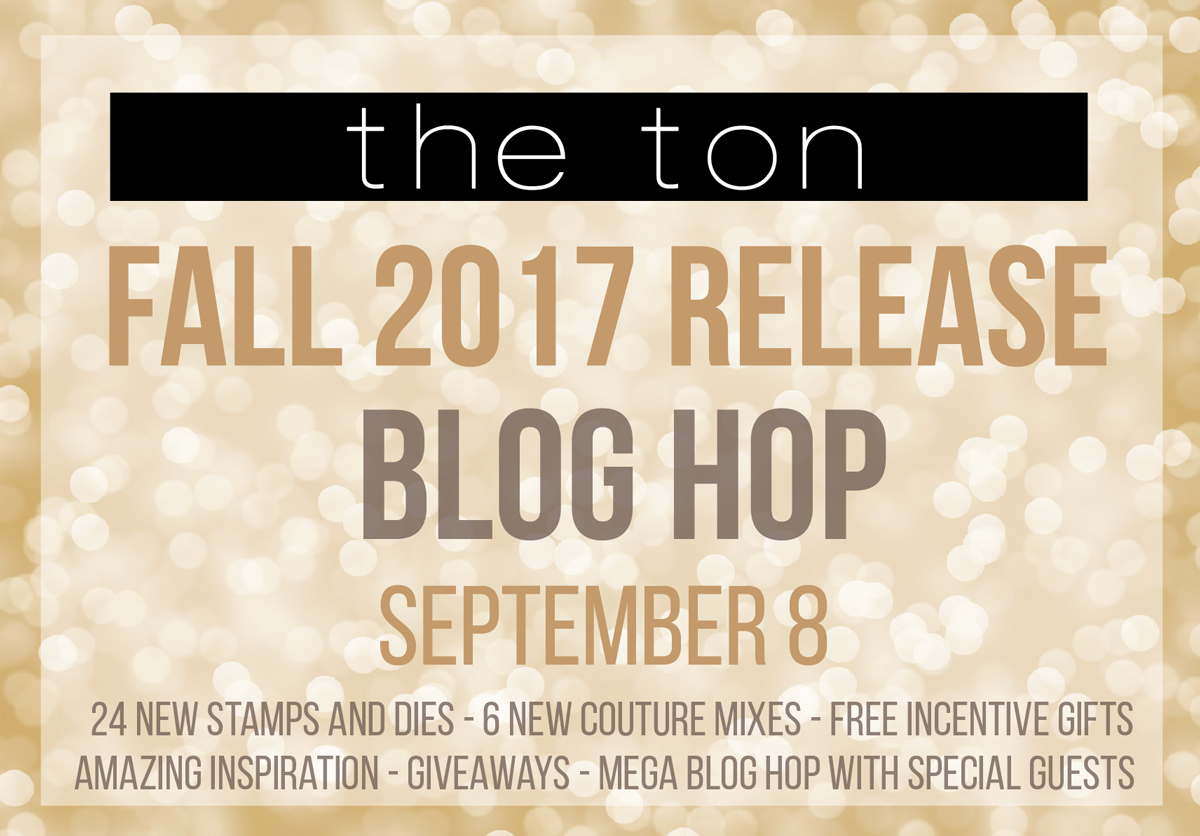 So it wouldn't be a festive hop without an awesome giveaway! Three new release stamps will be given away to random commenters from the hop participant blogs. To qualify, you must leave a comment on The Ton Blog Hop post. The comment period will close on Monday, September 11th at 11:59pm. Winners will be announced thereafter on The Ton's blog.
Here's the full Hop list for you to get hopping!
The Ton
Vera Yates
Olga Matyushevskaya
Svetlana Pavlova
Mayline Jung
Justine Hovey
Jenny Lee Yamasaki
Anna Kutsenko
Svetlana Fotinia
Janette Kausen
Svitlana Shayevich
Eunji Jung
Amy Tsuruta
Laura Jane Head
Amy Kolling
Tae Eun Yoo
Laurel Beard
Brenda Noelke
Taheerah Atchia
Isha Gupta
Dana Gong
Lisa Harrolle
Kay Miller
Don't forget that all new release products are available now! Run right over to The Ton right now and place your orders before these goodies sell out!
Good luck, and thanks for stopping by!
Supplies
Christmas Wreath Gift Tags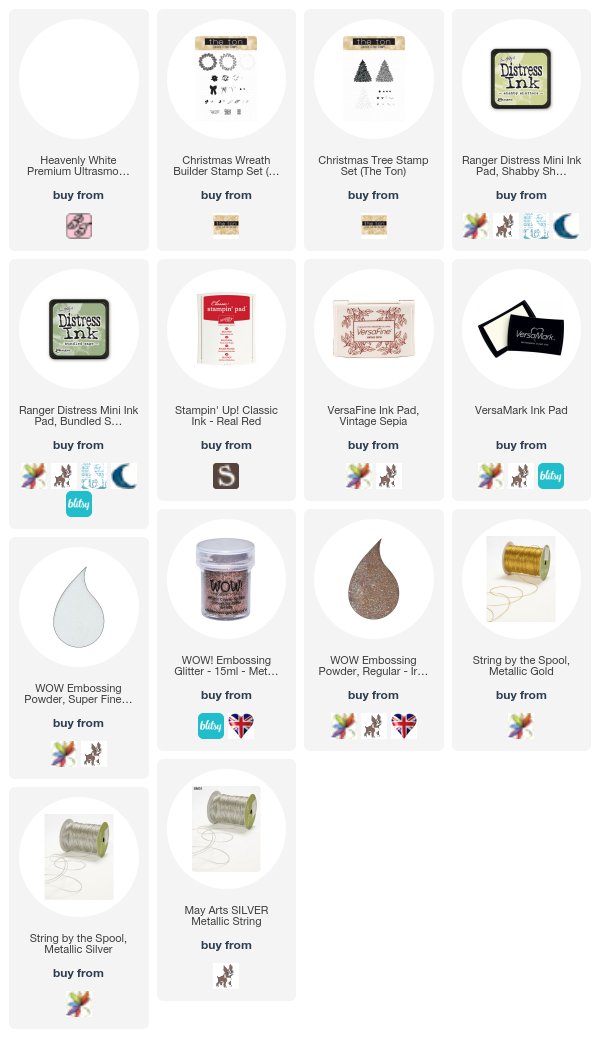 Merry Christmas Banner Card