Hi everyone! Happy Sunday!
I finally got around to drawing a winner from the recent Neat & Tangled/My Sweet Petunia collaboration giveaway!
Drumroll please…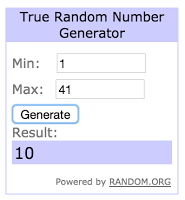 Congratulations Conil! Please contact me and provide your address and we'll arrange to get your prize sent to you!
I'll be back next week with some new projects! Thanks for stopping by!