Hey everyone! Happy Saturday!!
If you're looking for the Season's Givings Blog Hop please scroll down or click here. 🙂
I have been waiting for today for what feels like *forever*! I am beyond excited, thrilled and honoured to announce that I was asked to be Winnie & Walter's Leading Lady for this month!!!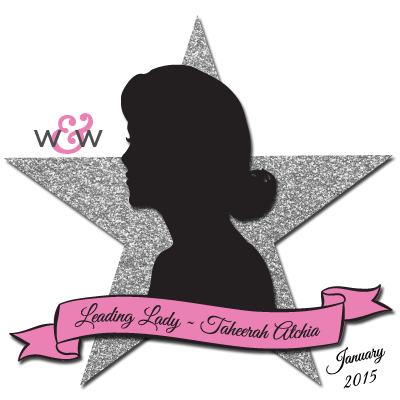 In case you haven't heard much about Winnie & Walter (where have you been?!?!), then I will tell you this: they are one of the hottest, trendiest and downright awesomest stamp companies out there!! This time last year I immediately fell head over heels for their fantastic designs and wonderful theming of their products and releases and the whole shebang!! I got myself some of their stamps as quickly as I could and if you visited here last year you'll know how much I love their fun designs, especially the large sentiments with the handwritten style!!
So when I had that magical e-mail from Shay & Julie asking if I would be their Leading Lady, you can bet I screamed the house down and replied with a 'Yes! Yes! A hundred times, yes!!'
And then I found out that I would be the Leading Lady during their birthday month. And I just about fainted.
NOT ONLY do I get to bring you some new and fun projects every Saturday for the entire month of January on the Winnie & Walter blog, but I also get a front row seat to all the birthday celebration fun they'll be having too! AND January is my birthday month too, so I felt even more like a pampered star, with my birthday being celebrated in a very special way! I feel utterly spoiled and can't thank Julie & Shay enough for their hospitality and generosity!!
AND THERE'S MORE!!!
Julie and Shay very generously offered to sponsor my Cure For The Monday Blues Challenge for this entire month too!!! Aaaaaaaaaaaaaaaaaaaaaaaaaaaaaaaaaaahhh!!
So not only do I get to bring you some inspiration every Saturday (& a giveaway for those posts too!!) but you also get the chance to win prizes for my challenge also!!!
January is going to be an *amazing* month.
So, let's get straight to it, shall we?!
Seeing as this news and w&w's birthday *and* my birthday have made me all super happy, I decided that my first appearance would be a 'Trio of Happy'. Have you ever noticed that in fancy restaurants one of the dessert options quite often is a 'trio of something', with three different desserts around the same theme? Well, that's the philosophy I'm embracing here!
So, I bring you a Trio of Happy, featuring the Winnie & Walter The Big, the Bold and the Happy Cutaways dies!
My first card embraces the positive (& negative!) and combines a collage-like style with plenty of white space: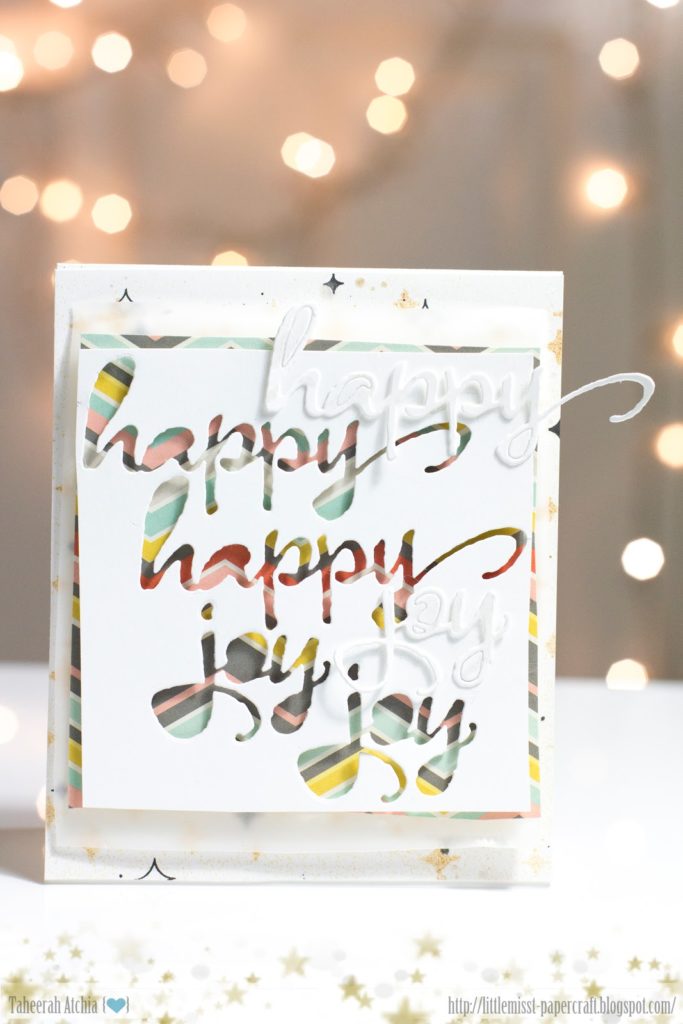 I love how this turned out!!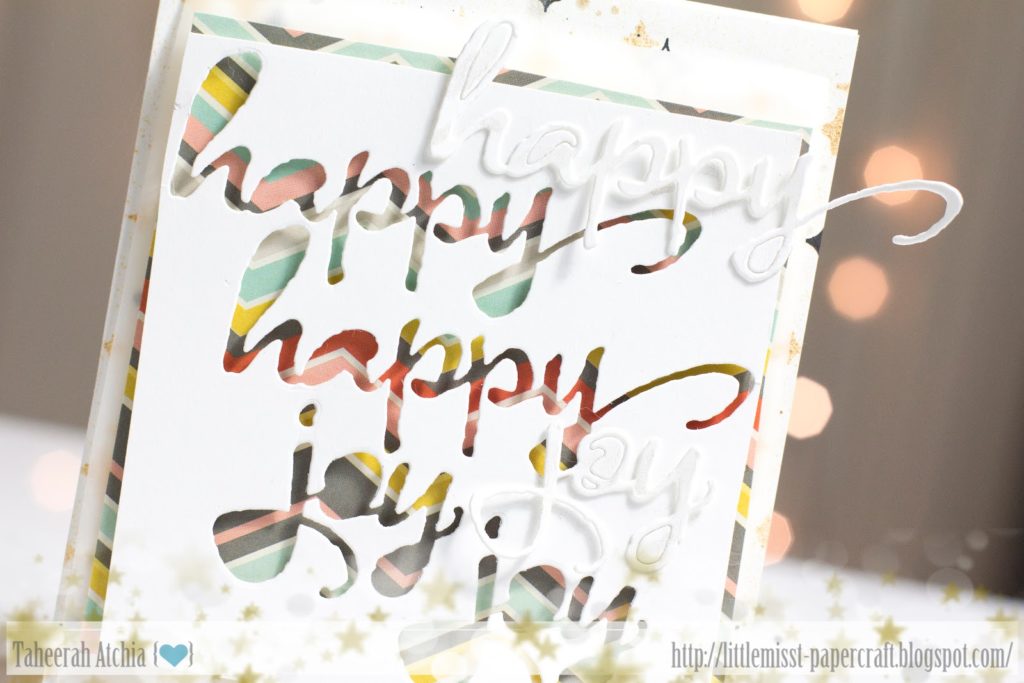 I die cut the 'happy' and also the 'joy' (from The Big, the Bold and the Merry Cutaways) from Pure White cardstock and then backed the negative panel onto some patterned paper with some Pinflair Glue Gel for dimension. On my base I used the Scenery: Big Bang Sci-Fi Star Creative Screenings screen and spritzed with gold mist before adding some stamped sci-fi stars from Scenery: Big Bang Confetti. I added two of the positive die cuts on top of the panel for a finishing touch. I love the light and airy feel this card still has despite having a lot going on!
Next up, I blended Distress Inks and created a very different result: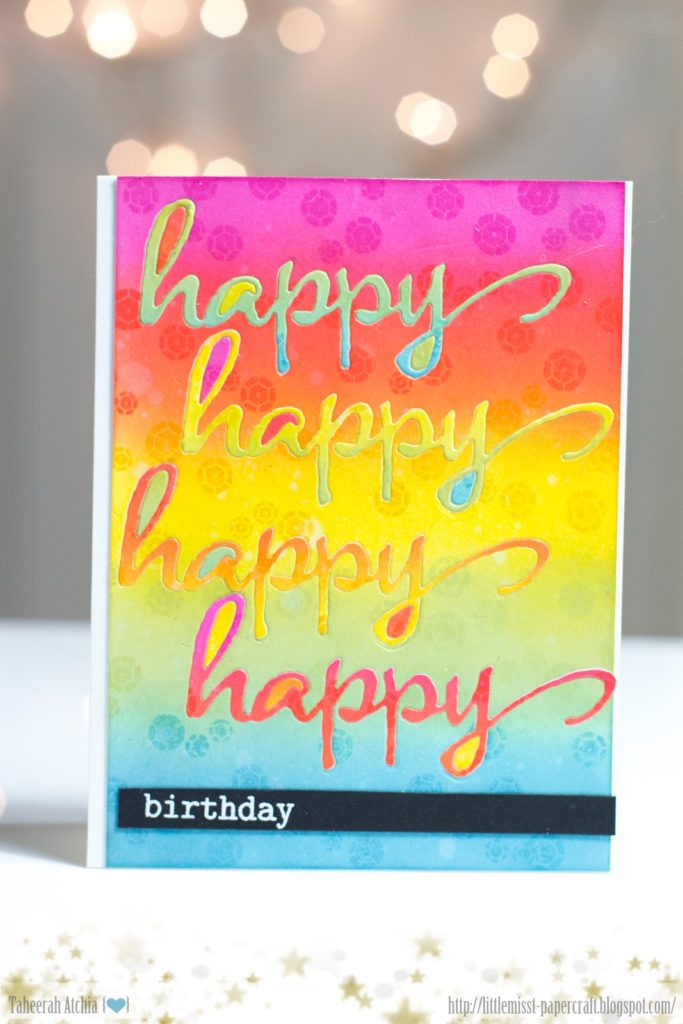 Isn't that so bright and cheerful?!?! The colours are based on the w&w logo!!
I blended Distress Inks onto a panel of cardstock then overstamped with the sequins from Scenery: Big Bang Bling in the corresponding colour. I then die cut the happys, before swapping them round and adhering back in place with an inlaid die cutting technique. I added the supporting sentiment from The Big, the Bold and the Happy, heat embossing it onto a strip of black cardstock for contrast!
So, collage, bright ink blending, what next?! How about clean and pure and light: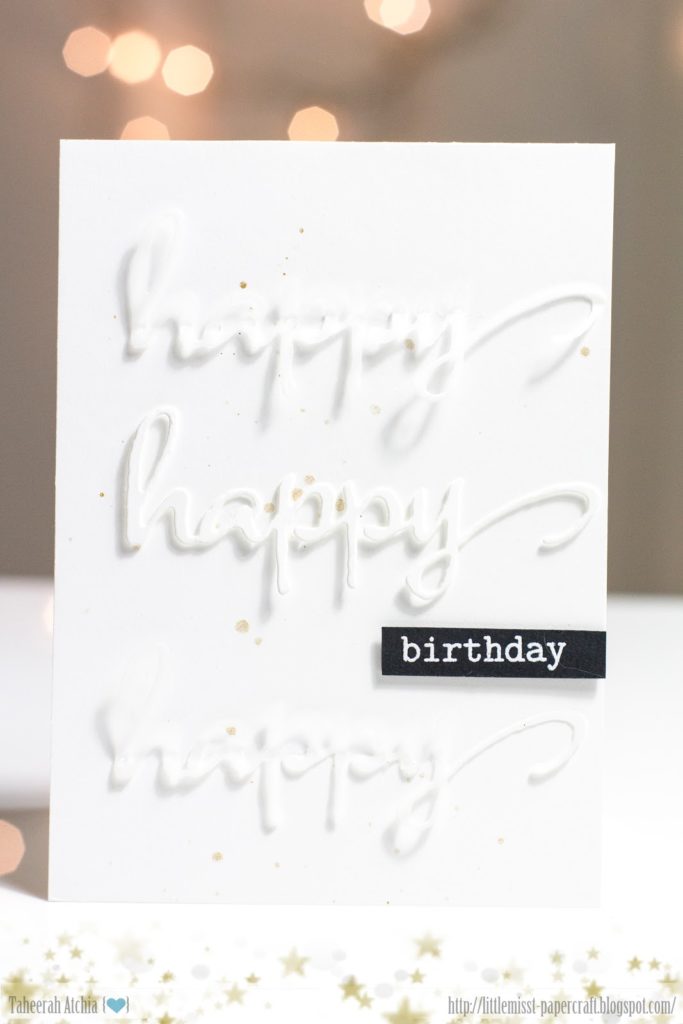 I love the bright, light feel of this! Perfect card for a guy or a gal!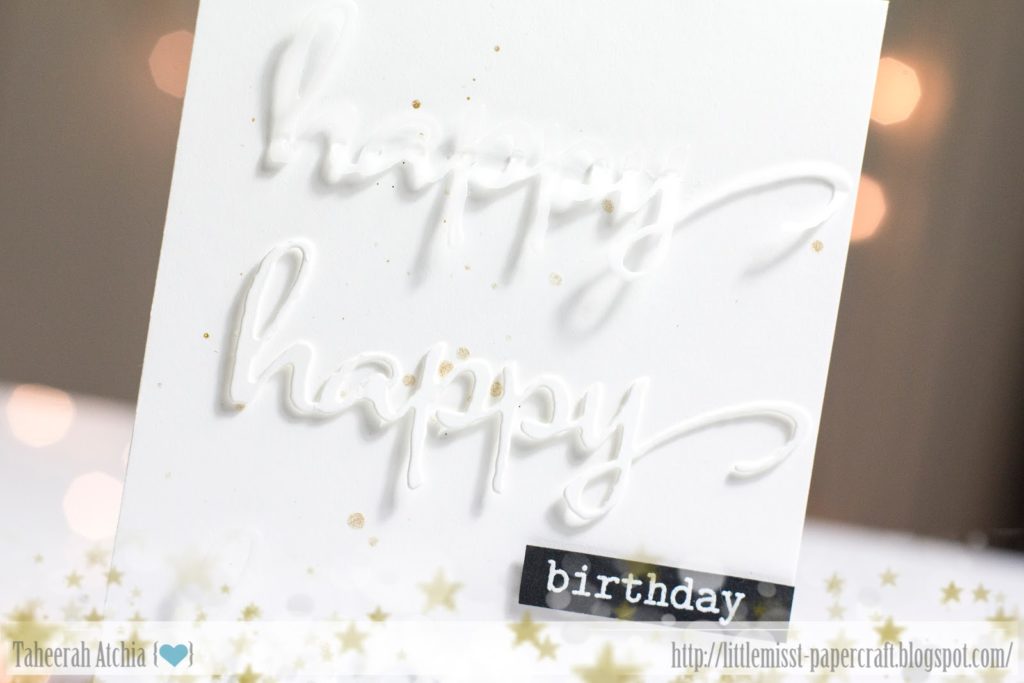 I die cut two of the happys from vellum, folding and unfolding the vellum first before die cutting along the fold so that the words would pop up. 🙂 I adhered them, with dimensional glue gel, to a panel splattered with a little gold mist, along with one of the spare cardstock happys from the first card, and kept the rest clean and white to let it do the talking. 🙂
So, that's my Leading Lady debut! What do you all think? I've had *such* fun putting these cards together, so I can hardly wait for next week! I hope you feel the same way! 😀 If you are impatiently waiting (like me!) how about a little something to sweeten the deal? 🙂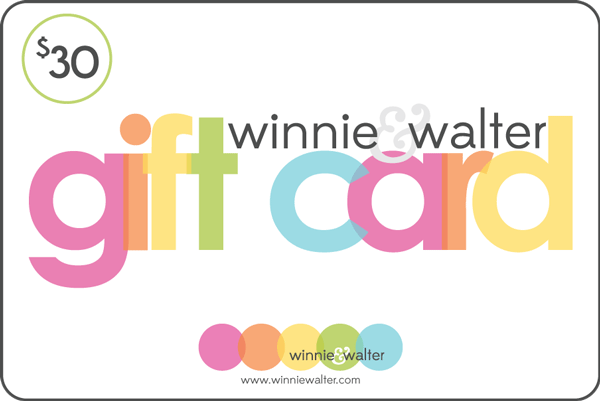 I'll be giving away a $30 gift card to Winnie & Walter this month! All you need to do to be in with a chance of winning is to leave a comment on my Leading Lady posts! The more posts you comment on the greater your chance of winning, so be sure to comment every week to improve your odds! I'll announce the winner at the end of the month! 🙂
I want to once again extend my sincerest thanks to Julie & Shay for giving me this opportunity! I cannot tell you how much it means to me, and I hope I'll do you girls, and your amazing products, justice!
Thanks so much for stopping by today! I would love it if you left some love before you went on your way!!
Supplies
A Trio of Happy – Collage Style
A Trio of Happy – Bright Style
A Trio of Happy – Pure White Style