Hey everyone! Happy Monday!
I hope you'll be tuning in later for the latest Cure For The Monday Blues Challenge – but for now I've got something a bit different for you! 🙂
I'm taking part in a Blog Hop with a difference today – the Getting To Know Me Blog Hop! In this hop fellow bloggers tag or nominate each other as a way of encouraging each other to explain a little about themselves, their creative processes and their inspiration. I was nominated by the uber-talented Mayuri at Candles In The Garden, which is an honour in itself as I am a *huge* fan of her and her work! She is perpetually creating breathtaking beauty after breathtaking beauty, and I'm really happy to share two Design Teams with her! Thanks Mayuri for thinking of me! You can read Mayuri's post for this hop here.
So, as part of this hop, I'm going to answer a few questions about myself that will hopefully give you a bit more of an insight into crazy little me and my work! And even if they still leave you perplexed then at least you'll find three other extremely talented designers at the end of this post whom I've nominated for you to read about next week! 😉
So, here we go… !
1. What creative projects are you currently working on?
At the time of writing this, I have a few pieces of work outstanding that I really ought to make a start on! I'm a 'Just In Time' designer, meaning I don't usually create a project until the night before it's due! I guess I must enjoy the creative pressure or something! So, for the coming week I have projects due for Runway Inspired Challenge (one of my DTs) and for my own challenge, Cure For The Monday Blues. I also have a Guest Designer post coming this week – details of which you'll have to tune in for later on! A little later down the line I have product releases for a few other DTs to work on, so I've always something to work on each week!
2. What inspires your designs/how does your creative process work?
Hmm, this is a tricky one. Sometimes I have no specific inspiration and I let the products I'm creating with drive my ideas and my process. Other times I will turn to Pinterest for inspiring images or to see what other favourite designers have been coming up with. Often they will have used products in a way I'd not thought of previously, and I will strive to incorporate the idea with my own take on it. I keep an eye on all of the trends out there and like to be riding the crest of those waves, so that also drives my designs.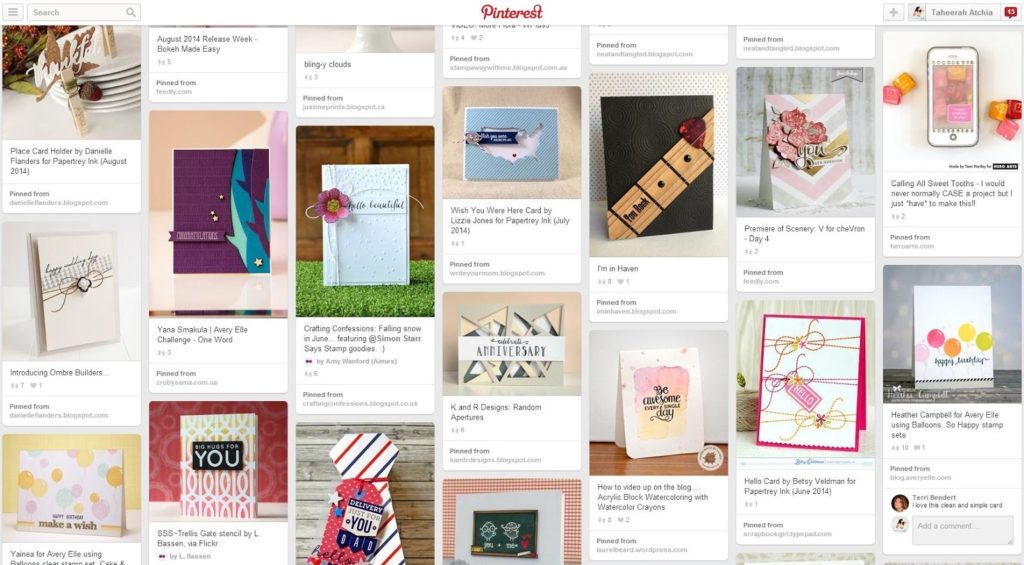 In terms of my process itself, I tend to start with one focus for my project. Usually this will be a particular stamp set or colour or technique, and I then create ad hoc around that starting point. This can mean I sometimes start by 'staring' at the product itself until an idea forms, ha! I very very rarely use a sketch or even sketch out or jot down my own ideas; I prefer to create organically and fluidly so that the work truly comes from my soul and my heart. To me it is then the truest expression of myself at that given time, which is what art is all about to me. The same goes for my writing (I compose poetry/prose as well, when the mood takes me).
3. What method/process (if applicable) do you apply to each of your creative projects, and how long does each project take to complete?
I guess part of the answer to this comes from my answer to #2. I guess the purest thing I add to my projects is myself. But if you're looking for a particular or specific 'crafting' answer to this, then I would say that almost all of my projects contain stamping, and playing with techniques. My work is often technique-driven – I'm always trying to do something 'clever' or 'different' with a technique or style to put my own spin on it.
For DT work, I'll start with the products themselves, put them in front of me, and try to think of something unique to do with them. I try to combine my ideas with something 'new' to try out; I don't usually try ideas out beforehand and almost all my work you see here is 'first attempt'.
As I write this, I realise this might seem to be an wholly unsatisfying answer, but it's the most honest one. Most of the work is done in my head before I ever lay anything to paper. As a result my projects take anything from one hour to six or seven to complete, depending on how involved the idea is. If everything is already perfectly formed in my mind before I sit down to design then I can knock it out in 30-45 minutes, but that's a rarity in itself!
4. If you had to describe your 'signature' style, what would it be/how does my work differ from others in my genre?
Oh heck, do I even have one of those? My work and my style are very lucid and I rarely settle on a particular 'style' for more than a few months. So, perhaps some common elements instead?
I like to play with light and how we translate that into what we see – whether that is by colour or texture or layers. I like to create with beauty in mind, so my work is usually ethereal in some way, whilst at the same time grounded in technique and trend. Is 'pretty' or 'ethereal' a signature style? Maybe I'm that then. If not, maybe the closest 'mould' I fit into is the Clean and Graphic style – but I don't believe we should prescribe barriers to our work by pigeonholing it.
5. What three crafting tools/projects can you not live without?
Isn't that like asking if I have a favourite cat amongst all the cats I've ever had? I guess if I *really* had to narrow it down, I would say Pinflair Glue Gel, stamps and inks (which covers stamping, colouring and a range of techniques!). Wait, none of those are 'tools'. Hmm. Maybe then a ruler, a pair of scissors and dies+die cutting machine. Does that count as four? Oh man.
6. Why do I create what I do?
At least part of this is answered throughout this interview, I guess. I create because it's an expression of myself, at any given time or moment, it's me through art. God, do I sound pretentious? I create because it makes me happy. Gratuitous? I create because it gives me an outlet for my soul and an escape from other activities one must take part in or endure as part of 'life'. I create because the logical side of my brain needs a rest and to make way for the creative side of my brain. I create because… I would not be me if I did not.
Right, if you've managed to stomach all that drivel until the end, then here's your reward! It brings me incredible delight and pride to tell you that the following three ladies and friends have agreed to be nominated by me to carry on this hop next week!
*drumroll, please!*
Jocelyn Olson (Red Balloon Cards)
Because if I could found 'The Jocelyn Olson Fan Club (TM)', I would do. And I wouldn't be its sole member. This girl… I hold in as high esteem as I do Julie Ebersole. That's how much I love her work. She is a genius with technique, composition, colour, stamping, hybrid (paper + digital) work… she is just a genius. She is so super-talented and such a sweet and supportive friend to boot. I am frequently inspired by and in awe of her work – and she's kicked it up several gears this year so I've been struggling to keep up with her trailblazing!
To read my previous write-up of Jocelyn please see my #Follow Friday post here!
Elena Roussakis (Just ME) 
Because she, like her work, is the cutest, sweetest, most wonderful thing ever. Everything I've learned about 'cute' I've learned from studious dissection of her work. I could not come even close to her perfect composition, perfect blending of trend and touches of vintage, and as for her party decor… oh my. I just hope that at my next landmark birthday I can somehow get her to style my celebration for me! Elena is another wonderfully supportive, kind and caring friend, and she deserves every single possible nice thing that could ever come her way.
To read my previous write-up of Elena please see my #Follow Friday post here!
Jennifer Rzasa (Our Change of Art)
Because this girl rocks my world, plain and simple. She designs some of the most inventive, graphic, awesome and unique cards ever. Because she is a geek and a nerd like me. Because she is cool and funky and amazing, just like her work. Because she invokes the laws of gravity when drawing balloon strings. Because, if there's one person I would always love to learn more about (for my own self indulgence here), it's her. Jennifer is so super-awesome in every single way. I mean c'mon, she even designs her own stamps for her company Altenew! Could she -be- any cooler?!
To read my previous write-up of Jennifer please see my #Follow Friday post here!
Phew! Well, I want to thank you all for reading this post! I hope this has given you a bit more insight into what makes me tick, and how it translates in my work! If, however, you've been left with more questions than answers then please do feel free to ask me anything you like and I will endeavour to answer! I really hope you've enjoyed this post, and please do check out Jocelyn, Elena, and Jennifer's blogs next Monday for their own write-ups! Thanks so much for stopping by!!