Hey everyone!
Happy Monday! I know, I know, Mondays are tough. We all need a little tonic to help us get through the day. Luckily there's a new challenge in town to help us do just that – the Cure For The Monday Blues Challenge!!
This is a challenge which I've created myself, yay me! Every Monday I will bring you a photo inspiration challenge, with images that focus on lifting us out of those Monday doldrums and all inspired to create!! I'll be asking you to play along as well and linking up your creations! At the end of each week I'll pick a Top 3 who'll be my Cures For The Monday Blues and receive a special badge to add to your blog!!
This challenge is in its twenty-second week now – woo hoo!! Thank you to everyone who has given it love and support and helped it to grow!

In case you missed this previous post, please read on for some of the recent changes made to the Challenge – including info on how to be in with a chance of becoming a Guest Designer!
Today's challenge is a very special one as I get to introduce my next Guest Designer!!
She's a regular participant (and winner!) of this challenge, and is a fantastic talent with delightful, sweet designs! I'm sure you'll not be at all surprised as to who this month's Guest Designer is!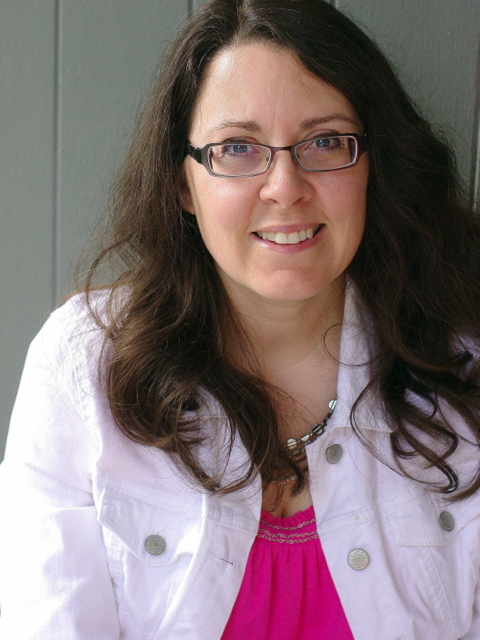 Here's a little about Leigh in her own words:
"Hi there! I'm so excited to be guest designing for Cure for the Monday Blues! My name is Leigh Penner and I live with my husband  and our three children in southern Manitoba, Canada. I work as a substitute teacher and love that my job affords me time for my hobbies: card-making & scrapbooking! I am currently designing for Reverse Confetti, Pretty Pink Posh, Chickaniddy Crafts & CAS(E) This Sketch. When I'm not stamping, I also enjoy reading, going for bike rides and I am a second degree black belt in taekwondo."
I am *so* excited to welcome Leigh as this month's Guest! Every week when she has entered I have met her amazing creations with a huge smile on my face! She has such a pretty style, works pattern paper like a pro, and always has fun little touches that make her cards and layouts so accessible! Just check out some of her challenge-winning entries!!
See what I mean?! Awesome!!! Thank you so much for your continued support of my challenge Leigh, and thank you so much for Guesting with me this month!!
Want a chance to be picked as a future Guest Designer? Read on!
I will pick one designer a month to join me in a Cure For The Monday Blues Challenge. The Guest Designer will create a project for one of the weeks in that month and be showcased on my blog when that challenge plays out!  The first Guest Designer will be announced next week!!
What you get:
The Guest Designer will receive a special badge to promote themselves on their blog and social media channels, where appropriate. I will also give you a shout-out on my FB, promote your work, and add your project to a special new Pinterest Board reserved just for Guest Designers!
In addition to this, as a special 'Thank You' for their efforts, the Guest Designer will be gifted with a $15 gift certificate to an online crafting store of their choice!
Isn't that fabulous?! Want to know how you can make it as a Guest Designer? Read on as there are a few criteria!
What you give:
Guest Designers will be selected from previous participants of the challenge. To be eligible you must have created and submitted to at least 3 previous challenges and been chosen as a Top 3 Cure at least once. The entries/wins don't have to be within a single month, if you have entered 3 times in the whole history of the challenge and won once then you are eligible! I'm hoping this will encourage and reward true supporters of the challenge!
Guest Designers will be required to promote the Cure For The Monday Blues Challenge and encourage others to play along during the week they are featured (and any other time you wish to, of course!). You are required to post your project at the same time as the challenge goes live. Promotion can be on your blog and/or social media channels of your choice. Some of you are true lovers of the challenge and already give it shout-outs which I am so thankful for! Together we can help this challenge continue to grow!
Right then. Back to business, lol!
Before we get to this week's challenge I want to once again thank all of you that submitted entries for the last challenge. I am always especially happy to see some new faces to the Challenge, as well as 'regulars'! They were all truly beautiful entries and you did not make my life easy when choosing the winners!! I really wanted to pick you all!! Here are my Top 3 Cures For The Monday Blues:
Joeann I
Heather (Houses Built of Cards)
Cindi L.
Winners please contact me to be sent your challenge winner's badges!
Yet again I had some absolute stunners for entries. It is seriously getting harder and harder each week to pick out only a Top 3! All of you have really been putting in some amazing designs and it makes me so happy when you play, so please keep playing along!
So are you excited to get this week's challenge under way?! Let's see what's up for this week's inspiration: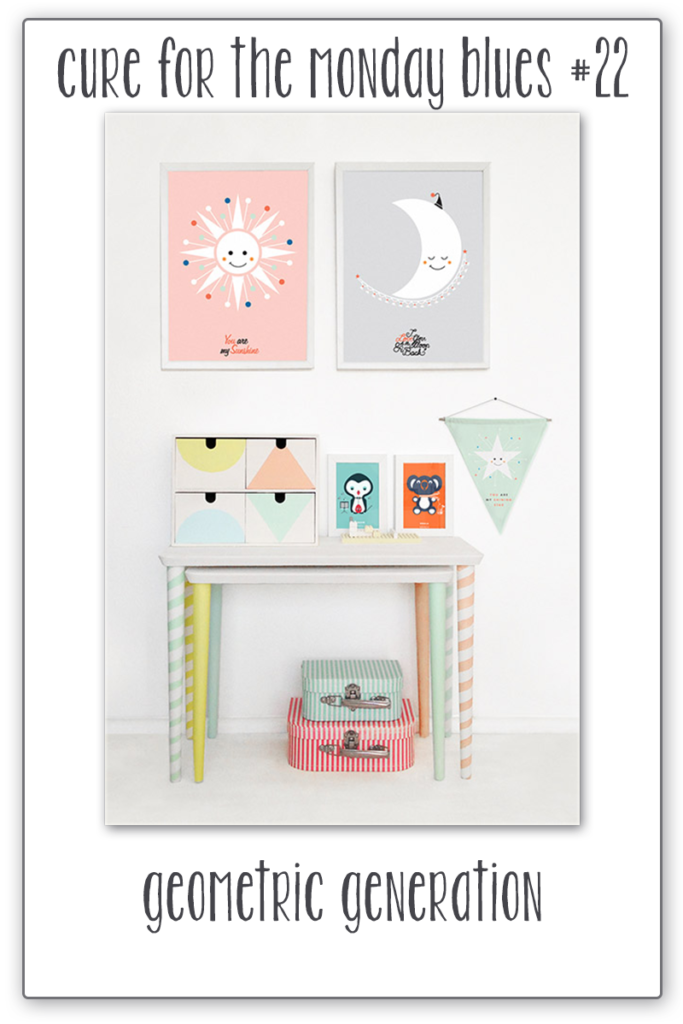 Totally digging this week's inspiration! All that wonderful white space, pops of bright colour, the stripes, the fun, quirky elements… love love love!
Here's what my Guest Designer Leigh came up with!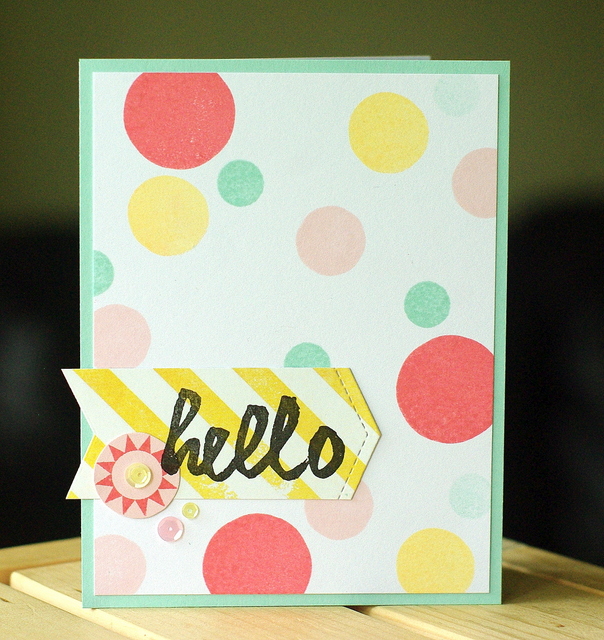 Delicious right?! Didn't I tell you about this girl?! Leigh was inspired by the colours, the diagonal stripes on the table legs, the shapes on those drawers and that super sweet photo with the sun on it! I love how she took all those aspects and elements and brought them together into this fun, fresh card! Love all those different sized dots and the zing of the striped sentiment piece! You really must check out her blog where she's given more details on her card!! Thank you so much for your amazing project and being such an awesome guest Leigh!!
Leigh now joins my special Pinterest 'Guest Designers' Board! I'm really looking forward to filling up this board with future Guest Designers too!
And now, here's my take on the inspiration: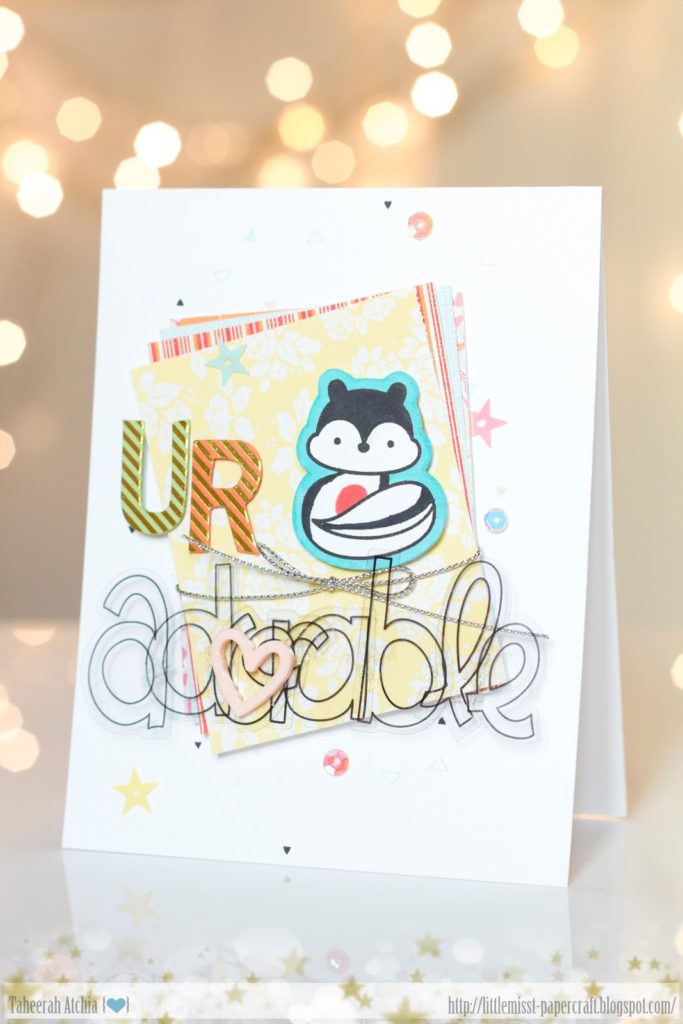 I love how this turned out!!
I started with a Pure White card base and stamped tiny triangles from the Avery Elle Texture Tiles: Be Cool stamp set designed by my very talented friend Nina Yang! I stamped the larger triangles with SU! ink in Blushing Bride (stamped off once) and Versamagic ink in Aquatic Spash, and the teensiest triangle using Versafine Onyx Black ink. The pattern was amazing underneath all those pieces of patterned paper – I was so sad to cover it up!!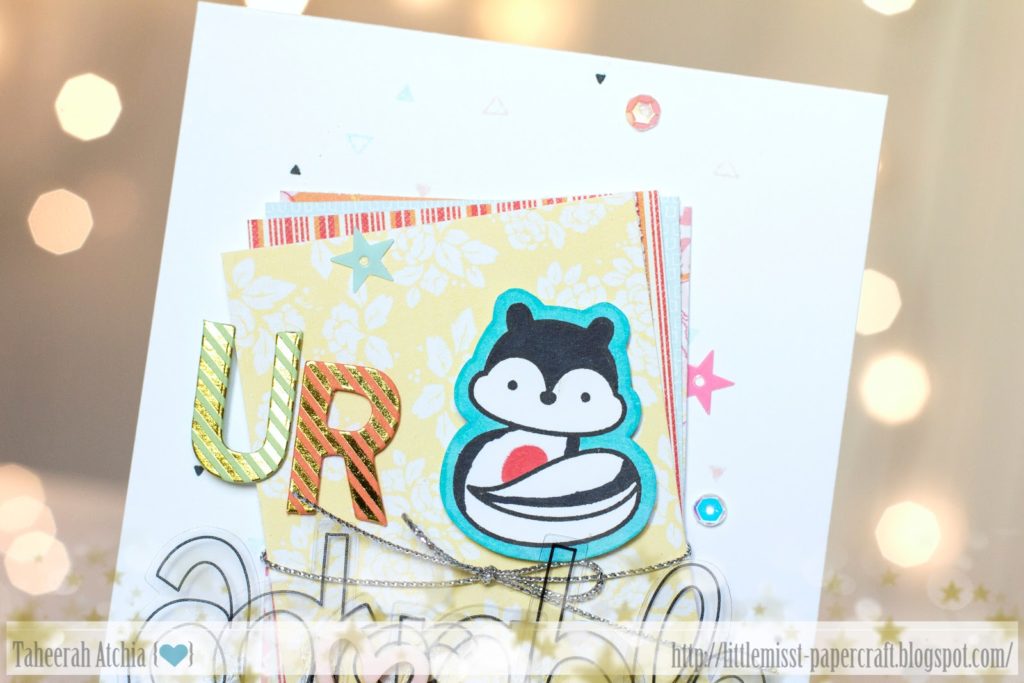 I trimmed several pieces of patterned paper and tied them together with May Arts Metallic Silver string. I then adhered them to my base using Pinflair Glue Gel, with a small amount of glue between each layer as well to keep them in position.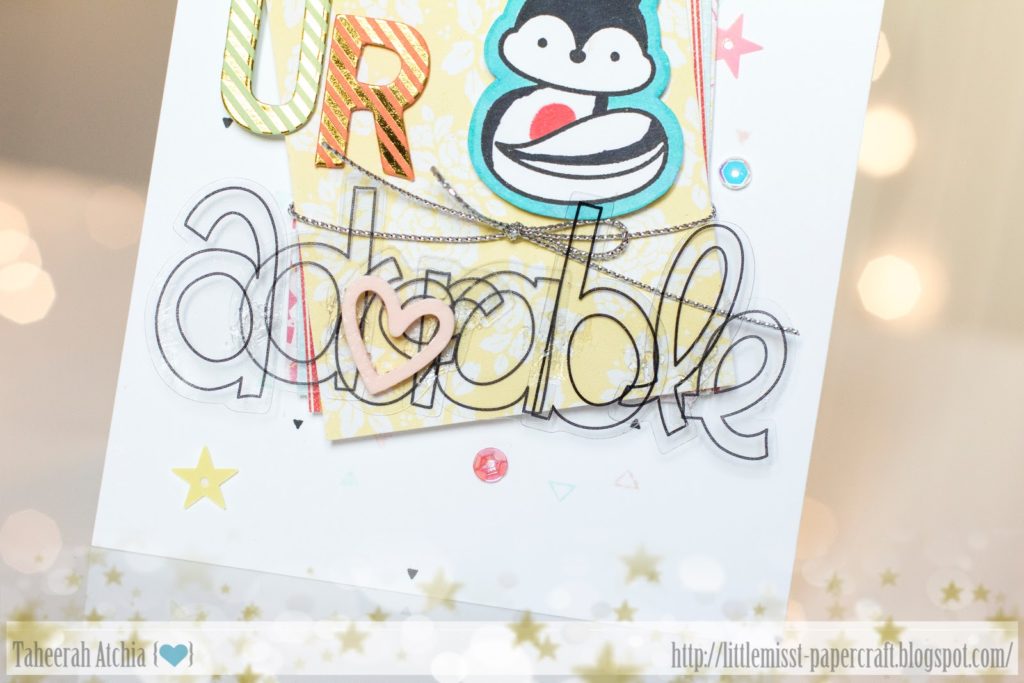 Next came the embellishments! I used the clear letters from the June OHDEERME kit, along with one of the plastic hearts, adhering to the panel and each other using Pinflair. I also added some of those great foil alphas from Pinkfresh Studio – love those!!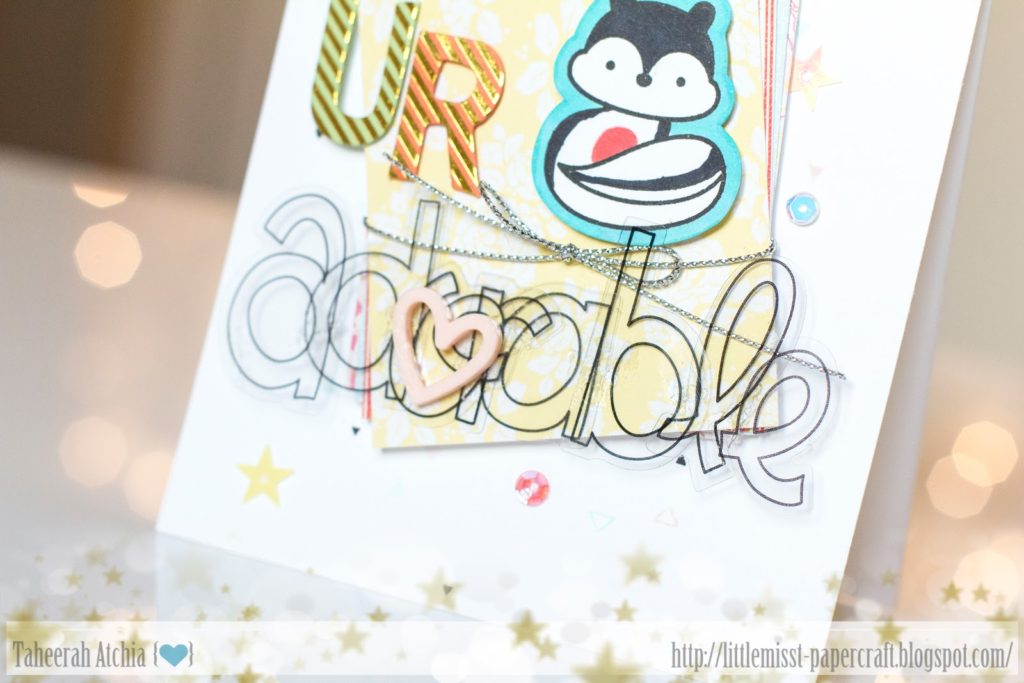 I used the little skunk/whatever you want to call him from Lawn Fawn's Into The Woods set and stamped him using Versafine, then coloured him with Copics, including a teal border. I trimmed him out and adhered him with Pinflair, All that was left was to add some sequins and I was all done!
So now it's your turn to cure the Monday Blues! Here's how to participate in the challenge!
The Rules
Create a brand new project using the photo inspiration
Post on your blog or to an online photo album. Ensure you link up to this challenge post in your blog post and include the inspiration photo
If it is not obvious how the image inspired you then please explain your process in your post
Link up your creations to this post using the Inlinkz below. Please use the link to your actual post rather than the link to your blog
You can enter as many times as you like!
The deadline for linking submissions is Sunday 29th June at 11pm BST/6pm EST
So are you ready to play?! I can't wait to see your creations!!
PS: if you would like to check out all of the previous challenge images you can see them here on my Pinterest board! 
I'll be back again soon with something new! Thanks so much for stopping by – I would love it if you left some love before you went on your way! And I would love some feedback on the challenge itself!!
Supplies