Hey everyone! Happy Saturday – and welcome back for a very, very special Blog Hop indeed!!
In fact, it is the Blog Hop to end all Blog Hops!! Just you wait and see what we've got in store for you today!!!

So, it is pretty common knowledge now that Cath Edvalson is stepping down from the Moxie Fab World blog and from Paper Crafts Magazine. What maybe isn't so well known though – especially to Cath! – is that several of us decided to organise a very special, very secret Blog Hop in her honour!!
And I say 'several' – I mean 285 of your friends, fans, followers, successes, company owners, Go-To-Gals, colleagues and more than a few sneaky Admins *wink* all coming together for the Hop to end all Hops!!
So, Cath, surprise!!! I bet you didn't expect to be dropping back by here again so soon!! *wink* I hope you like the Hop we've put on for you!! Everyone worked very hard behind the scenes pulling this all together and it's all because YOU are MOXIE FAB!!!
You should have made it here from AJ Otto's blog. If not please do start at the Moxie Fab World blog and check out the Hop from there! I'll also be including an Inlinkz link list at the bottom of this post for convenient hopping! 🙂 Many thanks to Inlinkz for the help they gave in setting up this very big list!!
So, before I get to my card, I wanted to post something heartfelt about Cath. Cath, if you're reading this, I know I've already shared somewhat over FaceBook and on the blog, and on a post of mine before, but I was holding back to add something more here!
Cath, I cannot imagine Moxie Fab World without you. In fact, I cannot imagine the papercrafting industry without you. Your influence, your grace, your keen designer's eye, your flair for the written word, your sheer generosity and kindness and encouragement and sincerity… those things will always stay with me, with us. Just look at how many turned out to honour you – and this was with just a week to get organised and several that just couldn't make it but sent their regards! I don't have the words to say how much of a difference you've made to my life. You've had an immeasurable impact on my 'career' as a designer.
You see, Cath was always someone I wanted to impress. I still do. Her knowledge and sense of style and appreciation of trends and so on – a lot of that inspired me and spurred me on to push myself that bit harder to try new things. I entered contests such as the challenges and Tuesday Trigger, because I wanted to show you what I could do. When I didn't win, I used that to drive me to improve and keep improving. When I did have the great fortune to be selected as one of your winners, I felt like I had won an Oscar!! I dreamed of being selected as a Moxie Fabber of the Week (I guess this one will go unfulfilled now) When she left comments on my posts I felt a giddy dizzy headrush of glee. That is what cannot be replaced. The effect you have on other people. You are so, *so* special in that regard – you truly inspire people and give so much to us in the process.

I was lucky enough to meet Cath, once. It was early on into my paper crafting career and I was visiting CHA. I wandered up to the Paper Crafts booth and a bright and bubbly Susan Opel took me under her wing instantly. After some chatting, she said she simply must introduce me to Cath, and took a (nervous!) me up to her. Cath was nothing short of warm, bubbly, kind, friendly, sweet and, well, just Cath. She felt like a favourite auntie you always wanted to visit as she was so nice to you. She put me at ease.

Cath, though I know we will always be friends and keep in touch, and I'll maybe even see you round here sometimes, your stepping down from the world I hold so dear breaks my heart. I am already deeply missing your little doses of daily inspiration, clever quips, inspirational showcases, and so much more. I am as good as I am, because of your influence. And I will continue to get better each day, because I still want to keep impressing you for years to come. I love you dear friend, and to me, the paper crafting world will never be the same without you. Thank you for everything. Thank you for BEING Moxie Fab World.
Well! That was longer than I expected it to be! I expect you would all like to see a card now, lol!!
Well, I ended up making something a little different. Something that stretched me a little. And something I felt conveyed my sentiments exactly. In all senses, the perfect card for my thanks to Cath: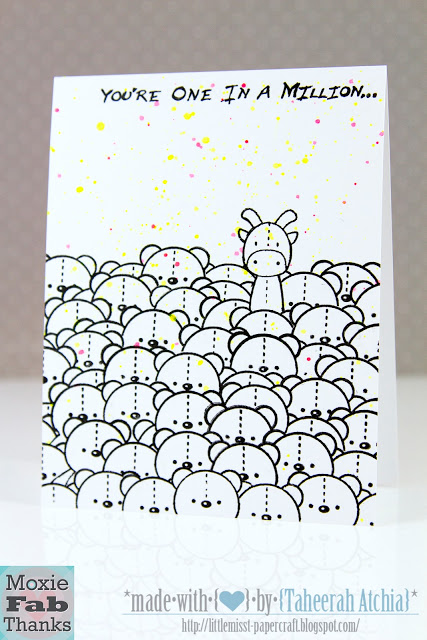 What do you think? I love how this turned out!! Isn't it just perfectly true?!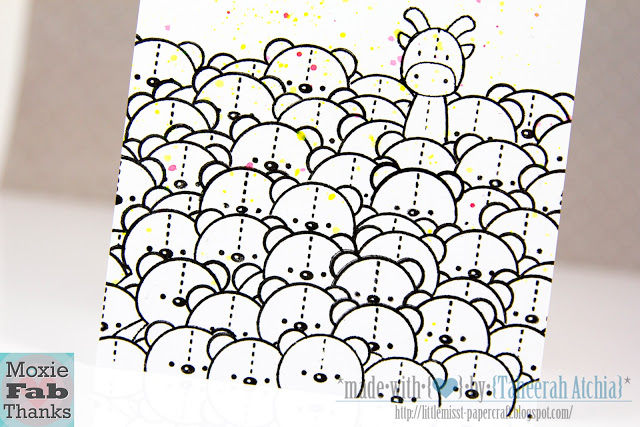 I started with a Stamper's Select White card base and stamped the bear from Mama Elephant's Nursery Deco many, many times with Versafine Onyx Black ink. I created 5 little masks of the bears which I kept moving around my base as I stamped, so I could get that sea of heads all perfect!! There are something like 50 bears here!! And of course, that one-in-a-million giraffe. 🙂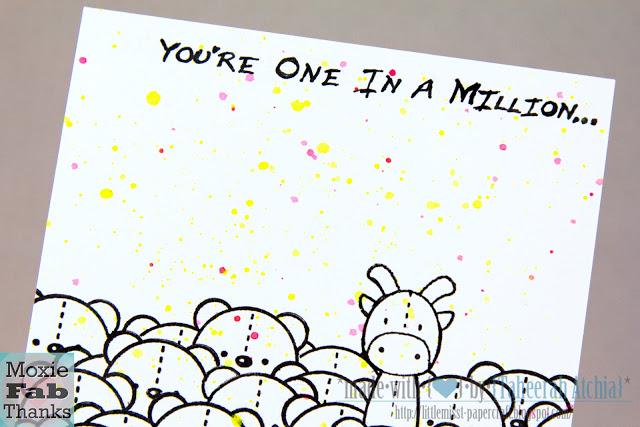 I added a good splash of trend here of course, in the form of neon spatter! And Hand-drawn lettering! I was going for a comic book style. Hmm. It's almost there, lol. But I love how it all came together!!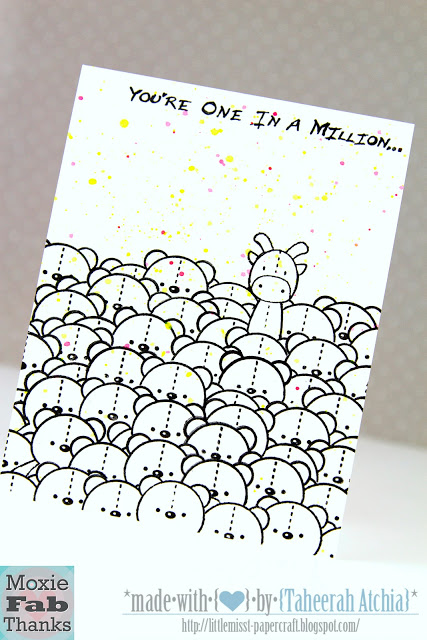 Well, I shan't keep you any longer – you have much hopping to do!! If you're going in order then your next stop is Laura Williams' blog. And you can always use the Inlinkz list below too! Check out all the names who have turned out for this!!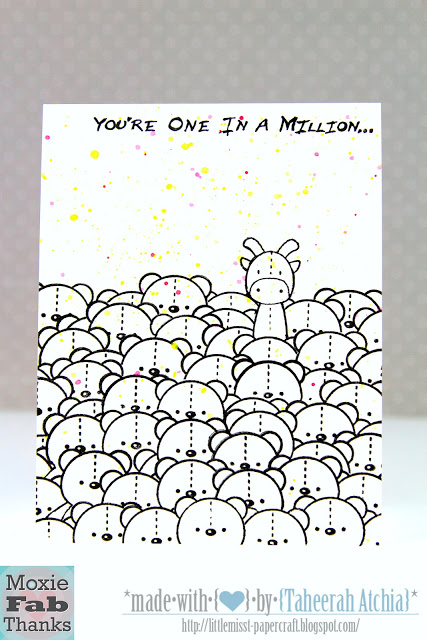 One last thing. This Hop could not have been made possible without all the people who worked tirelessly behind the scenes to make it happen. I was one of the Admins so believe me when I tell you it was a *lot* of work! But a totally amazing, fun experience too, one which I'll never forget! My heartfelt thanks to Keren Baker And Virginia Lu (my dream team partners!), Kryssi Ng (for those amazing blog banners and badges!), Susan Opel as Chief Cheerleader, Stacy Croninger and Paper Crafts Magazine for allowing us to hijack the Moxie Fab World Blog, Inlinkz for the technical help and support, and countless others who have helped in other ways. You are the epitome of Cath's greatest achievement – the ability to bring people together! Mwah!
Well, I am off to hop/fulfil some more Admin duties. *wink* I would *love* it if you left some love before you went on your way! Thanks so much for stopping by!!
Supplies