Hi everyone,
I want to thank you all for bearing with me the past couple of days. Any of you who visit my blog regularly will have noticed some very subdued and short posts this week. I hope to be able to get back to my usual chatty style but I just don't have it in me right now.
I am a huge cat lover. Everyone in my family is. From when I was born there have always been cats in my life and cats in our home. When I got my own place I built a home with four beautiful Ragdoll cats. These babies are my world and I love them more than I ever thought possible. I would do anything for them.
Last year one of my beautiful girls, Lyra, was lost to a lung tumour. It came out of nowhere and rocked and devastated me beyond words. My remaining three cats took it hard too, and it took us a long time to recover and adjust to a new life without my special girl. I prayed that I would not have to go through such heartbreak again for a long, long time.
Unfortunately, fate is very, very cruel, and very, very heartless, and tragedy struck again less than 15 months after the passing of my beautiful girl. Just when I finally felt that we were an adjusted, happy family again.
My beautiful, sweet boy Leo went to his final sleep yesterday. It was a short, sudden illness that hit out of nowhere, and even more sudden than Lyra. Last week he was fine. Over the weekend I noticed him feeling and acting poorly, but he seemed to be a bit better on Sunday, though still not himself. I took him to the vet on Monday evening merely as a precaution, expecting some special food to help boost his weight, and maybe a short course of antibiotics or something. I didn't expect that something so devastating was ravaging his poor body, and he was very quickly diagnosed with a terrible, terminal illness, which progresses very rapidly and has no cure or proven treatment.
I did not want my boy to suffer, so last night, holding his paw and kissing and stroking his head, I let him go to his final sleep. He was brave and loving and purred right until the end. My beautiful sweet boy leaves behind a hole in my heart and our lives that will always be felt. It will be especially hard on his blood brother, and I am doing all I can to be strong for him and look after him any way I can.
Today I am going to share a special card dedicated to my special boy: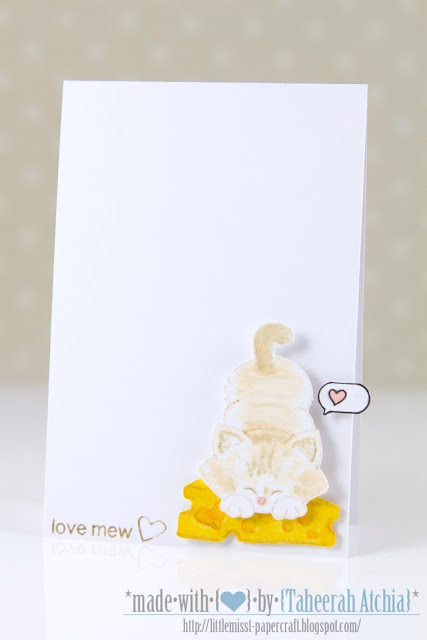 I am very grateful for Newton's Nook, who have designed a beautiful cat set, Newton's Antics, which I could use here to represent my beautiful boy. I stamped him lightly with Memento Rich Cocoa ink and coloured him as faithfully as I could with Copics to resemble my boy.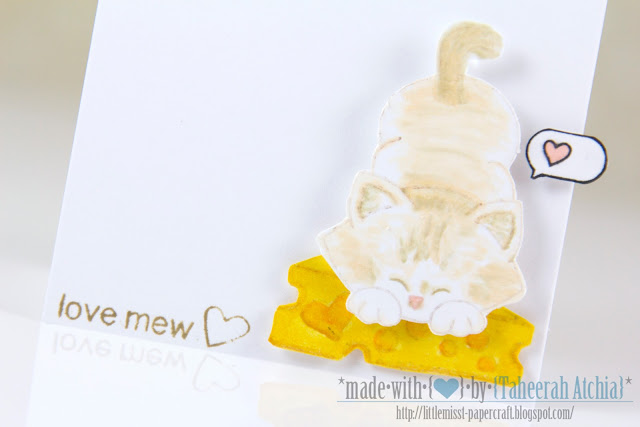 Leo loved cheese, so of course I had to give him some cheese, from the Just Say Cheese set, to munch on. His little speech bubble with a heart is perfect to show just how much of a loving soul he was and sums up all the things about him words could never say.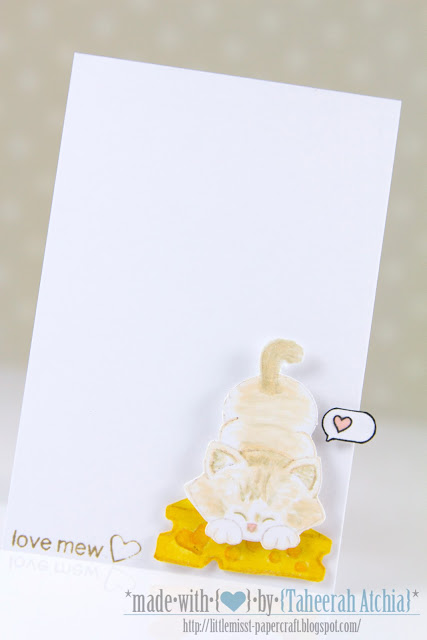 I masked my sentiment slightly to alter it and feel this serene card shows many of the traits of my beautiful boy. I cried many times whilst creating and even when holding the finished card. It was so important for me to get it just right. I hope I managed it.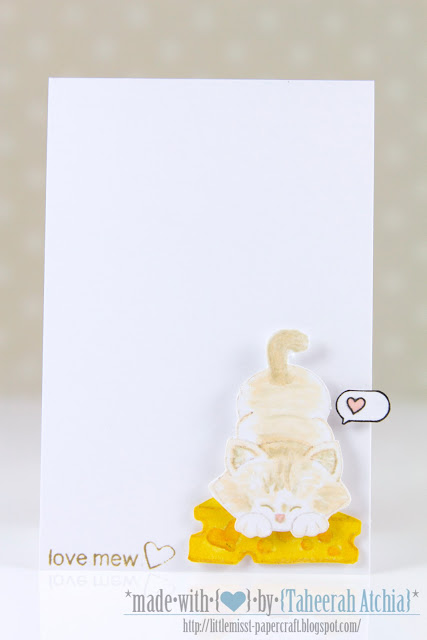 I'm sorry for such a wordy and sad post, but I just wanted to share with you my beautiful boy and explain why things are the way they have been on my blog this week. I hope you can bear with me and thank you for reading today. I would love to hear what you think of this card and thank you so much for stopping by.
Supplies: