Hey everyone! Happy Monday!
Some of you may recall a while back that I took part in the Iron Craft Challenge on Chaitali's blog. Well, today Iron Craft features its 25th episode!!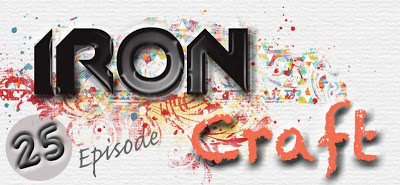 Given that it's a special occasion, there's also a special episode today!
You see, a few of the past guest designers have returned for a super challenge, with a twist! And I'm one of them – alongside the awesome plethora of talents that are Cristina Kowalczyk, Debby Hughes, and Gayatri Mulari!! Colour me honoured and awed!!
Just like the previous Iron Craft Challenges, each designer has worked with the same stamp set and sketch and come up with something of their own from that starting point! This time around we all used the super cute Pillow Talk set from Simon Says Stamp – this set is so awesome!
The twist this time is that it won't be pointed out whose card is whose, and it's up to you to guess! No clues from any of us – it's up to you to know your designers, their style and have done your homework from previous episodes to help you spot who's who!
If you guess right you can win an awesome prize!! Seeing as we've used a Simon Says Stamp set it stands to reason that the prize on offer is a 25% off coupon for every single person who guesses all the designers' cards correctly!! That's right – everyone could be a winner – and there will even be some random prizes thrown in too for good measure!! How awesome and generous is that?! Thank you Simon Says Stamp!!
So what are you waiting for?! Put your detective hats on and head over to Chaitali's blog right now to see all our cards and make your guesses! And make sure you leave some love for the awesome designers too – they most certainly deserve it!! Happy guessing everyone – I'm off to take a look at all the eye candy too!!