Hey everyone!
I'm so sorry (once again) for my huge gaps between posts. My internet has been playing up and it's made it impossible to upload pictures as it was so slow. Fingers crossed it's sorted now as there'll be lots of activity on here soon!
I'm just popping on to share some amazing news. For those of you that don't know already I had the complete honour of making the Gallery Idol Top 20!!!
I was at work when the news was posted, and yelled 'Oh my God!!!' out loud – about 5 people turned around and asked what was going on, lol!!
I'm so incredibly privileged to be alongside 19 other amazing artists as we begin this journey. I know and count quite a few of them as friends too so it was great to see a lot of familiar faces!!
So here is the card that got me there – and it was my only entry too!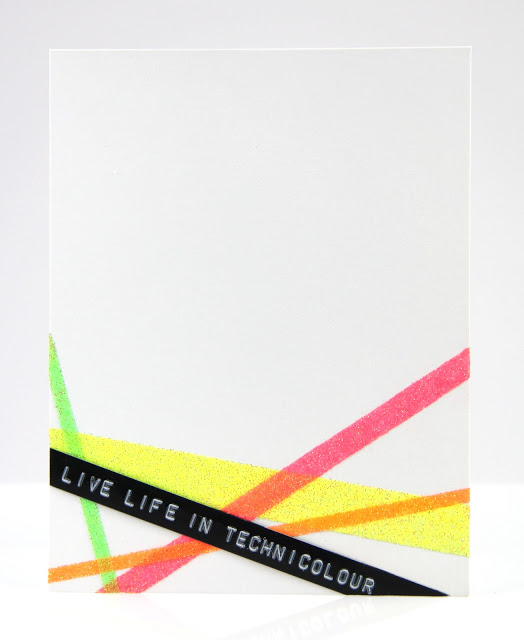 I totally embraced the neon trend with this card – love the outcome!! And it was so super-simple to make too!!
I started with a Stamper's Select White card base and added strips of Scor Tape in various widths. Each strip was added one at a time and coated with Martha Stewart Fluorescent Glitter in Fluorescent Yellow, Fluorescent Green, Fluorescent Coral and Fluorescent Orange. I then created a long strip/sentiment using my label maker and adhered over the top. Done and done!!
And what I love about this card as well is that it works with a vertical alignment (as per the original idea in my head, above) and horizontally, like so: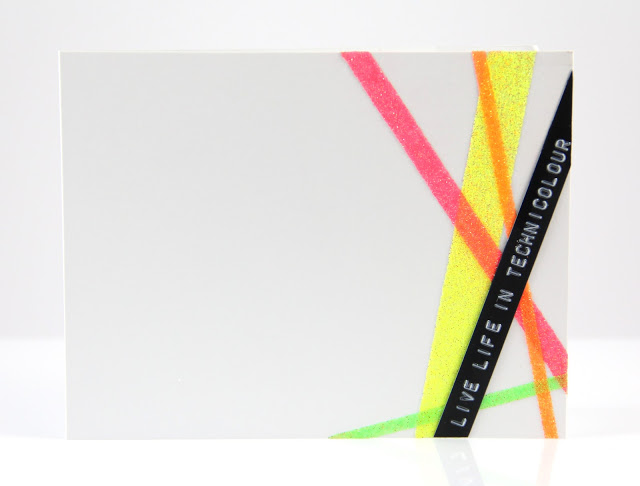 I hope you love this card as much as I do! Round 2 of Gallery Idol begins tomorrow with the 'You Colour My World' category. I do hope you'll join me then and take this incredible journey with me. I'm so excited!!!