Hey everyone!
I'm back today for a card I made for my gorgeous friend Kelly Marie Alvarez! I sent this card to her earlier this week but not sure if it arrived in time, so thought I'd also post it here seeing as today's her birthday!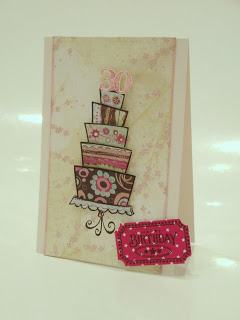 I used some Lawn Fawn stamps on this card (*gasp* I know – not a 100% PTI card!!). But it seemed fitting so I went with it!
I paper pieced the cake layers using Basic Grey Phoebe patterned paper. Love how it turned out!
Anyway, I'm heading off for tonight! I'd love to hear what you think of this card, thanks for stopping by!