Hey everyone!
Well, I must apologise for my total absence from Blogland for so long, both on here and on commenting on your posts! Those of you that are on the forum will know why and what's been going on! I promise to try and do better as soon as I'm in a better place!
So … it's that time of the month again – the Papertrey Blog Hop!
This month the theme is colour combos! Here's the brief from Nichole:
"This month's blog hop is all about color! We want to see all of your favorite Papertrey color combinations! So your challenge is to create a project using your favorite combination, listing the colors at the top of your post so it will be easy for people to collect schemes and make lists."
Well, those of you who frequent my blog will know just how much I love bright, fun colour combos! I love all colour combos in fact, but especially ones that are a bit different and a bit out of your normal comfort zone. So this hop was made for me!!
Now I don't have a favourite colour combo so instead I've picked my favourite *at the minute*:
How bright and fun is that?!
I created a card for this based on this combo almost a week ago. Those of you who follow Dawn McVey's blog will know it's her birthday today! Happy Birthday Dawn!! So I made a card for her and sent it, and I'm so thankful she received it in time! So here's what the uber-talented Ms. McVey received from me: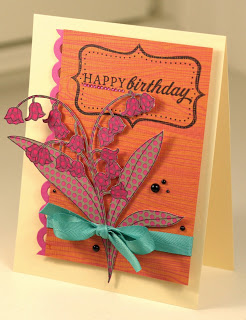 I really hope she liked it – I thought it was very Dawn!!
I started with a Lemon Tart card base. The panel is Orange Zest cardstock, onto which I stamped a pattern created with Background Basics: Woodgrain using Raspberry Fizz ink. I then ran the panel through with the Linen & Canvas impression plate – love the look this gives!!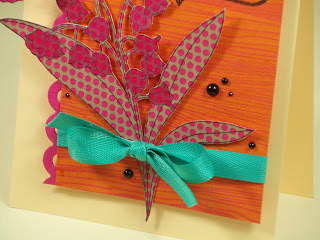 Next I tied a bow using Hawaiian Shore Topnotch Twill before adding a strip of Raspberry Fizz cardstock cut with the Eyelet Lace Border die, adhered behind the panel. Then came the main focal point – those gorgeous flowers from Year of Flowers: Lily of The Valley! I stamped them onto Raspberry Fizz Dotty Biscotti patterned paper, then *very* patiently cut it all out with scissors, including cutting out all the gaps in between! Time consuming? Let's just say I must love Dawn an awful lot to do that, lol!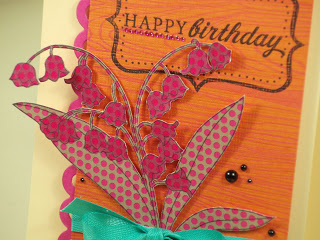 After trimming I coloured the blooms in with a Copic marker just to make them stand out a little. I then worked out where they would position roughly.
Next I went back to the panel and stamped the frame from Fillable Frames #4 using black Versafine, then added the sentiment from Enjoy The Ride using the same ink. I then added a strip of tiny hot pink rhinestones below the word 'Happy' to emphasise it. I then adhered the flowers in place with strategic use of Pinflair Glue Gel, giving just enough support and dimension in the right places.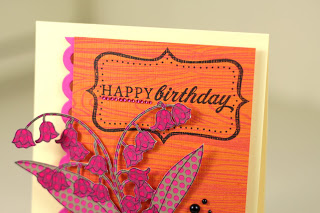 Finally I added some black pearls and tiny rhinestones before adhering the panel to the base using a good dose of Pinflair.
So there you have it! What do you think of the combo and of the card? Have I done Dawn proud? I sure hope so!! Thank you so much for stopping by and for leaving some love if you've chosen to do so. Given the day I've just had you won't believe how much you've brightened it!!