Hey everyone!
Well, I'm not doing too badly at keeping up with the regular blogging, hope I can keep it up!
Seeing as I've been creating a lot of girly cards recently I thought I'd post something different today. I was inspired by a TV fashion programme on TV the other week that was talking about how nautical clothing is on trend right now (at least it is in the UK!). It gave me a lightbulb moment so I scurried off to make this beauty: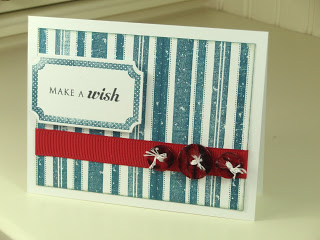 Not a bad interpretation huh?! I think this'd make a good guy card!
I started with a Stamper's Select White card panel and stamped various stripes from Distressed Stripes using Enchanted Evening ink. I just love Distressed Stripes set, and you can expect to see a few more cards with it posted soon!
After stamping the panel I inked the edges with my VintageTouch Chamomile ink. I did this while the Enchanted Evening ink was still a little wet so I would end up with a 'dirty' edge rather than a vintage edge. I'm please with how this turned out!
To add that touch of red to the nautical theme I adhered a strip of Pure Poppy Grosgrain ribbon across the front using Scor-Tape. I then picked out three Pure Poppy buttons that had ribbons of an almost black colour on the back. I threaded some white embroidery floss through the holes a few times then knotted. I wanted a more rustic/nautical look so I then pushed half of the tail back through the hole, leaving a more frayed look. I adhered each button with a glue dot.
I adhered the panel to a white card base using a tape runner then set about making the sentiment panel. I die cut the panel using the Fillable Frames #1 die then stamped the co-ordinating frame using Enchanted Evening. I stamped the sentiment from Cupcake Collection using True Black ink then adhered the sentiment using plenty of Pinflair for depth.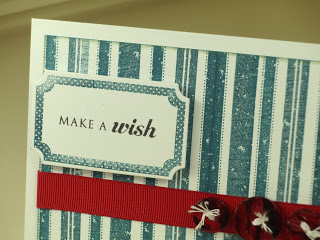 So there you have it! I'd love to know what you think of this card. It's not often I have a lightbulb moment, especially whilst watching TV, so I'd love to know what you think of my 'on-trend' card and whether I should do this sort of thing more often! Also would love to know what you think of this as a masculine card. You know me, always trying to do something unique and different, so I'd love your thoughts on it! I'll hopefully be back again tomorrow with another post, ciao for now!