Hey everyone!
Sorry for being absent for a couple of days, life's just been getting in the way!
I have another card featuring Beautiful Blooms II today. I love the assortment of designs and sizes in this set, very versatile! I decided to embrace that and incorporate that into today's card: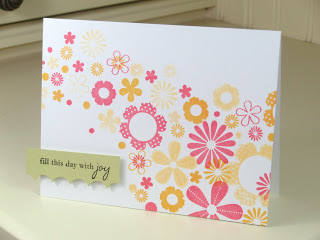 Don't all those colours make you happy?! They certainly do me!
I started with a Stamper's Select White card base. I planned the card in my head to be a sort of swelling cascade of blooms so I started at the top left and worked down to bottom right, varying the size, colour and composition of the blooms as I went along. The colours used are Lemon Tart, Summer Sunrise and Berry Sorbet.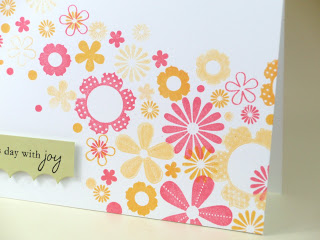 I finished the card with an offcut of Spring Moss cardstock. This is actually the sort of 'negative' left when cutting with one of the PTI scallop dies. Here I used the Small Scallop die and used the negative piece as I liked the sort of different effect it gave. I stamped the sentiment from Everyday Button Bits using True Black ink then adhered with a decent amount of Pinflair for depth off the base.
I'd love to know what you think of this one! It reminds me of Summer so hopefully it's brought a little sunshine to you to look at it! Thank you to all of you who have stopped by and chosen to leave some love, and also thanks to all of you who commented on my last card and congratulated me on reaching 100 posts! Really made my day!