Hey everyone,
Well, I hope you'll forgive me as it's really late here and I need to get to bed, so I'll not be posting as much of a chatty description of this card tonight as I would usually do! I will sort that out as soon as I get a chance!
Nichole posted a challenge to create a card which showcases the emboss resist technique. I had a lot of fun coming up with my creation: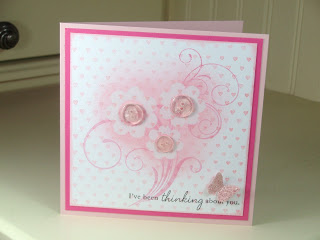 I started by stamping Background Basics: Hearts using Sweet Blush ink on a piece of Stamper's Select White cardstock. I then stamped the flower trio from Blooming Button Bits with Versamark ink, sprinkled on clear embossing powder and heat embossed.
I then took a tissue and rubbed in some Sweet Blush ink around the blooms to make them pop. Love how this turned out! I then overstamped the largest flourish from Fancy Flourishes using Hibiscus ink. I then took a clean tissue and rubbed over the blooms to remove any ink that was on top of the embossed area.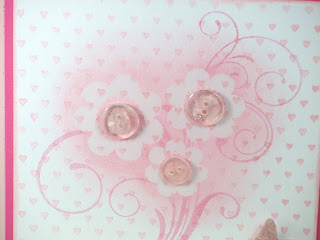 I chose a trio of clear buttons from my Cream & White buttons and adhered with Pinflair Glue Gel. I then cut my piece of cardstock to my chosen size and stamped my sentiment using True Black ink. I inked the edges with Sweet Blush ink, matted the design onto a piece of Hibiscus Burst cardstock and then adhered that to a Sweet Blush card base.
Finally I punched a butterfly from Sweet Blush cardstock using my Martha Stewart butterfly punch, put a piece of Scor-Tape on it and punched again (not recommended – took ages to de-gunk my punch afterwards!) then sprinkled on different colours of Martha Stewart glitter. The butterfly was adhered using Pinflair Glue Gel.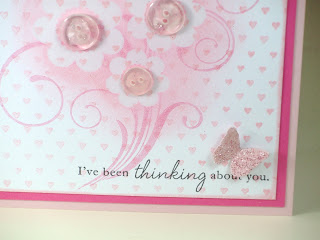 Phew, guess I had a few words in me after all! I'd love to know what you think of this card, but for now I'm off to bed, night!